Aura Kingdom
Aura Kingdom is an anime-inspired 3D fantasy MMORPG where players form pacts with powerful spirits called Eidolons. Set in the verdant world of Azuria, Aura Kingdom is a bright, beautiful game that offers plenty of class and skill options.
Experience fast-paced action, epic combo attacks, and powerful magical spells in Aura Kingdom, a hack and slash MMORPG from Aeria Games. Journey to Azuria, a world on the brink of war between the forces of light and dark. Choose from 12 different character classes and join the fight as an Envoy of Gaia to defend the realm against powerful forces that seek to destroy it. Summon powerful spirit companions, called Eidolons, to aid you in your quest to defeat the dark knight Reindhart and his army of demons.
Aura Kingdom Rating from Mmorpg.com

Aura Kingdom Rating from Mmos.com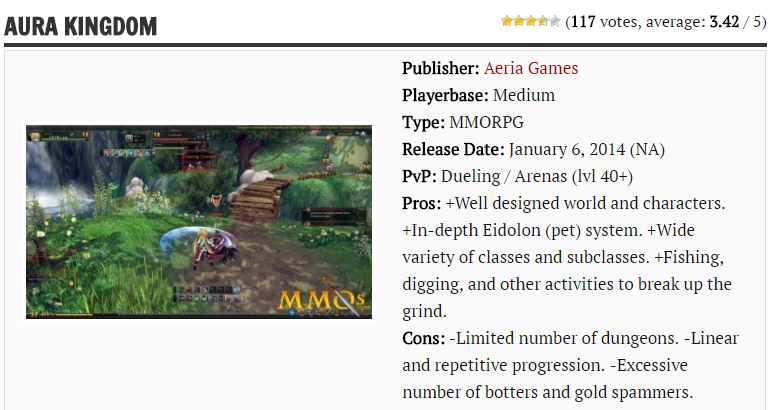 Aura Kingdom Rating from Gamespot.com

Aura Kingdom System Requirements
Minimum Requirements:
Operating System: Windows XP SP 2
CPU: Intel Pentium 4 2.8 GHz / AMD k8 2600
Video Card: Nvidia GeForce 6600 GT / ATI Radeon X1600
RAM: 4 GB
Hard Disk Space: 6 GB
Recommended Requirements:
Operating System: Windows 7 or better
CPU: Intel Core 2 Duo 2.66 GHz / AMD Athlon 64 X2 6000 or better
Video Card: Nvidia GeForce 9500 / ATI Radeon HD 2600 or better
RAM: 4 GB
Hard Disk Space: 6 GB
Sleek Anime Visuals – gorgeous anime inspired visuals that look stunning.
Class Variety – play as one of 12+ playable classes with job advancements available at level 40 (Guardian, Duelist, Ravager, Wizard, Sorcerer, Bard, Grenadier, Gunslinger, Brawler, Ranger, Ronin, and Necromancer)
Pet System – in-depth pet system, called Eidolons, which actually help players in battle. Aura Kingdom also features an excellent variety of mounts.
Gliding System – traverse the world of Azuria quickly with the game's glide system. Players can glide through the air starting at early levels.
Hidden Quests – discover the world of Azuria by completing hidden quests which can be particularly rewarding! Regular quests feature autopathing, but these special hidden quests do not, which makes them more rewarding.