Cheapest and Fatest Crowfall Gold Online Store - U4GM
Cómo comprar y comerciar
How to Buy Crowfall Gold From U4GM
There have four step to buying Crowfall Gold from our website
1. You need select sever which you want to buy, on the top of the Crowfall Gold product list.
2. Find wish to purchase Gold; input wishes quantity; you can input quantities in the text field or click "+" or "-" to revise amounts.
3. Click " Buy" Can buy your choose currency, if you want to buy more Gold, you can click "Add" to add this Gold to your shopping cart, then you can choose other currency to buy or add
4. After choosing currency completed, you can find "Check Out" in your shopping cart, click this bottom, go to payment page.
U4GM With Crowfall Gold
U4GM.com is a MMO Game Company which focus in The Crowfall Products. It was estalished in Feb 2016, before that we have kept our eyes on the Crowfall game updates for about 2 years. U4GM mainly offer service for Buying and Selling Crowfall Gold, Crowfall items & Crowfall power leveling and etc. We do our best to offer the best service in Crowfall currencies and help you solve your problems about the game, so you can enjoy the Crowfall completely.
Acerca de Crowfall
Crowfall is an upcoming massively multiplayer online role-playing game-massively multiplayer online real-time strategy game (MMORPGRTS) developed by ArtCraft, described as a "Throne War Simulator". Its Kickstarter campaign ended March 26, 2015 with a total funding of $1,766,205, surpassing its original $800,000 goal by $966,205. As of June 20, 2016 the total funding has reached $7,210,680 which includes an amount of $2,726,322 from pledges collected from both the Kickstarter campaign and donations taken on the Crowfall website.
The game will play similarly to most MMORPGs, with the camera in a third person view with the player allowed to go anywhere. Where it differs is in the game's world system. There will be five systems of worlds, also known as campaigns. The systems will be "Eternal Kingdoms", "God's Reach", "The Infected", "The Shadow", and "Dregs", each with a different set of rules dictating them. Each world will also be procedurally generated, and will go through a cycle of life and death, starting with spring to summer, fall, and ending with winter. At the end of winter the campaign ends, and the world is gone forever, though the players will remain, allowed to travel to other worlds. Campaigns can last for 1, 3, or 6 months, to a year. The only worlds that don't die are the Eternal Kingdoms, where player housing is.
There are a number of different characters or archetypes planned for the game consisting of a mixture of humans, demi-humans and animal-hybrids. The archetypes include Champion (melee dps), Ranger (specialist), Druid (support), Confessor (ranged dps), Knight (tank), Templar (tank), Forgemaster (specialist), Frostweaver (ranged dps), Assassin (specialist), Myrmidon (tank), Legionnaire (support), Duelist (specialist) and Stalker (ranged dps).
At the start of a campaign (this is the MMORTS part), players will spawn in the newly created world during spring, filled with villages, mines, gather-able resources, and ruins. The world map is clouded by fog, meaning players will have to explore to discover its geography. With the resources they gather, players will be able to craft weapons and build castles and fortresses for defense against the other players and wildlife. As summer begins, resources become more scarce, and the world's monsters become more and more powerful. This continues with each season, the force doing this being called 'The Hunger' in the game's lore.
Depending on the world, there will be a different set of campaign victory conditions, along with the rules of the world itself changing depending on the campaign. After the campaign is over, players may go back to their homes in the Eternal Kingdoms, where there are its own set of rules as well.
Nuestras estadísticas de entrega
We have a lot of Crowfall Gold suppliers, and we have signed contract with them, this has ensured us enough stock most of the time. So it means, if you buy, we will always have stock to send to you. The big stock means the fast delivery. We can usually finish the delivery within 5 minutes.

Nuestra superioridad de precio
We do Crowfall Gold price check every day in the whole market, and then we will make the lowest price in the market. If you find any place where sells cheaper than us, please just let us know and we will match their price. Our goal is to sell the cheapest gold in the world.
Nuestra Reputación
As we know, what the customers say is more important than what the sellers say, so checking one site reviews is very important, which can help you learn more about it. You can check its reputation on Trustpilot, Epicnpc, Ownedcore these reviews, you can evaluate one site service is good or not.
For example: search U4GM reviews on Trustpilot, and you will find that it has five stars, and there are a large number of positive reviews from real customers, which can prove u4gm service is excellent.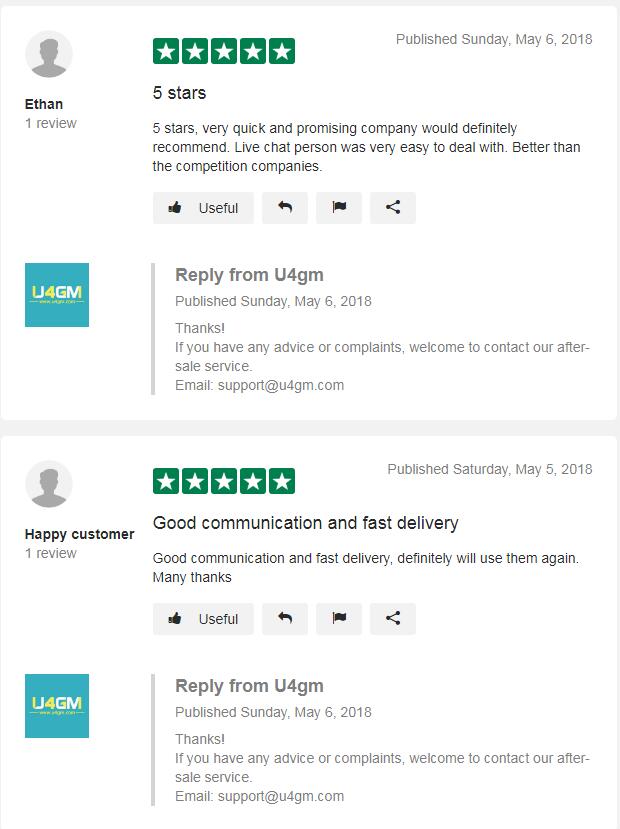 Por qué elegirnos
Entrega rápida
Entendemos la importancia de una entrega rápida y nuestro personal dedicado hará todo lo posible para que su
Crowfall Gold
ordenar tan pronto como sea posible.
Mejor precio
Ofrecemos el producto que desea al precio que se merece. Nos comprometemos a ofrecerle el mejor servicio y la mejor的
Crowfall Gold
producto a los mejores precios!
100% seguro
Nos Trade método de entrega 100% seguro y se hará cargo de eso, tenemos experiencia en el negocio y podemos asegurar que cada la orden puede ser procesada sin problemas y de manera eficiente.
Reembolso
En el proceso de compra, si no cumplimos con los requisitos del cliente orden a tiempo, se otorgará un reembolso. El reembolso se emitirá de inmediato.