Buy ArcheAge Gold, Cheap AA Gold on ArcheAge online - U4GM
Sur ArcheAge
ArcheAge Minimum System Requirements:
OS: Windows XP / Vista / 7
Processor: Intel Core 2 Duo E6850 / AMD Phenom II X2
Memory Ram: 4 GB
Hard Disk Space: At least 15GB of free Space
Video Card: Nvidia GeForce 8600 series / AMD or ATI 4850 series
PvP - Duels / Open PvP
Pros - Unique multi-classing system. +Great in-depth crafting system. +Player Housing. +Judicial System.
Cons - Few playable races. -F2P users are disadvantaged.
Official Site - http://www.archeagegame.com/en/
ArcheAge Rating on MMORPG.com

ArcheAge Rating on MMOS.com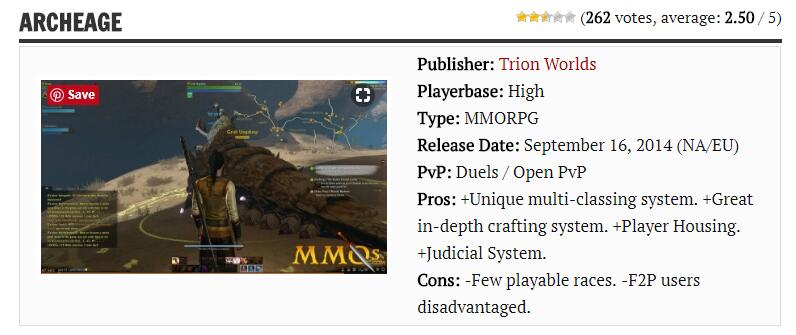 ArcheAge Rating on mmobomb.com

Pourquoi nous choisir
Livraison rapide
Nous comprenons l'importance de la livraison rapide et notre personnel dévoué fera tout son possible pour vous obtenir votre
ArcheAge Gold
commander dès que possible.
Meilleur prix
Nous offrons le produit que vous voulez au prix que vous méritez. Nous nous engageons à vous offrir le meilleur service et le meilleur
ArcheAge Gold
produit aux meilleurs prix!
100% sûr
Nous échangeons la méthode de livraison 100% sûre et prendrons la responsabilité pour cela, nous sommes expérimentés dans l'affaire et nous pouvons nous assurer que chaque commande pourrait être traitée en douceur et efficacement.
Rembourser
In the process of purchase,if we do not fulfill the customer's la commande à l'heure, un remboursement sera accordé. Le remboursement sera publié immédiatement.