How to Get Elite Color Rush Players in Madden Mobile
The Article from Gamezebo by Nick Tylwalk

Whether you love them or hate them, there's no denying that the NFL's Color Rush initiative for its Thursday night games has blazed its way into the brains of football fans over the least few seasons. It would be hard for it not to, considering it features teams wearing solid color, often really bright uniforms.

Madden Mobile is giving the possibly-designed-just-to-sell-more-merchandise promotion its due with its own Color Rush Live Events for the 2017 season. Added during Week 4 of the current NFL season, these events allow you to win special badges of different colors and pieces of equipment, then turn those in for Gold Color Rush players.

And while that's all well and good, what you really want is Elite Color Rush players to make your team as good as it can possibly be. How do you go about doing that? First tap the 'Color Rush' tab on the home screen and then follow these instructions.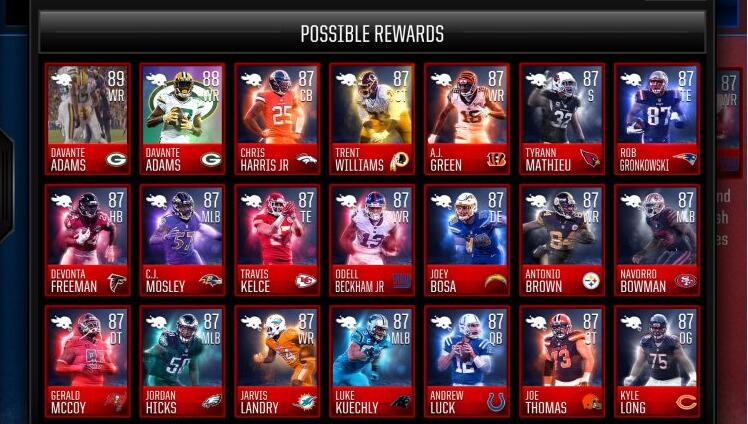 In the main Color Rush screen, you'll see a circle of Color Blitz events in the middle and and AFC and NFC Gauntlet on either side. All of those events are important for earning Elite Color Rush Players.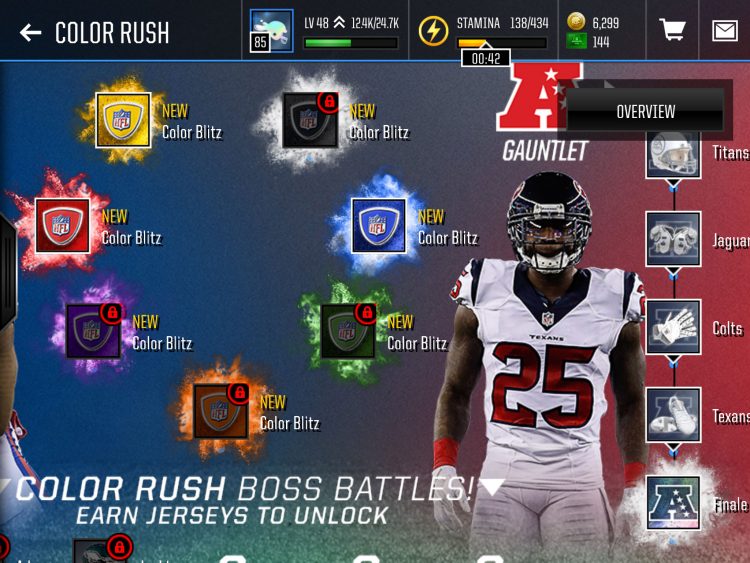 The Color Blitz events rotate every three hours, and earn you Color Rush Patch tokens plus a chance at an instant Color Rush Patch for every win. They're repeatable, but you get double the tokens for your first win. For every 250 tokens you collect, you'll get a random Color Rush Patch, but the instant patch will be the same color of the event, so that does matter.

You can also win tokens playing through the Gauntlet events, which reset every few days. You'll earn one of four pieces of equipment for each step in the Gauntlet — Helmet, Shoulder Pads, Gloves, Cleats — and four Gold Color Rush players for the fifth and final step. The first four steps are repeatable, but the finale is not.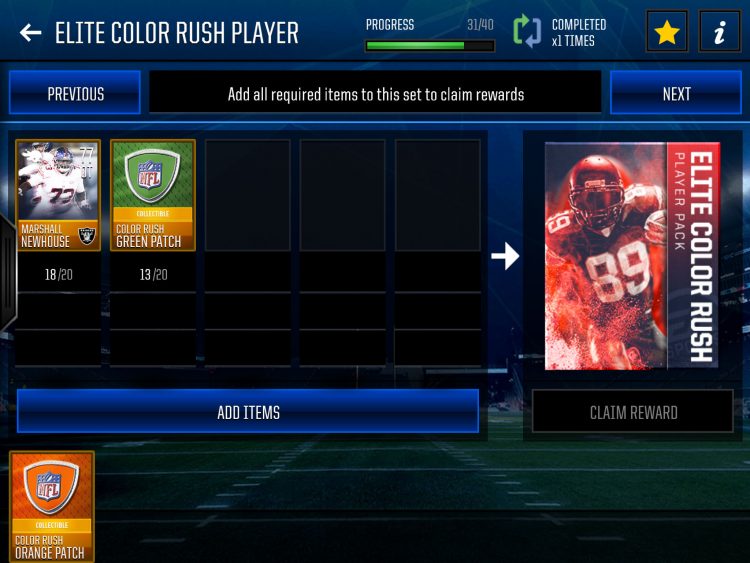 Once you've acquired some patches and equipment, you'll want to head to Sets and hit the 'Color Rush' tab. There you'll find the Elite Color Rush player set, which requires 20 Gold Color Rush players and 20 Color Rush Patches of any color. Redeem them for one Elite Color Rush player.

To get Gold Color Rush players, there's a set for that too. Trade in one of each of the four pieces of equipment and one patch of any color for one Gold player. You can also get one from the Color Infusion set, which only takes one Gold player of any kind and a patch, though you can only take advantage of it once every four hours.

Yet there are even better Color Rush players available …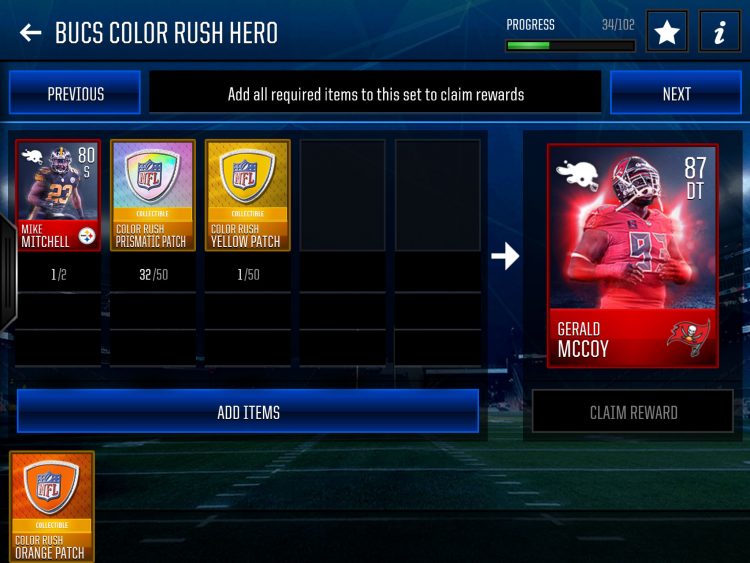 The best Elite Color Rush players are found in the Color Rush Heroes sets right below the regular ones. There are 32 sets in all, one for each NFL team, and completing one not only earns you an Elite player that starts at 87 overall but also unlocks the Color Rush jersey for that team for use in Madden Mobile. Your opponents will really see you coming after that.

Like anything powerful in Madden Mobile, though, these players take some work. A Color Rush Hero set takes two Elite Color Rush players, 50 badges of a specific color and 50 badges of any color to complete. Considering that just getting those two Elite players takes a bunch of badges as well, you'll be playing these events a lot to finish off any of these sets.

Bonus Tip: Every so often, you'll see a special Color Blitz event pop up in the middle of the circle of Color Rush events. Completing this event will earn you a random badge but also grant a Prismatic Color Rush Badge, which can take the place of a badge of any color for the purposes of completing sets. Keep an eye out for this event and always play it when you can.
Buy Cheap Madden Mobile Coins Best Service, Fast delivery at U4GM.COM
Trustpilot
450K Madden NFL 18 Coins - 3% OFF On Xbox One

24/04/2018

70K Madden NFL 18 Coins - 1% OFF On PS4

24/04/2018

300K Madden NFL 18 Coins - 2% OFF On Xbox One

24/04/2018

500K Madden NFL 18 Comfort trade Coins On Android

24/04/2018

1000K Madden NFL 18 Comfort trade Coins On IOS

24/04/2018

7000K Madden NFL 18 Comfort trade Coins On Android

24/04/2018
Contact Us
24/7 Email Support
Sale Cooperation:
Skype ID

For Game Currency :
coolyou8

Buyer Complaints :
[email protected]
(For any dispute email, we'll reply within 24 hrs)

Sale Cooperation:
CassieU4GM
FeedBack
how will i receive my order zen ? by mail or trade? its better to me by mail. thanks in advance
cedric lim
I found this website from a youtuber who was sponsored by U4GM. I decided to buy some coins because they were the cheapest I could find. They delivered almost instantly! Great experience and I will but again from then very soon.
Nick White
FIRST time buying zen and didnt expect it is legit. Thank you so much! Hope this is super safe thank other sellers xd
Draniem Ojemreb
Fast and good attemption
Rafael Gomez
Fast deliver, all taken
Krystian Parafiniuk
100% Working and fast!! =)
Raphael França
more +