What's the timeline for Path of Exile 3.3.0?
GGG expect to release 3.3.0 on Friday June 1. The Xbox One version will be released after that weekend, as close as possible to the PC version. GGG will announce the final firm date in approximately a month.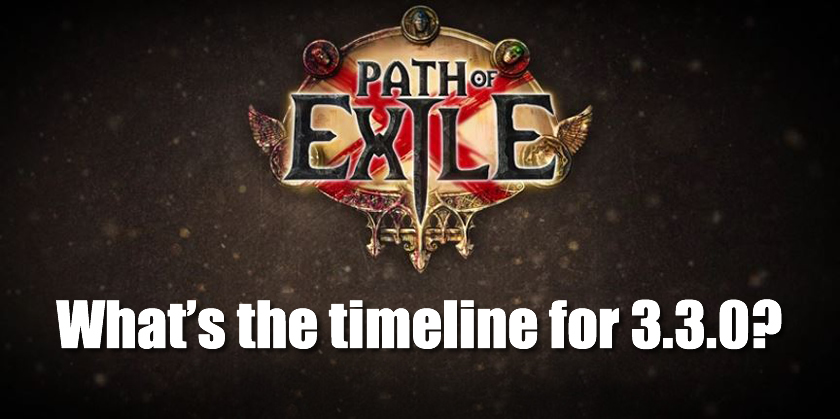 Official details
Is 3.3.0 an Expansion or League?

After a few years of alternating expansions and leagues, we released two expansions back-to-back in late 2017. Our March release blurred the line between an expansion and a league (with a league alongside a significant Ascendancy revamp, introduction of the Uber Elder fight and new skills). We are pitching 3.3.0 in a similar way. It is branded as a league, but is certainly a large release compared to leagues of the past.




In parallel, we are also working on our next big expansion for release later this year.




What's 3.3.0's League like?

When designing 3.3.0's league, we wanted to reinforce the core of what makes Path of Exile fun to play: killing monsters, gaining experience and earning items in every area you enter. We'll talk more about this league when it's being announced next month. If you enjoyed leagues that involved a lot of monster-killing like Ambush and Breach, you'll certainly enjoy this one.




What else is included in 3.3.0?

Alongside many smaller features you can read about on announcement day, a huge push in 3.3.0 is skill revamps and facilitating new builds. Normally we'd keep this balance information quiet until announcement day, but I have been encouraging the team to write news posts that explain the changes so that you can give us feedback and begin to think about new builds. In addition to the revamps, there are also a bunch of new Trap skills that go hand-in-hand with balance changes to make Trappers a lot more powerful this league. You can read some early information about 3.3.0 skill revamps posted by the team here and here.




It's our belief that every Path of Exile release needs a really compelling and rewarding league, alongside enough skill and metagame changes to have many exciting builds for you to look forward to experiencing that content with.




Are you running an Alpha test for 3.3.0?

Yes, we will be, after the contents are announced next month. Please don't apply for Alpha access based on reading this - it doesn't work like that.




What's happening with Supporter Packs? When are the War for the Atlas ones going away?

3.3.0 has its own set of league supporter packs. When these are released, the Bestiary ones will go off sale (we'll give you notice before this occurs, of course). The War for the Atlas packs will remain on sale until the next big expansion, which will also be announced in advance so you can plan your purchases appropriately.




Are you still making improvements to Bestiary?

Yes, alongside developing 3.3.0, we're working on addressing feedback and fixing issues in the Bestiary League. An example is solving the issue where Red/Yellow beasts can be shattered or have their corpses destroyed, preventing Necromancy Nets from working on them.




Is there going to be some type of race event before 3.2.0 ends?

Yes, we're planning a big Flashback event from early to late May, on both PC and Xbox One. We'll post more information as we approach it! This doesn't rule out the possibility of community or invitational races, which we're also trying to make happen.
Trustpilot
9 x POE Bestiary Hardcore Exalted Orbs On Bestiary Hardcore

24/04/2018

2 x POE Bestiary Exalted Orbs On Bestiary

24/04/2018

80 x POE Bestiary Exalted Orbs Special Offer 3% OFF On Bestiary

24/04/2018

6 x POE Standard Exalted Orbs On Standard

24/04/2018

90 x POE Standard Exalted Orbs On Standard

24/04/2018

90 x POE Bestiary Exalted Orbs Special Offer 3% OFF On Bestiary

24/04/2018
Contact Us
24/7 Email Support
Sale Cooperation:
Skype ID

For Game Currency :
coolyou8

Buyer Complaints :
[email protected]
(For any dispute email, we'll reply within 24 hrs)

Sale Cooperation:
CassieU4GM
FeedBack
how will i receive my order zen ? by mail or trade? its better to me by mail. thanks in advance
cedric lim
I found this website from a youtuber who was sponsored by U4GM. I decided to buy some coins because they were the cheapest I could find. They delivered almost instantly! Great experience and I will but again from then very soon.
Nick White
FIRST time buying zen and didnt expect it is legit. Thank you so much! Hope this is super safe thank other sellers xd
Draniem Ojemreb
Fast and good attemption
Rafael Gomez
Fast deliver, all taken
Krystian Parafiniuk
100% Working and fast!! =)
Raphael França
more +