Download The Hotfix And Watching Latest Trove Livestream
Trove
Date: Jun/01/17 21:43:39
Views: 1815
On Tuesday, May 30, Trion World released a small hotfix to fix a issue that the Rock Riot Dock mag rider not properly unlocking in Trove.
Patch Notes
♦ Fixed the issue preventing the Rock Riot Dock mag rider from properly unlocking when crafted at the Chaos Crafter.
In addition, Trove has a new livestream that dropping knowledge about upcoming awesomeness in game on Friday. The adorable Cotton Candy ally can be unlocked after you linking your console to a Trion Worlds account.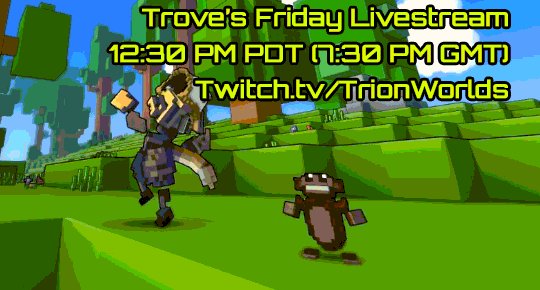 Stay tuned at the Trion Worlds Twitch channel and answer questions to unlock giveaway prizes in game!
The 45-minutes livestream starts at 12:30 PM PDT on June 2nd.