Farming WOW Classic Gold with Professions Fishing
World of Warcraft Classic
Date: Sep/05/19 23:19:38
Views: 3042
"Teach a man to loot and he can eat for a day, teach a man to fish and he can eat for a lifetime." This is very true in World of Warcraft Classic. Fishing is very useful in getting food for your hunter's pet, materials for alchemists, tailors, and engineers, and even a peaceful way to pass the time away from the battles and wars raging over the worlds.


Fishing Gear and You!
While fishing is a relatively easy task in casting your line and clicking a bobber when it splashes, the gear you equip to fish with can make a large difference in how well and where you can do so. Always have a lure on hand and use the highest level lure possible as you level your fishing. Seeking out better fishing poles will help your chances of success as well or any applicable enchants to a pair of gloves.

Big Iron Fishing
Pole is a needed piece of gear for those looking to max out their fishing skill. You can find one of these in traps littering the ocean floor in Desolace. Go toward the horde town in Desolace somewhat near the Gelkis Centaur clan. You will come into a green and grassy area unlike the rest of the zone, simply go into the water and when you can dive down you will start seeing traps littering the ocean floor. You can receive a variety of effects here ranging from looting seashells to an enemy spawning or even receiving the Big Iron Fishing Pole. You can also try and farm these as they sell for around 15-30 Gold in the auction house.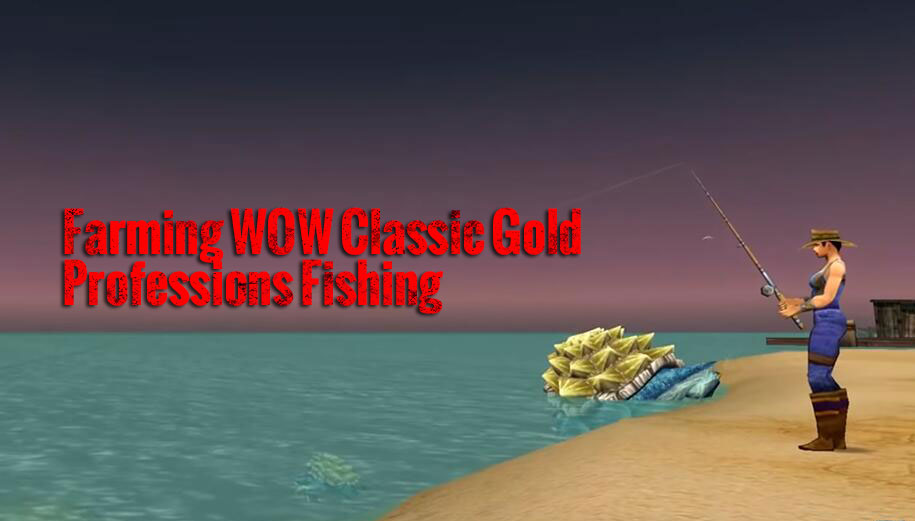 The Fish Worth Catching

1. Deviate Fish
Deviate Fish is the main course in a Savory Deviate Delight that chefs cook up. These fish can be easily caught in Wailing Caverns located in The Barrens. You should catch one of these fish once about every five casts. They can be caught anywhere from the pool outside the cavern to the streams within. You should average about 30 fish an hour here and they sell for about 8-13 gold per stack of 20.

2. Firefin Snappers
Firefin Snappers are another valuable asset to a fisher as they are needed by alchemists to make potions that grant resistance to fire. You may catch these wondrous creatures in Booty Bay and Stranglethorn Vale, in Wetlands, and even Azshara. Like Deviate Fish you should be able to capture one once in about every 5 casts within these areas. These fish sell for around 2-6 gold per stack of 20.

3. Furious Crawdad
Stonescale Eels grant extra armor when used by alchemists to brew some potions after being made into oil for the potion. Feralas is the prime fishing spot for these and like the other two above they are fairly easy to catch. They sell for 10-20 gold per stack of 20.

4. Oily Blackmouth
Oily Blackmouth is a fish that can be caught early on and sells between 1-4 gold per stack of 20. There are schools of Oily Blackmouth in Darkshore, Ratchet, Westfall, and Wetlands. These are needed by alchemists to produce items like Elixir of Water Breathing.

5. Pearls
Pearls, magnificent jewels of the deep, can also be captured through fishing. This can be a way to turn a lot of gold since fishing can also yield clam which could contain a black pearl or even a golden pearl. Winterspring and Feralas seem to be prime locations for clam fishing and with the Feralas location also having the possibility of Stonescale Eels you could have the WOW Classic gold piling up in no time.

6. Furious Crawdad
These fish may be caught in the raised pools in the Terokar Forest zone; Blackwind Lake, Lake Ere' Noru, and Lake Jorune. You must have a flying mount to reach these bodies of water and cast your line within the Highland Mixed School of fish. A stack of 20 crawdads can yield about 40 gold and the crawdad has a 30% drop rate, making this a great target for fishing. A fishing skill of 500 (with buffs) is recommended when fishing for the crawdad.


Stranglethorn Vale Fishing Competition
This contest is announced within the neutral town of Booty Bay by Riggle Bass bait. The game is two hours long, and the goal is to bring Riggle 40 Speckled Tastyfish first. These fish spawn in pools along the entire coastline of Stranglethorn Vale, your bobber MUST land inside of the fish pool, you will have about five casts before a pool disappears and a new one spawn close by, then turn your 40 fish in and see if you won. This is a competition between you and your entire server, so be fast and be prepared. There are a couple of handy rewards which are either Arcanite Fishing Pole or Hook of the Master Angler.