Fix Your Eyes On U4GM For Cheaper Trove Flux & Items
Trove
Date: May/25/17 02:11:11
Views: 1885
Megalithic Update will come up to bring Minigames back to Trove. These days, Trion World has announced that Minigames will be available for Trove. To build custom Minigame maps in your own Club Worlds quickly, you need to store enough Trove flux and items.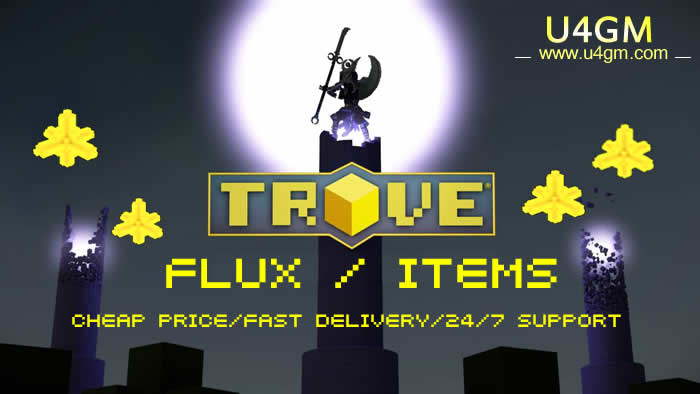 Flux is a common material in Trove. As the primary in-game currency of Trove, there are many methods players to make it.
• Mining Ores on Tuesdays and Radiant Shards on Fridays and selling them is commonly done to earn Flux, although generally any tradeable item can be sold. Spending money on the game is obviously the fastest & easiest way for those who can afford to burn money.
• Selling high-rarity equipment at the Trading Post can also yield notable amounts of flux. As prices fluctuate often, the profits from trading are inconsistent and can change often. Buying & reselling is the only way worth mentioning because of it's endless potential.
• Fishing is another way to earn flux. Selling the Glim earned by deconstucting fish could yield a good profit.
• Making alts to gain 8 times the reward(s) of whatever your grinding is the optimal way to "create" profit.
U4GM.com is always devoted to making your MMO life easier. We appreciate your support and trust for our site and our event. Then we always give cheap Trove flux, super discount and more hot promotions. However, we can't stand being fooled or cheated. We will strictly deal with cheaters and imposters and try to offer you all a better and better place for Trove and other MMOs.
You may enjoy your summer holiday in trove, so U4GM will hold summer holiday promotion for you, where you can get cheapest even Trove items and other special offers from U4GM. The first part of the crazy party is 2% off when buy Trove flux and items. Read on to check how much cheap flux you can gain.