Lost Ark: 10 important factors/reasons to attract new and old players!
Lsot Akr
Date: Feb/18/22 17:08:22
Views: 779
We will share 10 important factors/reasons for Lost Ark to attract new and old players.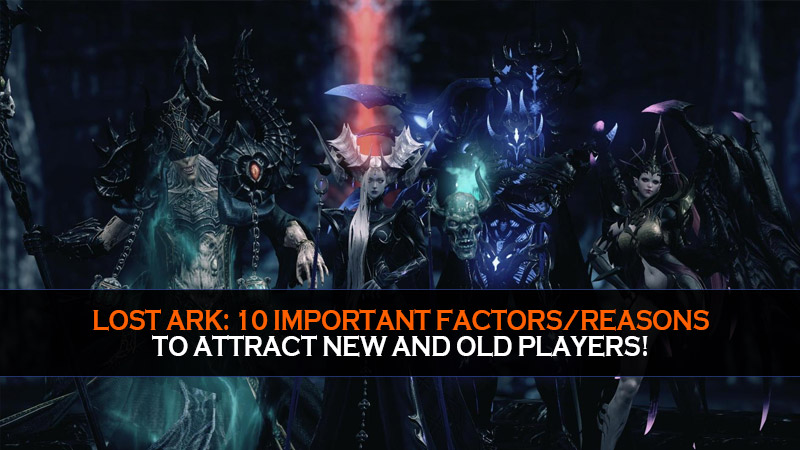 LOST ARK is back in the spotlight with Amazon Gaming's recent server launch in Europe. Well, we humbly remind you that the game has been launched and developed in Russia for over two years, so these servers are perfect to start playing. Whether you are a new player who just started, or an old player who is returning now, I believe this game must have something to attract you. If you don't believe me, keep reading. We'll detail the top 10 important factors/reasons why Lost Ark attracts new and old players alike.
Factor 1: Variety of Classes
There are five archetypes in LOST ARK - Warrior, Martial Artist, Gunner, Assassin, and Mage. Each of them is divided into several classes, from 3 to 5. There are both classic classes and unique ones.
Warriors are melee fighters. They are so strong that they can use massive weapons and heavy armor to deal high damage and always be at the forefront. There are four classes in this archetype, from a berserker with a huge two-handed sword to the classic "tank" of the guard.
Martial Artist are masters of martial arts. Their movements are fast and accurate. Each of their blows is capable of inflicting incredible damage. They make up for their weak defense by dodging most attacks with ease. There are five classes in the archetype at once, from an avatar that controls the elements of nature to an incredibly agile ki master.
Gunner are ranged fighters from the technologically advanced continent of Ardetain, who use mechanical devices like a drone or a transforming cannon. There are five classes, ranging from a ranger with a mechanical bow and robotic falcon to a mechanist with a transforming weapon.
Mages are classic wizards. These are divided into four courses, each with its magic - for example, the summoner relies on creatures, and the minstrel strengthens partners by playing the harp.
Finally, the Assassins are fearless killers, inhabitants of the dark and gloomy continent of Feyton. They were born with a particle of chaos in themselves and expelled from other continents. There are three classes in the archetype, but all of them are very unusual, like fury, which, having accumulated the energy of chaos, can take on a demonic form.
You can click here for the most authoritative guide to Lost ark all class in 2022
Factor 2: PvE and PvP content
LOST ARK has a huge amount of Lost Ark PvE content here. Everyone will find something to do. For example, Guardians are powerful bosses that require you to learn special tactics to defeat them.
There are many guardians in the game, of varying difficulty, but you can fight Argos if you can handle them all. And the most difficult, at the moment, are the Lords of Fetraniya. To defeat them, you need to assemble a cohesive team that must follow tactics and acts as a single unit.
If you're enthusiastic about exploring the world, then you can do the collecting. The game has a lot of collections. For example, they visit different islands to collect their souls by completing unique tasks and solving puzzles. Explore the sea to find nautical adventures or craft to find all the Leaves of the World Tree.
Well, the most famous collection is Mococo Seeds. There are more than 1000 of them in the world of Acrasia, some of them are well hidden, and others can be caught in plain sight, but they are easy to miss. These are not all the collections that await you in LOST ARK.
A personal estate is another favorite entertainment for players. In it, you can craft various items, send pets and sailors to sail, decorate them and have a feast with your friends.
PvP players also have something to do. There are several battle options on the battlefields: the arena, the lists, and the royal battle. No matter how advanced your character is, everyone is equal in Lost Ark PvP.
And by participating in rating matches, you can get points calculated at the end of each season, and you are assigned a rank with a reward.
Not only players but also guilds can fight among themselves. Guilds have GvE and GvG activities. GvE includes guild boss battles. But in GvG, you can both fight with players and participate in competitions like running along a route with obstacles or playing snowballs.
Factor 3: Legacy System
Since there are a lot of classes in LOST ARK, you will probably want to try, if not all, then no less than a few. In many MMOs, you have to download again to keep you from such a decision, but LOST ARK has developed a legacy system. Thanks to her, most content is activated for the entire account and not just for one character. For example, all collections, skill potions, pets, gold, silver, and more will be available on other characters, even new ones.
And this system also allows you to transfer some items to other characters through the heritage warehouse.
Finally, having reached a certain combat level, you will be able to upgrade the level of the heritage and receive additional rewards for this, which will strengthen your character.
Factor 4: Interesting story
LOST ARK is one of the few online games with a deep storyline. At the very beginning of the game, one of the last lazenis, Beatrice, will send you in search of parts of the Ark to save the world of Acrasia from the demon invasion and the lords of Fetrania, who are also in search of parts of Ark. During their travels, players will visit many continents and islands, meet various key characters, among whom they will find loyal allies, but also face betrayal. The charisma of the main antagonists will not leave you indifferent.
Factor 5: Graphics
Among MMORPGs in isometric format, it is quite difficult to find a game with a similar level of graphics as in LOST ARK. The detailed world, beautiful and bright animations of skills, and the detailing and customization of the characters themselves exceed all expectations from the isometric format of the game.
If, after a long break, you are wondering if you should return to LOST ARK, then right here would be the top-rated five motives why you ought to do it.
Factor 6: Regular major updates
The biggest update in the game was LOST ARK 2.0, where almost all game mechanics were changed. Many dungeons have been added. The equipment tempering system has been completely redesigned, marine content, and more.
Many different updates have brought new continents to the game, such as Rohandel, Yon, Feyton, Papuanica, and South Bern. Along with such updates, the Plot has moved far too. If you were interested in following the character's journey and searching for the Ark, this is a terrific reason to return to the game.
Many new Guardians have also been added and extremely difficult raids, such as Fetranian Lords. They will not leave any indifferent fan of epic boss battles.
And now the game does not stand still but pleases with updates every month.
Factor 7: It's easier to get to relevant content
With each major update, upgrading your character to current content becomes easier and faster. Since there are a lot of updates, the level of equipment of the players has already advanced far. And so it may seem that it will take months and years to catch up with them, but it is not. The developers are mindful of newcomers and returning players, so don't be afraid to jump back into the game after a long break.
Factor 8: New classes
In addition, numerous updates have brought many new classes to the game. If you missed it, we remind you that updates added such classes as Spear Master, Fury, Deathblade, Paladin, Agent Scout, Reaper, Enchantress, Tygon, and after the start of the game Demon Hunter.
And if you didn't like the situation with the fact that the class is tied to gender, then classes similar to the existing ones, but of the opposite gender, such as Tygon and Demon Hunter, have already begun to appear in the game, and more are planned in the future.
Factor 9: Lots of high-level raids
Since the game does not stand still, it constantly adds a lot of raids with powerful bosses and interesting mechanics.
The Lord of Wrath, Voldan, in the course of his rage, destroys the Battlefield that is located at the top with the tower, and anyone he pushes down can be defeated. Therefore, you need to watch for the blows of a powerful enemy and not to end up where you can be pushed off the arena.
Belakis, Lord of Temptation, is cunning and powerful. In battle, she tries to avoid confrontation and attack you surreptitiously. Therefore, be vigilant when she tries to cast a spell on you or your allies.
And also, other Lords of Fetrania are waiting for you, who pose a big threat to Akrasia. In the future, more Lords of Fetrania will join them, ready to challenge the Seekers.
Factor 10: More ways to mine gold
If you've played before, you probably remember how difficult it was to get Lost Ark gold and silver, but now it has changed for the better, as there are more ways to mine gold.
The list of earning gold has greatly expanded, and now you can get gold by going through dungeons, raids, completing daily and weekly tasks of the Efon Union, participating in events on the islands, and much more.
Conclusion:
The above ten factors and reasons are the main reasons why I personally think this game is sought after by players. I believe that this game can allow players to truly experience the charm of Lost Ark!
Lost Ark 10 Factors, Lost Ark 10 Reasons, Lost Ark Charm, Lost Ark Raid, Lost Ark Gold, News & Guides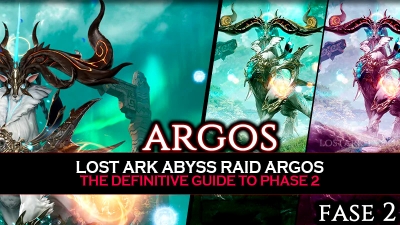 11
Mar
In the following guide, discover what you will face in the battle against Argos and the mechanics of the different phases. Here is a guide to Abyss Raid Argos phase 2, Find everything you need to know to defeat Argos here.