'Madden NFL 17' Predicts Super Bowl LI Winner
Madden NFL 17
Date: Feb/03/17 23:06:54
Views: 2479
'Madden NFL 17' Predicts Super Bowl LI Winner

The New England Patriots will beat the Atlanta Falcons in this weekend's big game according to Madden NFL 17.

The video game has been used to successfully predict 9-out-of-13 Super Bowls since EA Sports began using the game to predict the game's outcome.

In fact, Madden NFL 15 predicted the winner of Super Bowl XLIX almost perfectly in one of the most uncanny Super Bowl predictions I've ever seen. In that Super Bowl, Madden NFL 15 predicted the final score, the Patriots coming back from a 10-point deficit in the 3rd quarter, and was within 3 yards of Julian Edelman's receiving yardage.

Here's what Madden NFL 17 has to say about Super Bowl LI.

The Patriots will win but it won't be a blow out or a high-scoring game. The final score will be Patriots 27 to Falcons 24. The Patriots strong defense will keep the Falcons from scoring in the 3rd quarter, but the Patriots won't secure the win until late in the 4th with Julian Edelman scoring the winning touchdown.

Tom Brady will be MVP for the fourth time, and the first quarterback in history to win five Super Bowls.

I'll follow up after the Super Bowl and see just how close Madden NFL 17 came this time around. It was downright uncanny how accurate the simulation was in 2015.

I'm hoping the game is wrong this time around. The Patriots have won enough Super Bowls. I'm not a Falcons fan, really, but I'm rooting for the under dog this year. Or rather, I'm rooting against the Patriots. Down with the Patriots!
At This Time,U4GM send a coupon code for madden NFL 17 Mobile Game player, Buy Madden Mobile Coins use code"SuperBowl" get 5% discount
Have a good time - U4GM Team
Madden NFL 17,Super Bowl LI News & Guides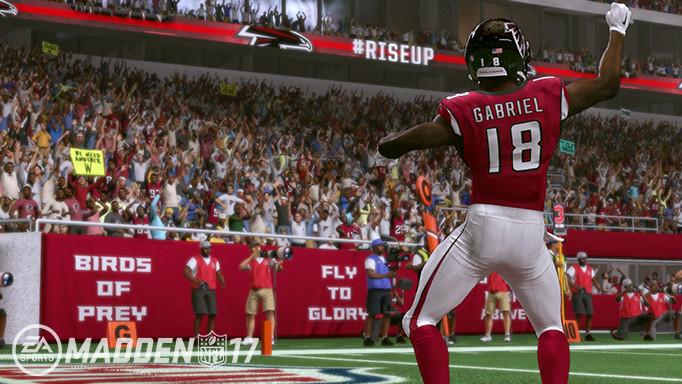 08
Jan
The Falcons found a breakout receiver in Gabriel, the first sort undrafted rookie from Abilene Christian. Gabriel finished the 2016 season with 35 catches, 579 yards and three touchdowns for your NFC South champion Falcons, which received a first-round bye inside the playoffs.