MU Legend: Let's Preview More Screenshots For Wings
MU Legend
Date: Aug/01/17 16:28:25
Views: 4879
In original MU Online, wings are required, hence, for MU Legend, wings will also play an important role. Anyway, with the help of these wings, not only can provide a badass visual to your character they also are responsible for an important amount of your character Combat Power. Today, there are tips on how to take advantage of wings in the game.
Due to MU Online has been released, wings have always been available. In MU Online the wings are responsible for two main characteristics: Movement Speed and Attack/Defense Status. Meanwhile, the developers than decided it was time to develop new wings, as at the time the community was asking for more of these.
This following are two wings for MU Online, please view screenshots:
MU Online, Level 1 Wings

MU Online, Level 2 Wings

Let's Bring It To MU Legend
Since the first version of the game with your first wing been given through a main quest with a good explanation on how/why to use them. There show here a few of them, more types of wings for your character and more news, click here to get more.
There are pictures, respectively, heavenly wings, heavenly wings tier 1, heavenly wings tier 2 and heavenly wings tier 3.
Heavenly Wings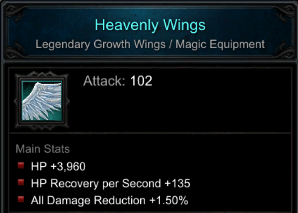 Heavenly Wings Tier 1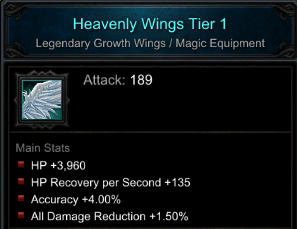 Heavenly Wings Tier 2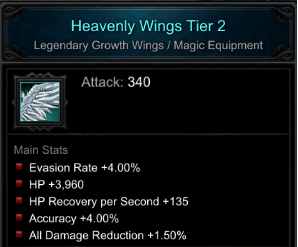 Heavenly Wings Tier 3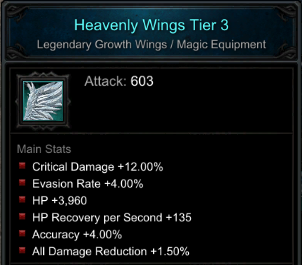 The wings upgrade system in MU Legend will run through the Enchantment Merchant NPC. This NPC has an option dedicated only for wings, look for: Grow Wings. In order to upgrade your wings, you need: MU Legend Zen, Magic Gems and Material. These items can be acquired either from NPCs or by playing dungeons around the continent of MU Legend. Many players have achieved great progress in terms of mastering their wings during OBT. Every different player has a different favorite wings, preview more screenshots for wings, stay tuned U4GM.