There Are 15 Trove Classes With Unique Play Style
Trove
Date: May/08/17 02:37:21
Views: 1929
Trove is a free-to-play voxel-based action MMORPG developed by Trion Worlds. Similar to Minecraft and Cube World, Trove features procedurally-generated Wide Open Sandbox worlds that can be broken down and explored.
Trove has a lot of classes to choose from all with their own unique play style! There are no designated "roles" in Trove and there is no difference between magical and physical damage versus monsters. With 15 classes to choose from, there has been confusion among players who want to choose and commit to a class long-term. That means you can just choose a class that fits your play style and this guide's purpose is to help you decide that. These are only summaries of each class so if you want to learn more about a certain class refer to their main guide!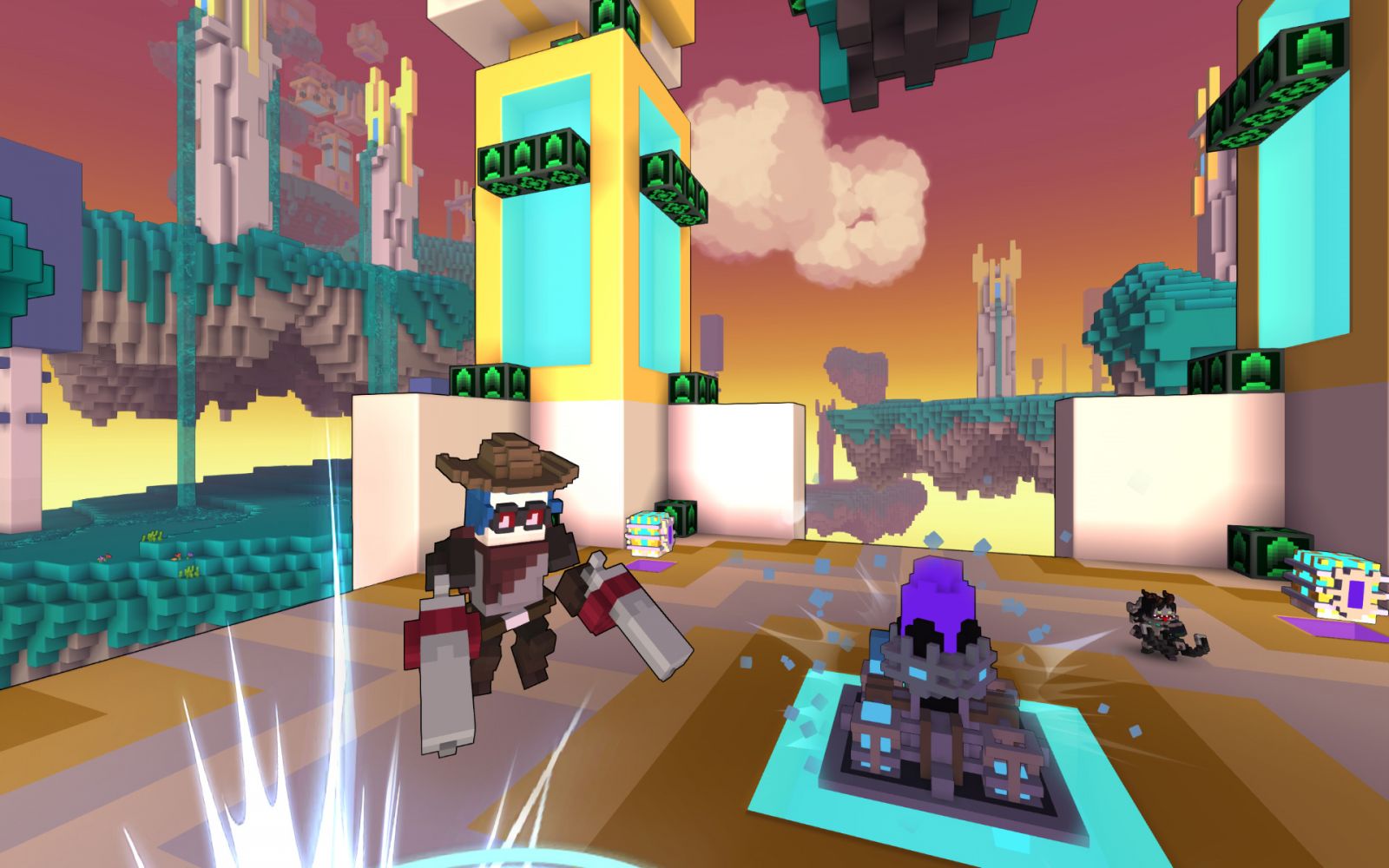 Dino Tamer
An accidental traveller of both space and time, the Dino Tamer uses their knowledge of science and technology to survive in an inhospitable primitive world. The Dino Tamer uses ranged attacks consisting of hunting nets, tranquilizer darts and dinosaur allies to defeat foes.
Chloromancer
Mysterious casters from beyond the Planes, Chloromancer's basic attacks heal allies, damage enemies, and grow their plants faster. Leafy Lashers snare foes and deals damage, Blooming Pollinators deals damage and heal allies, and Sow Chaos grows many plants quickly to turn the tide of battle.
The Revenant
The Revenant is an oathbound spirit that protects the Sun Goddess's domain. A Spirit Wraith watches over you, saving you from death and joining the fight if it is able, so lure foes to you with a Bulwark Bash and destroy them with Spirit Spears and Spirit Storm.
Lunar Lancer
Guardians of the Twilight Stratospheres, Lancers accumulate lunar power as they fight, eventually erupting into full Lunatic Mode. They can also call down a blessing from their missing deity, and use Grappling Spear for damage and mobility.
Tomb Raiser
The unlife of the party! Animate minions, then heal them and damage enemies with your basic attack's piercing beam. Enhance your attack and defense with Banshee's Boon, and combine your Bonetourage into a Grave Goliath!
Boomeranger
Boomerangers are skilled with both bow and blade. Bomb your way through bedrock and stun any enemies you find with your trusty boomerang! When things get too hairy or scary, lob a Mysterious Urn into the fray!
Pirate Captain
A salty sea dog with a love for explosions and the high seas. Blast your foes with Plunderbuss for doubloons to upgrade your First Mate's cannon, bait foes with Pretend Pirate, and unleash Man o' War for a fiery finish!
Shadow Hunter
Shadow Hunters destroy evil wherever it may hide. Heed the Dark Whispers of your captured shadow, pick off distant enemies with a charged Radiant Arrow, and trap them with Sun Snares when they get close.
Ice Sage
The Ice Sage is a cryptic spellcaster with an unerring sense of everything cool. Chill foes with magical crystals and summon deadly falling icicles, then use your ultimate to freeze enemies solid and leave them helpless.
Candy Barbarian
A mighty warrior with a lust for battle that is matched only by a hunger for sweet treats. Leap into the fight, then beseech your patron deity Eis-Crom to hurl one of his fabled thundercones down upon the heads of your enemies.
Neon Ninja
Elusive and deadly, the Neon Ninja slices and dices enemies when they least expect it. Backflip into stealth and surprise your enemies with thrown shuriken, and then obliterate them with the forbidden Final Technique.
Dracolyte
The Dracolyte is a fire mage who commands the might of dragons. Use your flamethrower to charge up your dragonling familiar and if you get into trouble, use your ultimate to transform into a powerful dragon.
Fae Trickster
The Fae Trickster specializes in avoiding damage while dishing it out. Use blink to leave behind an illusion that takes the hits for you, while you deal massive damage with your charged up attack.
Gunslinger
The Gunslinger is an eagle-eyed ranged fighter who blasts enemies with dual pistols. Light up your foes with a well-aimed charged shot, then use your ultimate to gun them down in a hail of energy bullets.
Knight
The Knight is a durable, armored fighter who wades fearlessly into melee combat. Charge your enemies to close distance, but if things get messy, your ultimate will restore your health and let you shrug off blows with ease.
It is very important to take the time to level up at the beginning of the game. Whenever you need Trove Flux, you can turn to U4GM for help. U4GM has cheap Trove Flux for sale. And we guarantee to deliver safe flux to you within 10 mins in safe places of the game. U4GM is a reliable and professional Trove items supplier, so it is wise for you to buy Trove Flux on U4GM.