Trove Cornerstones - The Sanctuary Of Trovian
Trove
Date: Jun/05/17 05:00:32
Views: 2425
Trove is a voxel game like Minecraft, but with MMO elements such as classes and special skills. Not only can you craft items and build a base, you can fight enemies and do dungeons as one of the many classes in the game. Today, we'll talk about cornerstones in the Trove world.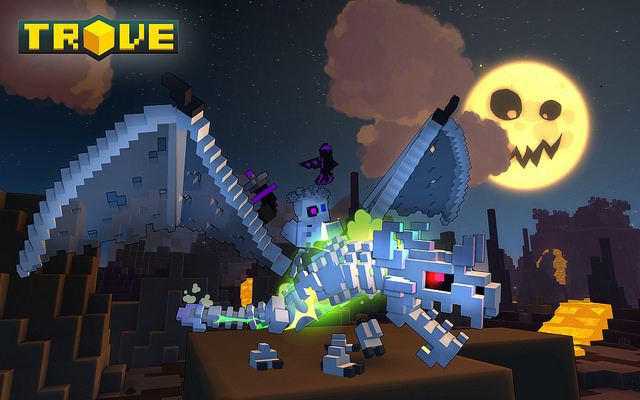 When in an adventure world, you can find cornerstones in the gray areas where have a question mark sign nearby. Cornerstones are where you build your base/home and craft things. The best part about cornerstones is that it saves your setup and you can move it to any other spot that is not being used.
Cornerstones are a Trovian's sanctuary. These follow you through the infinite worlds you'll travel, and make you feel at home no matter where you are. This means you can go around fighting and doing dungeons, then find a nearby spot to put your cornerstone. They contain your facilities, such as a Personal Chest, Novice Crafting Bench, Barbershop or Rejuvenation Station. They give you access to the Forge, which will increase the capability on your gear, the Enchanted Forge, which will give you more stats (up to 4), put stat boosts on the items with Pearls, and change the aura on your Radiants when you acquire them.
Novice Crafting Bench
This is where you'll get all basic equipment you'll need to play Trove. Novice Crafting Bench lets you craft a few helpful items and other types of crafting benches.
Personal Chest
The first item you'll need right away is Personal Chest. This is where you'll put all the various belongings that you collect while you're adventuring.
Rejuvenation Station
It's the second essential item. This will refill your Flask and heal you to full, so it's best to have one of these somewhere you can quickly access it if you're in a pinch. Make sure you place it as close to the entrance as possible.
Adventurer's Crafting Bench
Makes a bench where you can craft helpful things for adventure mode. This will let you build a lot of useful items like bombs (great for mining), mounts, professions benches, and shadow keys.
Barbershops
Barbershops let you change the look of your character and rejuvenation stations refill your flasks.
Loot Collector
The most used equipment in your cornerstone will be a Loot Collector. This is the place where you'll dismantle all equipment found for styles and for other resources like flux. This is the most used equipment, so place it next to your Rejuvenation Station. Put equips in here that you don't need, or want to put in your collection. It destroys them and gives you materials, plus if you didn't have it in your collection, it adds it.
Ringcrafting Bench
Lets you craft rings if you have the required materials.
Builder's Crafting Bench
Makes a bench where you can craft helpful things in build mode.
The time for Trove to add mini games is almost upon us and to prepare those ready to take on the free-to-play MMORPG with Megalithic Update, Trion Worlds has released patch notes. Trove has officially gone live on PlayStation 4 and Xbox One.
Stay tuned at www.u4gm.com where sells cheap Trove flux for sale. Follow the latest Trove patches, updates, and more.