Trove Guides - In Game Classes And Currencies
Trove
Date: May/16/17 12:49:10
Views: 2092
Trove is a sandbox voxel based adventure where players can explore an endless amount of randomly generated worlds filled with quests, enemies and treasure to be explored and discovered. The landscape is completely destructible and re-buildable, smashing through walls or deep underground your next adventure may be just under the surface. Here are some details of 15 classes and 4 types of currencies in Trove.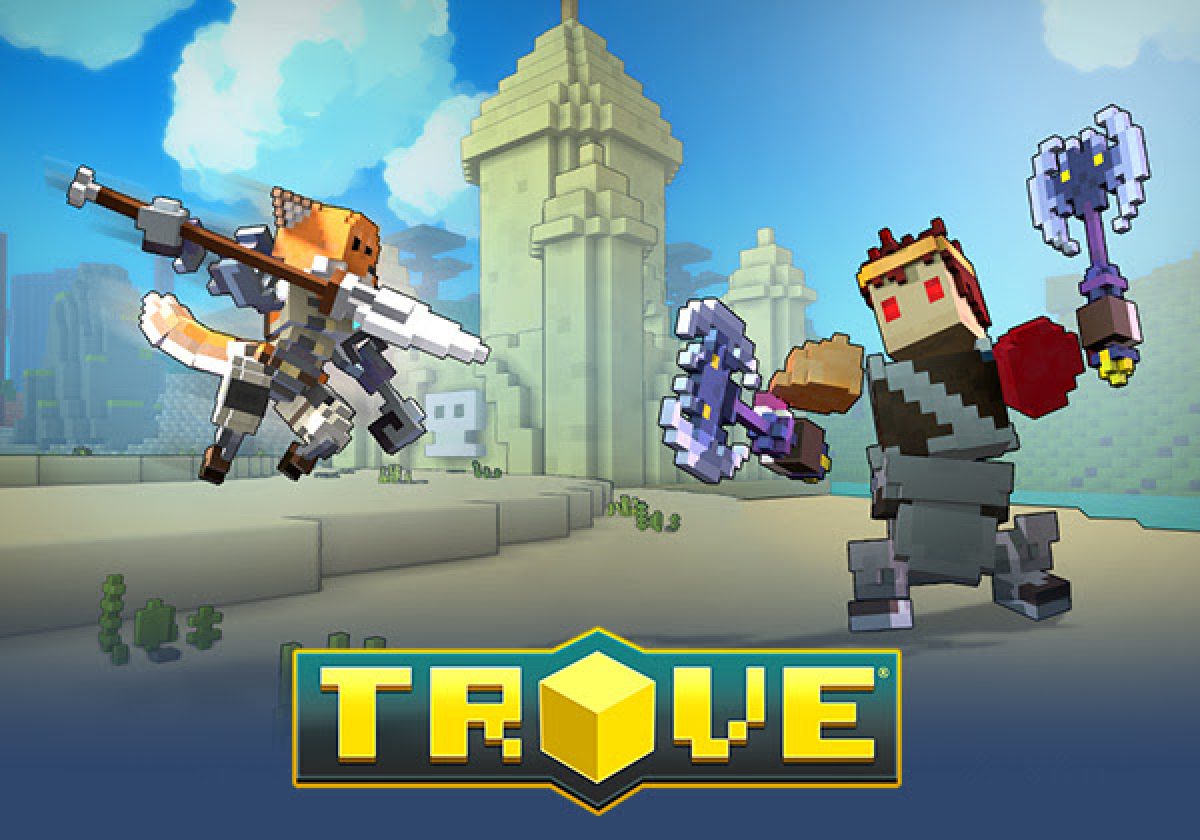 15 Classes:
Dino Tamer
Difficulty: High
The Dino Tamer class is a ranged pet class it uses traps to slow enemies and can summon dinosaurs to attack its enemies. By himself the Dino Tamer seems weak, but when he calls his Dino pets he can kill almost anything.
Chloromancer
Difficulty: Medium
The healer of the group, but not only that. Chloromancers are mostly defensive classes they can heal, crowd control and do damage even though they do less damage than the other classes they can prove really hard to kill with strong heals, life steal, over time damage and enemy snares.
The Revenant
Difficulty: High
Revenants are here to protect us and they are great at it. The tanks of the game are a living, walking armor that slams with their shields the enemies to draw their attention and can sacrifice health to summon ghostly spears to fight by their side or sacrifice health to summon a soul vortex that draws near enemies and heals allies.
Lunar Lancer
Difficulty: Easy
A DPs class that uses a spear and the power of the moon (obligatory sailor moon joke) to empower his attacks, throw your spear and teleport to it, throw enemies into the air to slash them or simply summon a giant spear to drop on the ground and some meteors for some extra damage.
Tomb Raiser
Difficulty: Medium
Simply put, this is the necromancer class of this game you summon minions and empower them with souls you absorb from your dead enemies. If you want your henchmen to do the job for you then look no further.
Boomeranger
Difficulty: Cheat Mode
The Boomerang is master of nothing but what he does, he does well. He is a range/melee hybrid that will slash you with his sword at close range or throw his boomerang to damage you and stun you. With his bombs and a wild card skill that can do anything from healing him, to exploding and doing damage on the enemy this class will be the best class to start with. But the biggest thing he has that other class, don't is his extremely fast health regeneration that will help you a lot at the start to learn the game and avoid unnecessary deaths.
Pirate Captain
Difficulty: High
If you don't get it by now you are a pirate you will shoot guns, cannons and use deception to outsmart your enemies together with your pet parrot that is always on your shoulder you will have a great time being a pirate.
Shadow Hunter
Difficulty: Very High
We always need a ranger class in MMOs and this is the one for this game. The Shadow Hunter is a high DPs class that stuns enemies and even can hit them through walls.
Ice Sage
Difficulty: Easy
Use ice to freeze, slow or absorb any damage that is done to you. The Ice Sage is the perfect class for players that usually play mages or spell casters.
Candy Barberian
Difficulty: Easy
All the Candy Barbarian wants is a snickers bar to be himself again, but the only thing that exists in Trove are jelly so he is cursed to wander the land slaughtering minions of evil until he quenches his appetite for sugary treats. Usually warriors use mechanics like rage, fury or simply MP, but not this one! You will wield the power of sugar with abilities like Vanilla swirlwind to spin around and hit everything, jump in the air and land with a sugar crash on your enemies to devastate them! or Invoke the powers of Eis-Crom, god of all things candy to summon a giant ice cream cone on the heads of your foes that explodes!
Neon Ninja
Difficulty: Medium
If you like the 80s, Neon lights that are blinding in the eyes of mortals and Ninjas, then you found your class. The Neon Ninja is the rogue or the assassin class of this game that does a lot of damage and utilises stealth and fast movement to avoid incoming damage.
Dracolyte
Difficulty: Medium
The Dracolyte is the master of fire and dragon together with his companion dragon that acts more like a flounder with every bit of power it stores it increases the size of its belly until you tell it to unleash it. Your pet and you fire bombs will be some of your best weapons against your enemies until they anger you and turn yourself into a dragon to smash and burn everything in your path!
Fae Trickster
Difficulty: Medium
If there was a class that I can compere the Fae Trickster to it will be illusionist he casts spells to kill his enemies blink around and conjure fake images to distract his enemies.
Gunslinger
Difficulty: Easy
At first the Gunslinger seems like the average western gunslinger but soon you will find out that he stole some alien technology and he can fire lasers from his guns, propel himself into the air to avoid danger or empower himself with more lasers to shoot faster.
Knight
Difficulty: Easy
The Knight is a DPs class with some defensive capabilities smash the ground to do damage, charge into battle and shield yourself from harm until you recover.
There are 4 currenies in Trove:
Cubits
This is the currency you can farm in the game to buy store items and don't spend real money on them its not that easy to come by but not too hard either. Each day you can get 500 by just doing some dungeons even in a low level zone until you fill a Star Bar and get your reward.
Credits
This is the paid currency of the game that you can use to buy stuff from the market and speed up your progress on the cosmetic side of things or buy classes. You can only get Credits by spending real life cash.
Glim
Glims are easy to find and they don't worth much, but players use them as money. You get Glim from Running over Grass, Killing Monsters and Fishing.
Flux
Same as Glim but more rare because they can only come from items you deconstruct. You can get flux from destroying items in the Loot Collector.