Trove Guides On How To Earn Cubits/ Credits/ Flux/ Glim
Trove
Date: May/11/17 14:56:20
Views: 3062
Trove is an massively multiplayer online role-playing game Sandbox video game developed and published by Trion Worlds. We would say, "Trove is not just a game, it's the game to play and the place to be."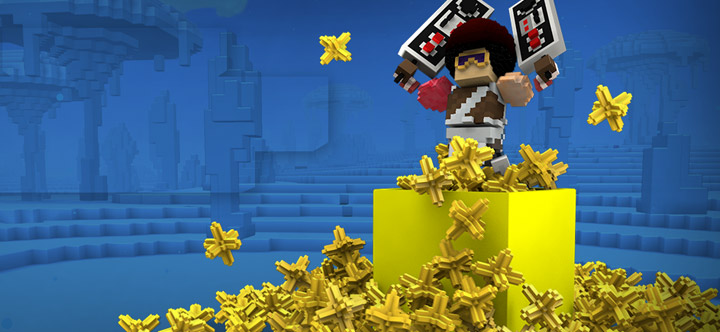 In Trove currently there are 4 types of currencies that players and the game uses:
Cubits - Cubits are a free currency the player can get by completing quests or filling the daily bar.
Cubits are very hard to get over mastery level 30, the best way currently of getting cubits, is to do your missions and fill your daily progress bar. The progress bar gives you 500 cubits for completing + all of the credits for doing the missions required. Cubits can be obtained by max leveling your characters to 20, apon max leveling you will recive 1000 cubits. Also mastery levels give out cubits but mastery levels are hard to get if you dont know how to easily farm for them.
Credits - Credits are a paid currency the player can use to buy things such as mounts,flasks,emblems,ships and many more cool things.
Credit card and Mastery ranks do give out credits. You can also earn credits by making items.
Flux - Flux is the main currency of Trove, Its easyily obtainable, and players trade with it, you can buy pretty much anything with flux.
Players can obtain flux by many ways, but there is a good way is Shadow Arena Farming/Loot converting. When you are decently happy with your loot, you no longer have the need to keep every item you find, so you recycle them in the loot collector. It costs in the sense of shadow keys and stuff. Another good way of getting flux is to just trade items and try to build up that way. Also Flux can be obtained if you are level 30 mastery or above, to do so you do the dragon challenges at the hour mark on your clock, and this way is a nice simple way of getting flux if you are over mastery level 30.
Glim - Glim can be used to buy things from the pirate traders stashed around the game, such as mounts, pets ect.
Most people argue with this way but with no doubt, the best way of getting glim by far, is fishing. Fishing with no doubt is the easyiest way of getting glim at about 1-3K a hour rate, which is very good and fast.
It is very important to take the time to level up at the beginning of the game. Whenever you need Trove Flux, you can turn to U4GM for help. U4GM has cheap Trove Flux for sale. And we guarantee to deliver safe flux to you within 10 mins in safe places of the game.