Trove Offers Mega Menagerie Pack For Extra Life Program
Trove
Date: Jun/29/17 13:52:45
Views: 2156
It's an honor to once again work with the Children's Miracle Network Hospitals fundraising program, Extra Life! Last year, with your incredible generosity, we doubled our original goal and donated $40,000 USD to help support this incredibly worthy cause.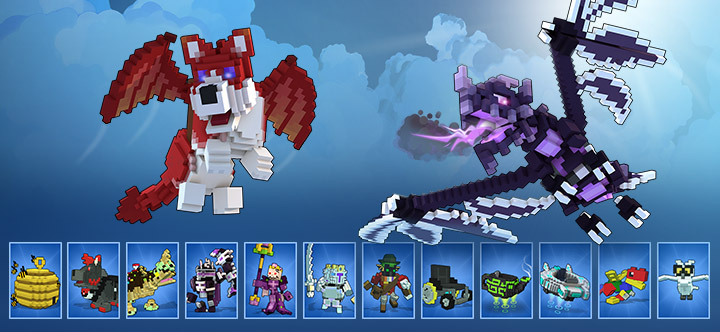 To spread the Extra Life program, the collaboration between Trion Worlds and Children's Miracle Network Hospitals, Trove decided to release the Mega Menagerie Pack to players. Trion Worlds is going to provide 50% of the sale to help care for sick and injured children in the United States and Canada.
The Mega Menagerie Pack is a epic bundle that involves a massive amount of new goodies:
• 2 dragon eggs – Tambleddyn of the Western Peaks and Fulguras, the Lightning Blade.
• 4 costumes – Platinum Paladin, Stone Shaper, The Blocktor, and Skysunder Sniper.
• 6 mounts – Powered Wheelchair, Light Gunship, Bouncing Beehive, Verlis Wolf, 4-T Assembled Souser, and Dessert Dromintoceros.
• 14 allies – Silverfang Pup, Husky Pup, Snowsquall Strigid, Viridescent Hummingbird, Tuxedo Cat, Moon Dreamer, Bloxx the Playful, Fluttermouse Familiar, Planing Possum, Zephyrian Zardille, Wee Wheekie, Cherry Chibi Chompbox, Starsheen Seahorse, and Scapes Goat.
• 18 styles for helmets, hats, faces, and weapons.
Trion Worlds plans to donate $125,000 USD through the Extra Life event from 12:00 AM PDT, June 27, 2017 to 11:59 pm PDT, July 31, 2017.