FIFA Mobile: How To Find Cheapest Easter Eggs Player For The Poor
FIFA Mobile
Date: Apr/02/18 22:55:40
Views: 9078
The Easter event is a great opportunity to get players on 82 OVR, but not everyone knows the trick to open the player.
Long after the Lunar New Year, new players have had a chance to plow completely and still have the chance to get the player over 90. However, as well as near events Here's the EA, plowing is very difficult and wasted time if you do not know the tips below.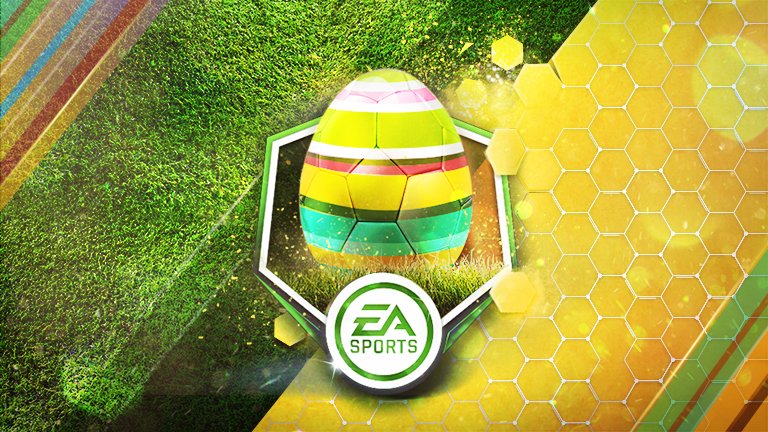 First of all let's go into the general description of this event:
Event Overview
Name: Easter Eggs - Easter Eggs
Content: Complete the workouts and VS Attack to get the eggs. Open the egg (and knock) in the Hunt section to find the player, increase the stats, experience...
Time: 10 days (from March 31 to April 09). Every 8 hours, the event will be refreshed and the player must start over. Reset time is 2am, 10am and 18pm.
Especially: beating all 32 eggs will receive Golden Ticket. This ticket turns any FIFA Mobile Season 2 player into a 100, with your in-game name in the game.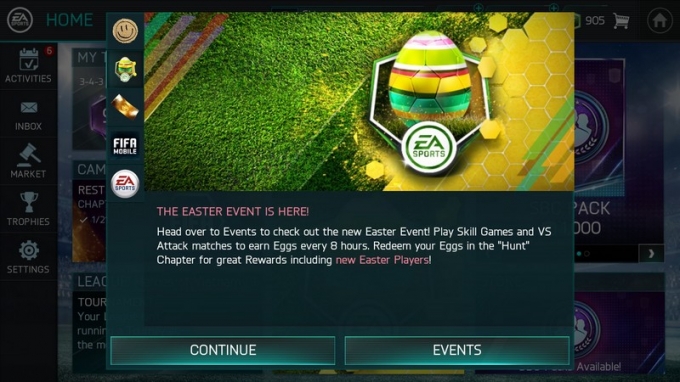 Overview Of Players
There are 48 new players at the event ranging from 82 OVR to 93 OVR. In that group of players 91 to 93 can not be traded, the rest can.
In addition to the egg beat players, you can buy in the Shop for 1,000 FFP / 500,000 Gold to receive random Eggs and players (very low probability).
How To Open Eggs To Players
There are 4 types of eggs at this event, corresponding to 4 colors: blue, red, yellow, white and rainbow colored eggs. To beat the egg you need the right egg color or egg rainbow seven colors, seven-color egg can replace the other four colors.
Each hunt will have 32 eggs divided into 4 colors (but not equal to 8: 8: 8: 8, which randomly varies from person to person), beating all will definitely out players and have Rate out the Golden Ticket. However, you should only beat up to 10 eggs at each Hunt refresh, which is the color? Notice the image below: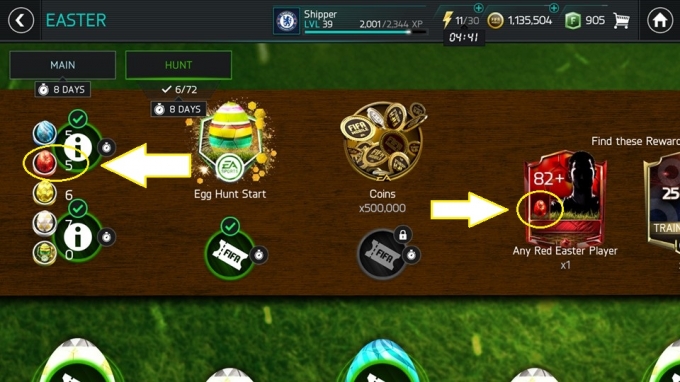 As you have seen, the player you need to hunt belongs to Red Egg, so you only use up to 10 red Eggs to open that will definitely open up the Easter player. In fact, a normal person only need about 6 eggs is enough, if need to 10 eggs then you really too black.
Since the player's egg is random, the number of eggs belonging to that color is also human (but not more than 10, minimum is 5), so every time there is enough eggs with the corresponding color Any player (after carefully counting the corresponding egg color), you beat. Do not accumulate on the last day because there is a possibility that in one day you will encounter three colors overlap, the remaining eggs will be wasted.
Important Note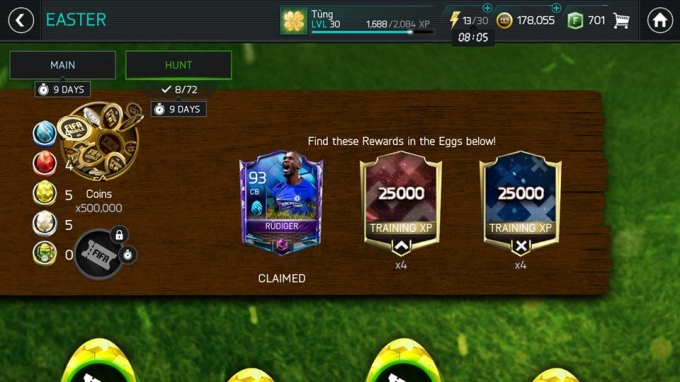 The probability of falling out of the egg when you perform the exercise is very low
The probability of opening the Golden Ticket is very low
Should save enough eggs one color to open 100% sure will out player
VS Attack matchups does not affect Fan number. Finding your opponent is based on your rank (Fan) and your total score (OVR), so you will meet many opponents even if you decrease your Fan or decrease OVR.
It is very necessary for you to make money in game to prepare for new season of FIFA Mobile. However, you can buy cheap FIFA Mobile coins on U4GM if you don't have enough time to make money.