Fortnite Weapons Guide to Scoped Dragonfly
Fortnite
Date: Aug/11/18 10:29:08
Views: 6380
Fortnite Scoped Dragonfly, a Legendary Standard Scoped Sniper in Save the World and make use of Medium Bullets. This Sniper Rifle features a crosshair scope. A mid to long range rifle that deals good damage and has a quick rate of fire. Scoped for extra down sights accuracy. You may need 15 Blast Powder, 30 Mechanical Parts, 1 Active Powercell, 11 Ore to craft it. After reading this guide, if you want to buy this weapon, U4GM will be your right choice, since we are a professional website that sells Fortnite Weapons.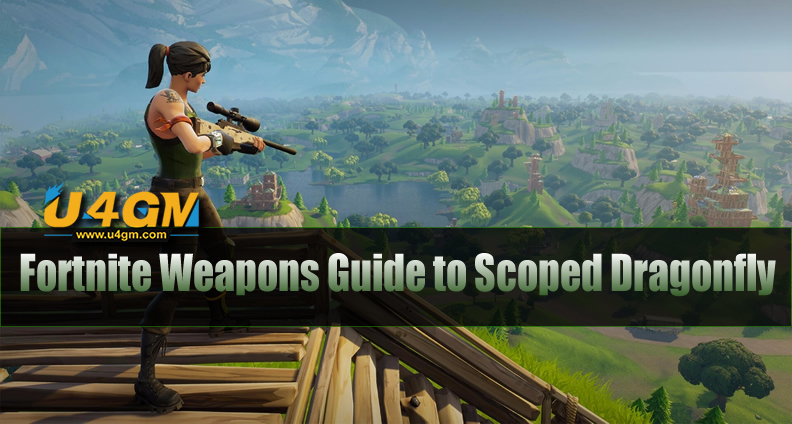 Bear in mind that Scoped Dragonfly also has other versions:
Scoped Wasp is the Epic version of this weapon.
| | |
| --- | --- |
| Name | Value |
| Damage | 63 |
| Critical Hit Chance | 5% |
| Critical Hit Damage | +75% |
| Fire Rate | 2.5 |
| DPS | 485.1 |
| Magazine Size | 10 |
| Range | 6656 |
| Headshot Multiplier | +100% |
| Durability | 375 |
| Durability per Use | 0.22 |
| Reload Time | 2.6 |
| Ammo Type | Ammo: Medium Bullets |
| Ammo Cost | 1 |
| Impact | 150 |
Scoped Dragonfly is accessible from the Vindertech Store in all Basic and Daily Llama Piñatas, including ranged weapons or it can be available as non-featured loot in Event Piñatas.
Pros:
Deals good damage
Quick rate of fire.
High accuracy.
Cons:
Relatively low DPS
Scoped Dragonfly vs Stormblade
Scoped Dragonfly just isn't bad should you get dependable headshots. Stormblade is a Legendary Higher Tech Sword in Save the World. Stormblade is very good if you're into melee and it can deal energy harm that may be pretty helpful against elemental enemies.
Should you play a Soldier, you will be wasting your time with a Scoped Dragonfly. The scope just restricts your field of view and inhibits your mobility too significantly. If you play a constructor and like to build enormous bases and hang out up above them and snipe, you could have the ability to use it efficiently. I nonetheless believe you'd be missing out on DPS and repairing structures.
Fortnite Weapons News & Guides