The Most Complete Fortnite Weapons Guide - Lynx
Fortnite
Date: Sep/13/18 10:27:15
Views: 6756
Lynx, a Legendary Military Weapon in Save the World and it truly is the counterpart of the Epic and Legendary Burst Assault Rifle. This burst assault rifle has a slow firing, plus above average headshot damage and outstanding stability. You may need 15 Blast Powder, 30 Mechanical Parts, 1 Active Powercell, and 11 Ore to craft it. Lynx is one of the new Fortnite Weapons sold on the U4GM, so if you are interested in this weapon after watching this guide, you can now buy it on U4GM at a favorable price.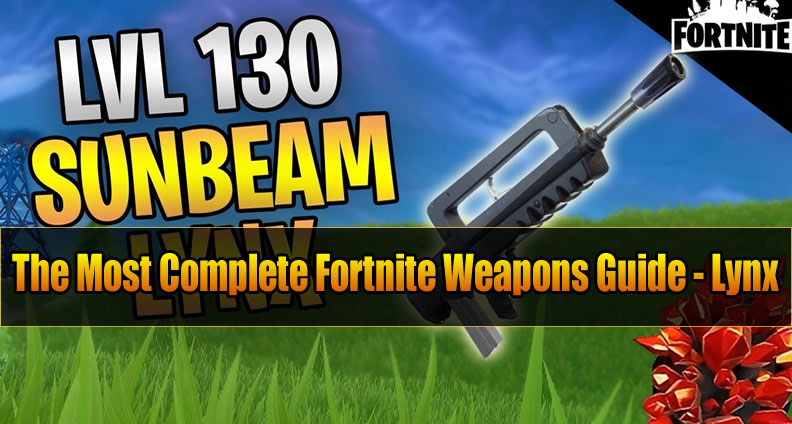 | | |
| --- | --- |
| Name | Value |
| Damage | 40 |
| Crit Chance | 10% |
| Crit Damage | +50% |
| Fire Rate | 2.275 |
| Magazine Size | 30 |
| Range | 4096 |
| Durability | 375 |
| Durability per Use | 0.1 |
| Reload Time | 2.6 |
| Ammo Type | Ammo: Medium Bullets |
| Ammo Cost | 1 |
| Impact | 101 |
Lynx is obtainable to purchase in the Event Store sometime throughout the Blockbuster event for 1680 Gold.
Pros:
Has above average headshot damage.
Outstanding stability.
Cons:
Slow firing.
body-shot damage isn't great
Lynx or Typewriter
The typewriter is usually a Flintlock Weapon, a mid range assault weapon with a high capacity magazine along with a lateral kick. Its shooting profile tends to make it excellent for clearing groups of nearby enemies in mobile engagements.
The typewriter is seriously good and has perks that do not must be changed but the Lynx could use some perks changed to create it improved. If you don't possess a well-rolled assault weapon I'd go for the Typewriter, but for those who do Lynx.
Lynx vs Siegebreaker
Siegebreaker is a Legendary Automatic Rifle and makes use of Light Bullets. A flexible assault rifle capable of handling all forms of combat scenarios. The high rate of fire with solid accuracy when aiming down sights and firing in controlled bursts.
They're both two really different weapons. Lynx is really a burst rifle, and much better at longer ranges, but Siegebreaker is king in most short-mid to mid range scenarios. Then the Bobcat or the Specter is superior at close range.
Fortnite Weapons News & Guides