What are your expectations for PoE in 2018?
Happy New Year! First, let's take a look back on 2017, Click here. Looking ahead, Instead of expectation, here's my wishlist: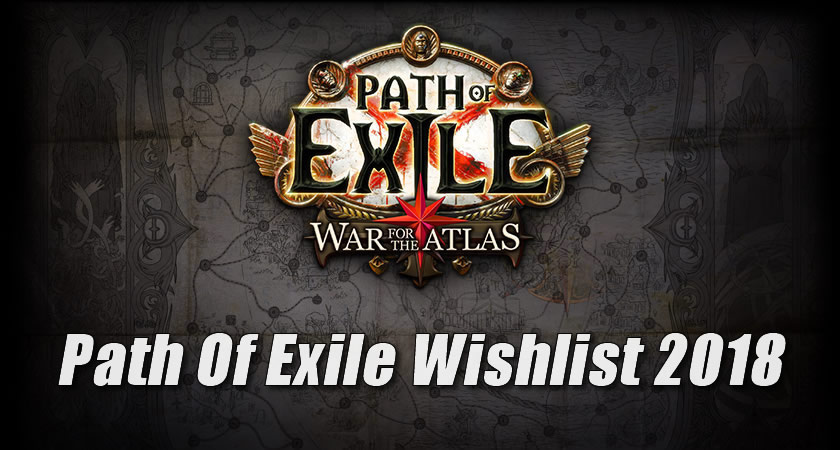 Performance improvement. Especially relating to ground effects and particle effects.
Some improvement to visual clutter.
Namelocking...
Option to make attack in place the default setting
More fluent character movement and better responsiveness. Specifically, shorter cast animations. Pre-cast, cast, and post-cast animations. All are incredibly long and make characters feel slow, sluggish, unresponsive, and make it feel like you're playing a 20 year old game.
Especially now that instant leech is pretty much gone, it would be nice to not be stuck in animations half the time, and put a bigger focus on dodging and reaction times to reward good play, instead of combat just being a stat check.
ONLY in combination with the above change: nerf multistrike, or buff faster attacks. Multistrike is way too mandatory for melee builds with no real feasible alternative.
Slower attack builds could be viable if you wouldn't get assblasted so hard by being stuck in animations for 6 years, so that needs to change first.
more variation in bow builds
Don't put breach on zana 8....
Masters rework, make it less of a boring time-consuming drag
Earth magic skill gems (physical damage probably), let us roleplay avatar please GGG
What are your expectations for PoE in 2018?
Trustpilot
40 x POE Abyss Exalted Orbs Special Offer 2% OFF On Abyss

19/01/2018

90 x POE Abyss Exalted Orbs Special Offer 3% OFF On Abyss

19/01/2018

20 x POE Abyss Hardcore Exalted Orbs On Abyss Hardcore

19/01/2018

4 x POE Abyss Exalted Orbs On Abyss

19/01/2018

70 x POE Standard Exalted Orbs On Standard

19/01/2018

6 x POE Abyss Exalted Orbs On Abyss

19/01/2018
Contact Us
24/7 Email Support
Sale Cooperation:
Skype ID

For Game Currency :
coolyou8

Buyer Complaints :
[email protected]
(For any dispute email, we'll reply within 24 hrs)

Sale Cooperation:
CassieU4GM
FeedBack
how will i receive my order zen ? by mail or trade? its better to me by mail. thanks in advance
cedric lim
I found this website from a youtuber who was sponsored by U4GM. I decided to buy some coins because they were the cheapest I could find. They delivered almost instantly! Great experience and I will but again from then very soon.
Nick White
FIRST time buying zen and didnt expect it is legit. Thank you so much! Hope this is super safe thank other sellers xd
Draniem Ojemreb
Fast and good attemption
Rafael Gomez
Fast deliver, all taken
Krystian Parafiniuk
100% Working and fast!! =)
Raphael França
more +