McDavid and Crosby Top EA Sports NHL 18 Player Ratings
NHL 18
Date: Sep/04/17 22:15:18
Views: 5602
The article from thehockeywriters.com by Shane Sander

Through the late parts of the summer, EA Sports has been ramping up the marketing for the release of NHL 18. The game has a worldwide release date of September 15 and will be available on PlayStation 4 and Xbox One. With the game about to be released, EA Sports has been releasing the top player ratings from goaltenders, defensemen and all three forward positions.

In their latest rating release, EA Sports published their Top 50 list. At the head of the list is Connor McDavid and Sidney Crosby tied with a 93 overall rating. Both players are generational talents, and there's little arguing those two players being the best two players on the ice and in a video game.

As far as who's the most dynamic duo, McDavid's linemate Leon Draisaitl got an 87 rating and finished 42nd on EA's official list. Crosby's teammate Evgeni Malkin was the third highest ranked player in the game with a 92 overall. These players are at the head of a new rating system developed by EA for authenticity purposes.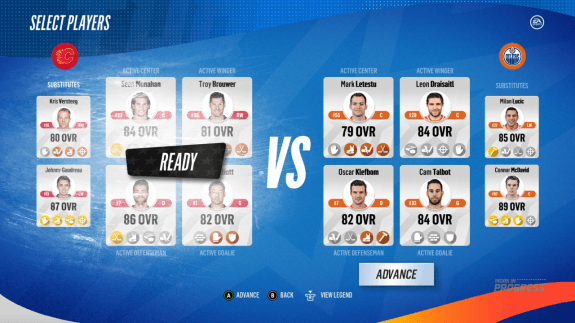 NHL Threes was a huge hit during the NHL 18 Beta release. The ratings listed are reflective of the players NHL 17 ratings. (EA Sports/NHL 18 Beta)

New Player Rating System for NHL 18

One of the common complaints with the video game is how the player ratings are justified. There's a massive cluster of talent that doesn't separate itself regarding value, so the top end players on your team sometimes aren't much better in the game than some of your lesser ranked players.

EA has stated that they have created a new system that creates a notable gap between first line players to those on your fourth line. This is being done in part to keep the popular Franchise Mode more realistic. So your Crosby's and McDavid's now are more valuable and will be that much better for the in-game performance and realism.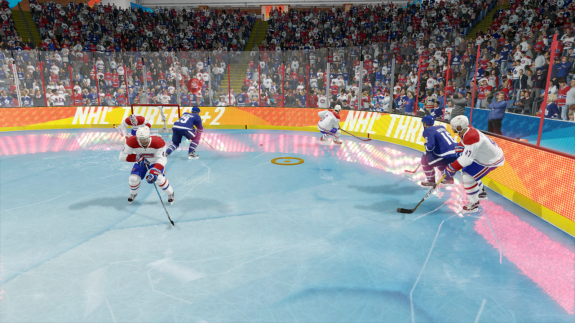 NHL 18 Screenshot (EA Sports/NHL 18 Beta)

The other end is that top draft prospects will be ranked as such and have a better ability to jump straight into your NHL lineup. In the past, the draft portion of franchise mode has been an absolute crapshoot at best. Identifying a few key talent pieces as top prospects and having their ratings reflect that will create some realism and authenticate their impact on your lineup.

New Player Rating Breakdown for NHL 18

No word yet what ratings Nico Hischier (1st overall, 2017) and Nolan Patrick (2nd overall, 2017) have, but expect them to be in the low to mid-80's. To summarize quickly, it's a tiered system of ratings that differentiates your first, second and third liners from the rest of the pack.

The same can be said for the system that differs your top pairing blueliners from the rest, and the goaltenders as well. Here's the general guideline:

EA Sports NHL 18 Top 50 Player Ratings

Here is the complete top 50 player ratings from EA Sports' most recent ratings release. On their website, you can find their breakdowns by position. It's worth noting that three teams in particular stand out the most. The Boston Bruins, Chicago Blackhawks and Pittsburgh Penguins all have the most number of players on the top 50 list.

For the Bruins, Patrice Bergeron (89), Tuukka Rask (88), Brad Marchand (87) and David Pastrnak (87) highlight their roster. In Chicago, Patrick Kane (91), Duncan Keith (90), Jonathan Toews (89) and Corey Crawford (87) lead a stacked Blackhawks team. For the Penguins, Sidney Crosby (93), Evgeni Malkin (92), Matt Murray (88) and Kris Letang (88) make Pittsburgh a video game powerhouse.

So if you're looking for a juggernaut for your NHL Threes team, look no further than those three teams.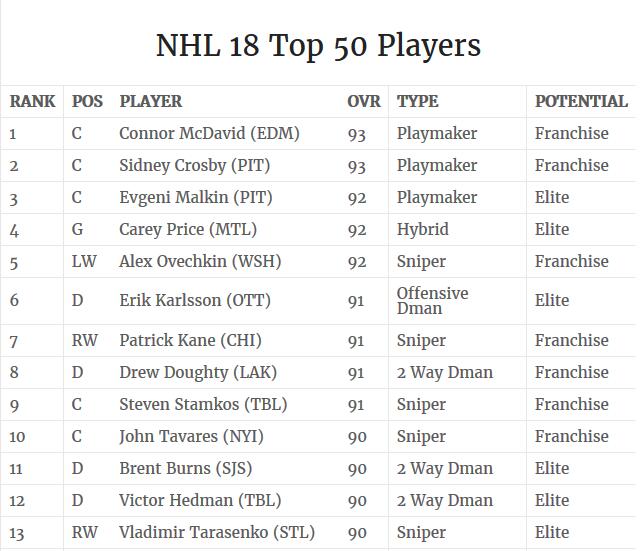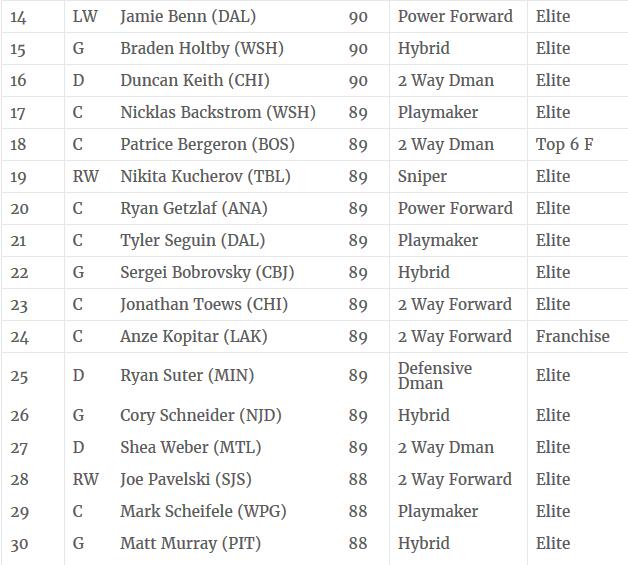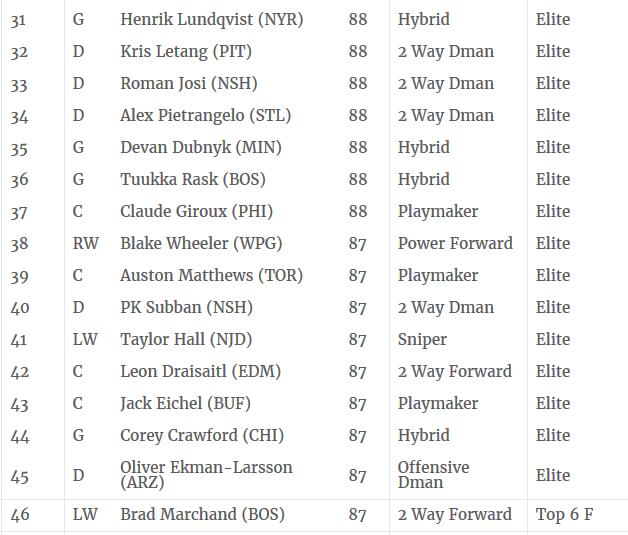 As mentioned, NHL 18 will be available on September 15. Do you agree with EA's player ratings? Is there a player that is grossly undervalued and not on this list? Is there a player who's overvalued on this list? Let us know in the comment section below!
Buy Cheap NHL 18 Coins fast delivery at U4GM.COM
NHL 18 Coins News & Guides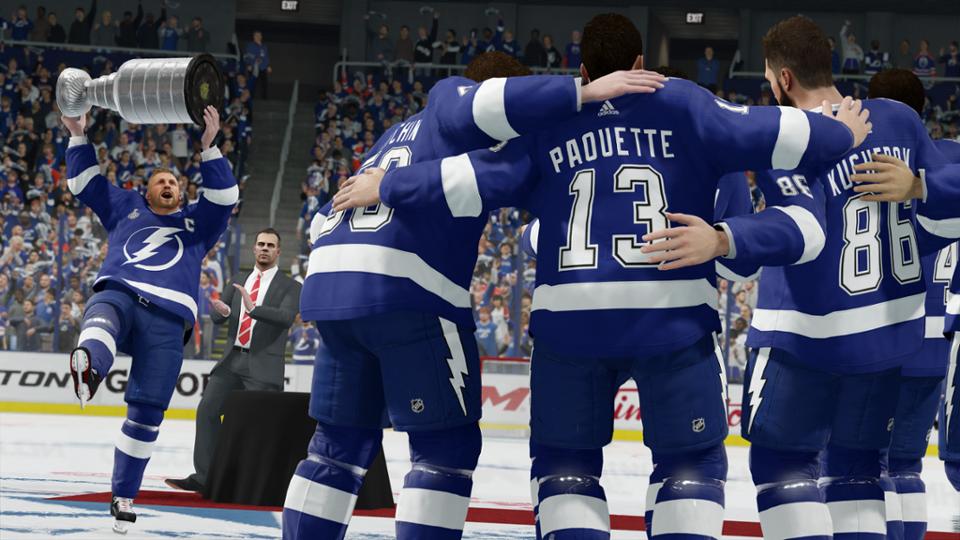 05
Oct
The Pittsburgh Penguins will not three-peat as Stanley Cup champions, if the full-season simulation from EA Sports NHL 18 is correct.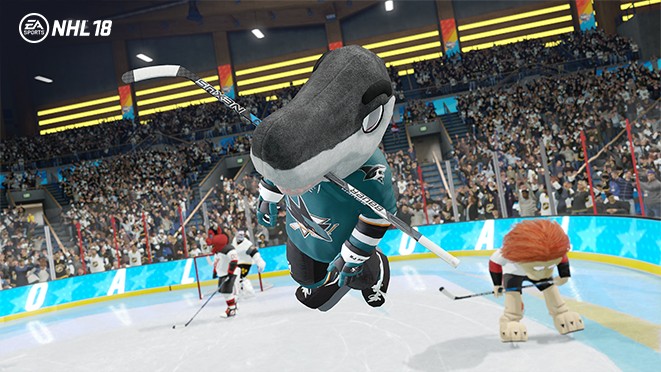 23
Sep
NHL 18 is the latest installment in the long-running hockey simulator franchise and it comes in rather quietly.