Why Now is the Best Time to Play Path of Exile?
Path Of Exile
Date: Dec/13/17 12:40:44
Views: 1728
Honestly, for any players reading this, this is the best time to get started with this game. Because the new expansion has improved gaming experience.
An expansion released in August called The Fall of Oriath, which has completely revamped the game for the better. Grinding Gear Games added in a ton of new features, made improvements to the existing infrastructure and tweaked the storyline into something that makes much more sense.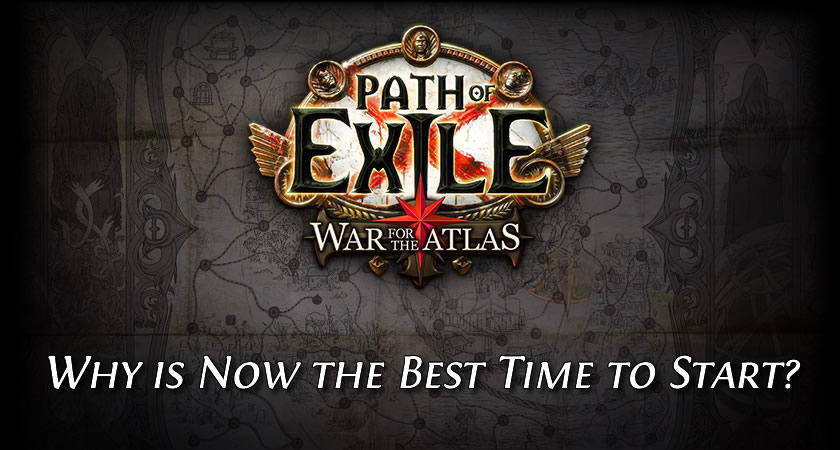 The first major enhancement to POE was the addition of a Help Panel, located in an unobtrusive, yet prominent area on the display, right next to your Mana Gauge. Opening it (which I recommend you do that either in town or after you've cleared an area of enemies!) allows access to a number of topics regarding everything POE. It includes Skill gems, the passive skill tree, PoE currencies, character customization and anything else that you'll run into during your adventures. The help panel unlocks new content as you progress, so it's perfect for the first time player, since it lays out a simple explanation of how the game works in an easy to use interface and only give them the relative information they need to keep going without too much hassle. There is also a tutorial in the help panel that can also help first timers get acclimated to the world of Wraeclast.
The next most significant changes made to the game were the removal of the Cruel and Merciless difficulties and the addition of six new acts (Acts Five to Ten). This turns POE into a genuine RPG with a continuous ten act storyline, as opposed to players replaying the first four acts a total of three times to advance further. Difficulty-centred quest rewards have also changed, for example, the rewards for the "Deal with the Bandits" quest in Act 2 has been reworked. The experience and resistance penalties from the removed difficulties have remained but now they are applied when players reach Acts Five and Ten respectively.
A POE planner tool has also been created to help players plan out their character's progression, select their ideal equipment and create builds of their own, without having to experiment in game. The tool allows you to select a class, their ascendancy, a passive reward from the "Deal with the Bandits" quest in Act Two, 123 passive points and eight Ascendancy points, enough to plan out your build on the tree. Other tabs include selecting equipment for your build, your chosen aura and a final tally of what your build would look like at whatever point you are at in the game. It's incredibly useful for players to use and experiment with different builds and items before applying them in game, making it all the more easier to get into it.
Working closely with Microsoft, Grinding Gear Games has now brought POE to the Xbox One home console. This gives players a new way to jump in on all the action from the comfort of their couch, all without the hassle of looking for a good gaming PC or laptop to play on. Now, I don't own an Xbox One, so I can't try it myself, but so far it has been well-received by the major gaming publications.
I hope I've convinced you to give this excellent game a try; all these new features and improvements from the base game make this the best time to get started! Until next time, I wish you fellow Exiles good fortune and hope to see you on the battlefield!