Lost Ark
Lost Ark, a 3D massively-multiplayer online role-playing game offers an immersive action-centric playing style and adopts a non-targeting combat system and a dynamic quarter-view angle to maximize the game experience.The whole world is in chaos from the attack of Kazeros' demon army, as Kazeros opens the Chaos Gate with his six legions to invade the human world. Like a legend that exists in myths, the world has become a place where there are no heroes and everyone has forgotten about the Ark that defeated the demons in the past. Now, the player must venture the vast world of the Lost Ark to gather the pieces and go against the demon army. The one force that can stand up against the demons! The Lost Ark.
Lost Ark is not released yet. However, Mmorpg allow members to rank their "hype" or anticipation for this game. Below is the average of the ratings by mmorpg members so far.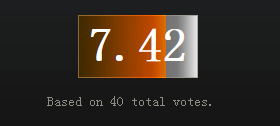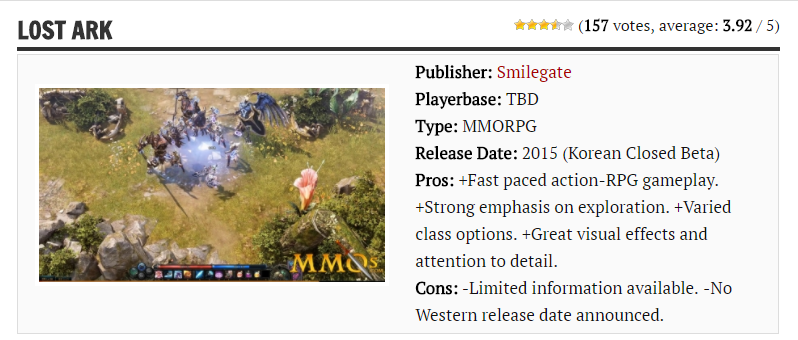 Minimum Requirements:
Operating System: Windows Vista / 7 / 8 / 8.1 / 10
CPU: Intel Core 2 Duo 3 GHz / AMD Athlon 64 x2 Dual Core 3600+
Video Card: 512 MB VGA Card / HD 4000 / ATI Radeon HD 6850
RAM: 2 GB
Hard Disk Space: 10 GB
Recommended Requirements:
Operating System: Windows Vista / 7 / 8 / 8.1 / 10
CPU: Intel Core i5 2.66 GHz / AMD Phenom II X4 970
Video Card: GeForce GTX 660 / Radeon 7950 or better
RAM: 4 GB
Hard Disk Space: 10 GB
Lost Ark has not published system requirements yet. These are estimates based on our experience. We will update the system requirements when they become available.
Set Sail for Adventure – explore the world on your own Ark to discover unique areas or hunt for treasure!
Multiple Classes – seven classes revealed thus far with up to eighteen in total awaiting release.
Raid Bosses and Cinematic Dungeons – team up to defeat powerful bosses on interactive battlegrounds.
The Colosseum – challenge other players to combat in 1v1 or 3v3 PvP matches.
Tripod Skill System – mix different skill elements to perform different variants of the same base skills.
Mini Games – take a break at the local tavern and challenge players to a monster card game or keg drinking contest.
Live Your Life – mine, fish, dig for artifacts, chop trees, and practice other life skills to collect valuable resources.
Island Ownership – conquer and manage your own island as you see fit.