Buy Final Fantasy XIV Gil,Cheap FFXIV Gil on u4gm.com
How To Buy & Trade
Welcome To U4GM.Com, In Our Website, you can buy cheap FFXIV Gil With Fast Delivery. We offer 7x24 online Livechat. We have Over one hundred FFXIV Gil Support you Buy. We focus on customer service, so we have excellent Reputation.
How to Buy FFXIV Gil From U4GM
There have four step to buying FFXIV Gil from our website
1. You need select sever which you want to buy, on the top of the FFXIV Gil product list.
2. Find wish to purchase Gil; input wishes quantity; you can input quantities in the text field or click "+" or "-" to revise amounts.
3. Click " Buy" Can buy your choose currency, if you want to buy more Gil, you can click "Add" to add this Gil to your shopping cart, then you can choose other Gil to buy or add
4. After choosing currency completed, you can find "Check Out" in your shopping cart, click this bottom, go to payment page.
How to Trade FFXIV Gil
Our customer service will verify your order and guarantee safety! After verification, please wait in the game and stay out of the dungeon. Our Gamer will send you an in-game friend request and then mail the Gil to you.
U4GM With FFXIV Gil
Since 2006, U4GM has been serving players with services that help them in their games: gil, powerleveling. You can find them all at U4GM!
Since the release of Final Fantasy XIV, thousands of Final Fantasy XIV players have been trusting us for the deliveries of FFXIV Gil.
The safety of your account is something that really matters to us, so you can definitely trust us to make sure all transactions are smoothly performed.
In the very rare case that your account is suspended or your FFXIV Gil confiscated because of a transaction with U4GM, a full compensation would be given to you, whether it is a re-delivery of FFXIV Gil or a full refund, once U4GM's involvement is confirmed.
About FFXIV Gil
Gil (also known as GP, Gold, or G) is the currency of all Final Fantasy games, including Final Fantasy XIV: A Realm Reborn. FFXIV Gil can be gained by slaying monsters, completing quests, or selling items and equipment.
About Final Fantasy XIV
Final Fantasy XIV is an MMORPG and features a persistent world in which players can interact with each other and the environment. Players create and customize their characters for use in the game, including name, race, gender, facial features, and starting class. Unlike in the original release, players may only choose to be a Disciple of War or Magic as a starting class—Disciples of the Hand and Land are initially unavailable. Players must also select a game world for characters to exist on. While servers are not explicitly delineated by language, data centers have been placed in the supported regions (i.e., North America, Europe, Japan) to improve the communication latency between the server and the client computer and players are recommended to choose a server in their region. Regardless of server or language, the game features a large library of automatically translated game terms and general phrases which allow players who speak different languages to communicate.
Characters
Final Fantasy XIV features six humanoid races for players to choose from when creating a character. Each race has two subdivisions and males and females of all races are available, unlike in the original release.
Hyur (ヒューラン Hyūran)
A human-like race from beyond Eorzea, the Hyur are divided into Midlanders and Highlanders. Midlanders are the most common tribe in Eorzea, having settled in every established city. The Highlanders are a physically taller Hyur clan, previously hailing from the mountainous region of Ala Mhigo. After the Garlean occupation of their home, Highlander refugees survive in other cities as mercenaries and adventurers.
Elezen (エレゼン Erezen)
An elf-like race, the Elezen are said to be the original inhabitants of Eorzea, and thus were originally hostile with the other races. An intense rivalry exists between the Wildwood and Duskwight clans. Wildwood Elezen live in the forest and their keen sense of sight contributed to the development of archery as a tool of war. Duskwight Elezen are a reclusive clan who dwell in caves and caverns, giving them a heightened sense of hearing.
Lalafell (ララフェル Raraferu)
Lalafell are diminutive humanoids with great agility and intelligence from the southern regions. Plainsfolk Lalafell are a crafty race which has earned them a reputation as both successful businessmen and thieves. Dunesfolk Lalafell are a nomadic people from the desert who built their dwellings on the backs of beasts of burden.
Roegadyn (ルガディン Rugadin)
Roegadyn are a large and muscular race from the northern seas. They form two distinct groups: the Sea Wolves and the Hellguard. The Sea Wolves once led a maritime lifestyle as sailors, pirates, and fishermen. The Hellguard are a clan mostly devoted to the mercenary arts, living principally in Ul'dah.
Miqo'te (ミコッテ Mikotte)
The Miqo'te are a feline race of hunters who generally lead reclusive, solitary lives. They are split into the Seekers of the Sun and the Keepers of the Moon. The Seekers of the Sun primarily live in Sagolii Desert and among the people of Limsa Lominsa. The Keepers of the Moon are a nocturnal clan, formerly considered a pest in Gridania before many managed to make peace with the natives.
Au Ra (アウラ Aura)
The Au Ra are a demonic race hailing from the continent of Othard, to the far east. They are characterized by their horns, scales, and tails as well as their extreme sexual dimorphism—males are tall and imposing while females are lithe and diminutive. Their two tribes are also ideologically opposed: the Raen tribe consists of peaceful farmers whereas the Xaela tribe features nomadic warriors.
Our Delivery Statistics
We have FFXIV Gil in stock for the fastest delivery time. The realms with enough FF14 Gil in stock are listed below and we are able to deliver FFXIV Gil approximately 2 minutes after we confirm your payment in most cases.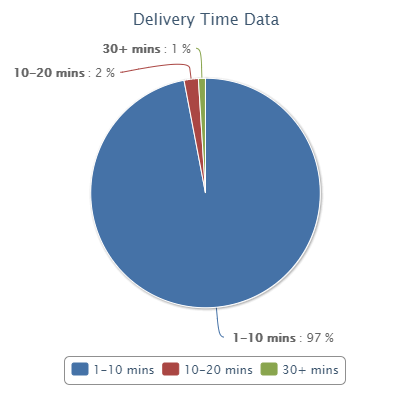 Our Price Superiority
We do price check every day to make sure lower than others, and we sell FFXIV Gil are production by self, so we always sell with the lower price. We adjust FFXIV Gil prices in real time according to current market prices. That ensures you are buying at low prices on our site. You can also save money by ordering a significant amount of Coins and using U4GM Coupons. U4GM is a trustworthy website to Buy FFXIV Gil with low prices but quality services.
Our Reputation
As we know, what the customers say is more important than what the sellers say, so checking one site reviews is very important, which can help you learn more about it. You can check its reputation on Trustpilot, Epicnpc, Ownedcore these reviews, you can evaluate one site service is good or not.
For example: search U4GM reviews on Trustpilot, and you will find that it has five stars, and there are a large number of positive reviews from real customers, which can prove u4gm service is excellent.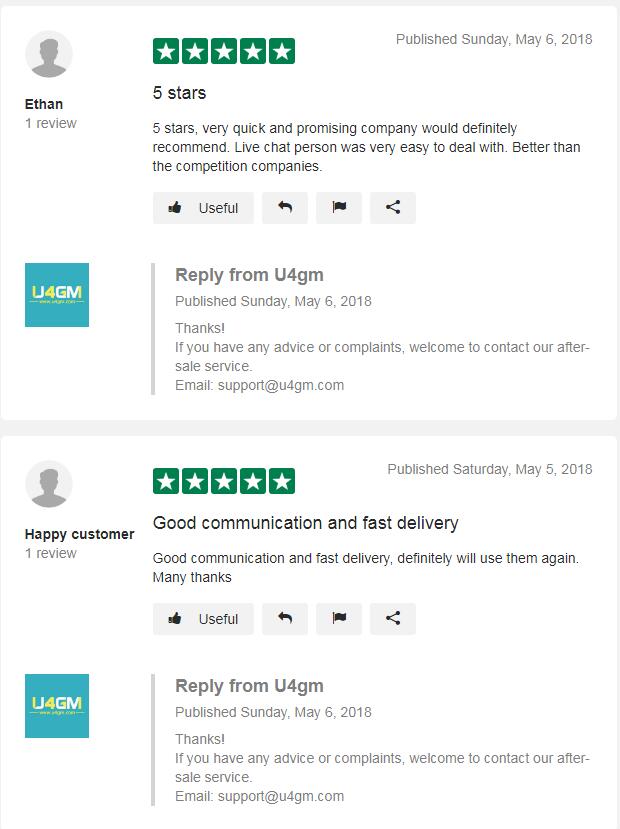 Why Choose US
Fast Delivery
We understand the importance of fast delivery and our dedicated staff will do everything possible to get your
FFXIV Gil
order as soon as possible.
Best Price
We offer the product you want at the price you deserve. We pledge to offer you the best service and best
FFXIV Gil
product at the best prices!
100% Safe
We Trade delivery method 100% safe and will take responsibility for that, we are experienced in the business and we can ensure that every order could be processed smoothly and efficiently.
Refund
In the process of purchase,if we do not fulfill the customer's order on time,a refund will be granted.The refund will be issued immediately.