Why Choose US
Fast Delivery
We understand the importance of fast delivery and our dedicated staff will do everything possible to get you your
Fortnite Weapons
order as soon as possible.
Best Price
We offer the product you want at the price you deserve. We pledge to offer you the best service and best
Fortnite Weapons
product at the best prices!
100% Safe
We Trade delivery method 100% safe and will take responsibility for that, we are experienced in the business and we can ensure that every order could be processed smoothly and efficiently.
Refund
In the process of purchase,if we do not fulfill the customer's order on time,a refund will be granted.The refund will be issued immediately.
How To Buy & Trade
Buy Fortnite Weapons Attention:
Please write your character name if you are on PC Platform, Epic ID on Xbox One/PS4. If you don't get a friend request within 30 mins. maybe your Epic ID Or character name is incorrect, please contact our 24/7 LiveChat on the right corner of our website.
What is Epic ID:

Trade Fortnite Weapons is a straightforward process.
1. Accept our friend request ingame, then we will group you and create a map.
2. We throw down Fortnite Weapons, and you pick it up.
U4GM With Fortnite Weapons
If you are looking for a best and safe place to buy cheap Fortnite Weapons, here you are in right place! U4GM not only provide the cheap fortnite Save The World weapons, but also with safe system protects sensitive data from phishing. It provides a place of feedback to make certain the quality of service. With these two systems in place, you'll have peace of mind when trading. Besides, our Live chat is available to help 24/7.
We understand that after hours of analysis you are going to handle to find a seller that is undoubtedly somehow a little bit more affordable. But is it worth it? Even though there are a lot of competitors that sell Fortnite Weapons, a couple of them provide their customers with clear and transparent information. When purchasing from U4GM, we guarantee that 100% of the Fortnite Weapons are from true experienced Fortnite gamers that earn the Weapons themselves.
Our Delivery Statistics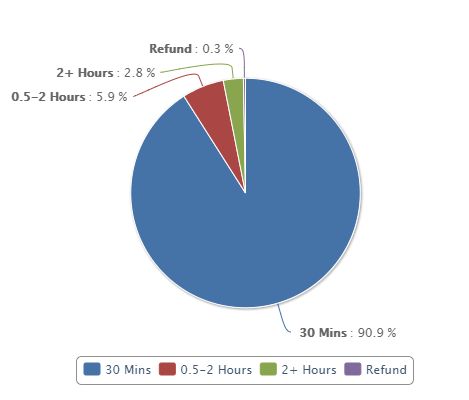 90.9% Orders completed less than 30 mins, 5.9% orders completed 30~2hours, 2.8% orders more than 2hours and 0.3% order are refund money.
Mistakes come about, and we have an understanding of that, so we give Refund to any order before delivery. We have a hassle-free approach for refunds guaranteeing your Delivery or your revenue back. You do not need to have to be concerned about it when acquiring Fortnite Weapons at U4GM.
The safety of your Fortnite account is what we take seriously, we'll do whatever we can to make sure all transactions are being smoothly performed. In the very rare case that your account is suspended or your Fortnite Weapons are confiscated because of a transaction with U4GM, once the involvement of U4GM is confirmed, a full compensation will be given to you: A re-delivery of Fortnite Weapons or a full refund.
Our Price Superiority
We adjust Fortnite Weapons prices based on industry circumstances, so you realize that you are buying Fortnite Save the World Weapons for the least expensive value that comes together with the very best consumer service. We supply approaches to add discounts to your order for as much as 15% off.
Our Reputation
As you know, what the customers say is more important than what the sellers say, so checking one site's reviews is very important, which can help you learn more about it. You can check its reputation on Trustpilot, Ownedcore, Epicnpc and other webs. Summarize these reviews, you can evaluate one site's service is good or not.
For example: search U4GM reviews on Trustpilot, and you will find that it has gotten five stars, and there are a large number of positive reviews from real customers, which can prove U4GM service is excellent.

About Fortnite Weapons
There are many types of Weapons to be used against monsters in Fortnite. Weapons are a color-coded based on their Rarity and given a Power Level (indicated by a lightning bolt icon) based on both their rarity and upgrade level. Within missions, players can Craft weapons from ingredients or loot them from containers and loot chests scattered across the map. One of the best ways to actually get weapons is just look around, or kill enemies.
To be able to craft a certain weapon, the player must have the appropriate Schematic for it. Weapon schematics can be obtained by completing missions and quests, from Loot Llamas, and via Transformations. The player can then upgrade the weapon schematics using Schematic XP to increase its Power Level and unlock perks which are unique to each schematic. Evolving weapon schematics to a higher Star level will change the basic metal ore used to craft the weapon.
Star Level 1: Copper Ore
Star Level 2: Silver Ore
Star Level 3: Malachite Ore
Star Level 4: Obsidian Ore or Shadowshard Crystal
Star Level 5: Brightcore Ore or Sunbeam Crystal
About Fortnite
Fortnite (also referred to as Fortnite: Save the World) is a co-op sandbox survival game developed by Epic Games, and Persons Can Fly and published by Epic Games. The game was released as a paid-for early access title for Microsoft Windows, macOS, PlayStation 4 and Xbox One on July 25, 2017, with a full free-to-play release anticipated in 2018. The retail versions of the game had been published by Gearbox Publishing, while on the internet distribution from the Pc versions are handled by Epic's launcher.
Fortnite is set in contemporary Earth, exactly where the sudden appearance of a worldwide storm causes 98% of the world's population to disappear, and zombie-like creatures rise to attack the remainder. Players achieve rewards by way of these missions to improve their hero characters, help teams, an arsenal of weapon and trap schematics to be capable of taking on extra challenging tasks. The game is supported through microtransactions to buy an in-game currency that may be applied towards these upgrades.
A part of what makes the game so attractive is its fast-paced, against-all-odds gameplay. A single hundred players compete in a no-holds-barred deathmatch. Whoever comes out on best wins. The concept is related to the immensely well-liked Hunger Games (or the Japanese movie Battle Royale). You only have one life, and after it is more than you're out of your match.

The Battle Royale genre tends to appeal to players because of the high-risk, high-reward gameplay. Rather than getting like most multiplayer modes exactly where there's respawn and numerous lives, Fortnite ups the tension with intense competitors.

Fortnite: Battle Royale isn't the very first game to have this type of gameplay, though. Final year's smash hit, PlayerUnknown's Battlegrounds (PUBG) had the same 1-vs-100 Battle Royale gameplay. Among the list of largest attractors for Fortnite, even so, is the fact that it is extra accessible: it is free-to-play. Not "free" like these mobile games that want you to invest funds on gems to accomplish something, either. You'll be able to play Fortnite: Battle Royale to your heart's content material for the low, low price tag of nothing. Confident, for those who start off getting costumes and battle passes and whatnot, you're going to spend some serious dough (skins can cost up to $20), but all these issues are entirely optional.
Should you let my youngster play it? The National Crime Agency's Safer Internet Centre has encouraged parents to play the game with their children as a way to superior recognize it, and to possess open and honest conversations about the strangers, they may be playing with and speaking to online when playing. Setting sensible screen time limits and employing the parental controls accessible around the given platform also can help to supply peace of mind.