Fortnite Frostbite Guide: Basic Info | Vs Other Weapons
Fortnite
Date: Jul/24/18 15:23:05
Views: 6293
Frostbite is a Legendary Semi-Automatic Sniper Rifle used in Save the World, which is a mid to long range rifle makes use of Medium Bullets and deals good damage and has a fast fire of rate. Frostbite is scoped for extra down sights accuracy. Note that you need 15 Blast Powder, 11 Ore, 30 Mechanical Parts and 1 Active Powercell to craft it, of course, the premise is that you understand How To Collect Fortnite Resources. Now get into this Frostbite Guide, understand the complete properties of this gun, then you can use it correctly.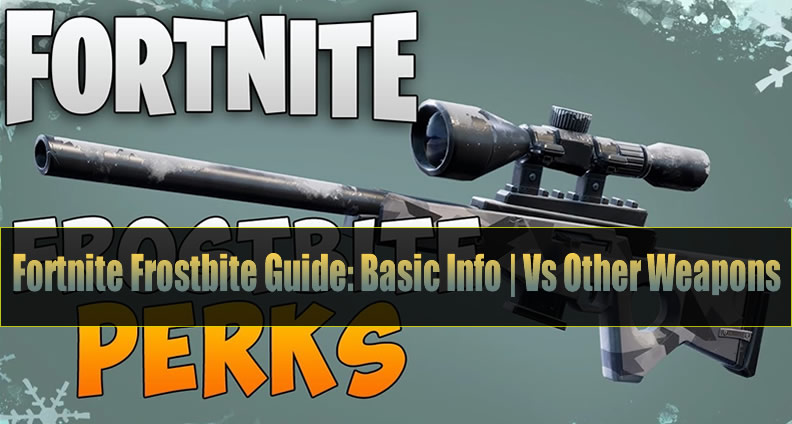 | | |
| --- | --- |
| Name | Value |
| Damage | 63 |
| Crit Chance | 5% |
| Crit Damage | +75% |
| Fire Rate | 2.5 |
| Magazine Size | 10 |
| Range | 25000 |
| Durability | 375 |
| Durability per Use | 0.22 |
| Reload Time | 2.6 |
| Ammo Type | Ammo: Medium Bullets |
| Ammo Cost | 1 |
| Impact | 150 |
Frostbite could possibly be obtained as a reward for finishing quests related to the Survive the Storm activity through the Fortnite Guide to Holiday Survival event.
Pros:
Long range
Damage enemies effective
A fast fire of rate
High accuracy
Cons:
Rolls don't seem to be specifically amazing.
Frostbite vs Triple Tap vs Vindertech Sniper Rifle
Triple Tap is actually a Legendary Triple-Shot Sniper and utilizes Medium Bullets, this weapon has a crosshair scope and fires in 3-bullet bursts. Vindertech Sniper Rifle is an Epic Vindertech Weapon and utilizes Energy Cells, it can deal energy damage that is fairly helpful against all elemental enemy types.
However, Vindertech Sniper Rifle and Triple Tap do not have an element, and Triple Tap has 2 useless perks on it. Frostbite might be the top on the list of three. In case you do not have access to better snipers, stick with Frostbite, but keep in mind which you can potentially do much improved than the Frostbite.
The Triple Tap perks are not worthless, just situational. It would be way much easier to trigger the headshot bonus using the Triple Tap. To speedy bursts and it is active. If you would like to have one with the headshot bonus like this, you can choose the Triple Tap.
Fortnite Weapons News & Guides