Fortnite HackSAW Guide: Pros and Cons | Vs Other Weapons
Fortnite
Date: Jul/25/18 16:30:27
Views: 9222
Fortnite HackSAW is a Legendary Military Weapon used in Save the World. Note that you better use HackSAW while stationary, make sure you aim at the target and shoot quickly. This weapon is often a lighter LMG variant using a moderate rate of fire, mild recoil, all round great ammo efficiency, but a lengthy reload time. You will need 15 Blast Powder, 30 Mechanical Parts, 11 Ore and 1 Active Powercell to craft it, these Fortnite Materials you can buy on U4GM at a cheap price. Next, let's get a deep understanding of the HackSAW.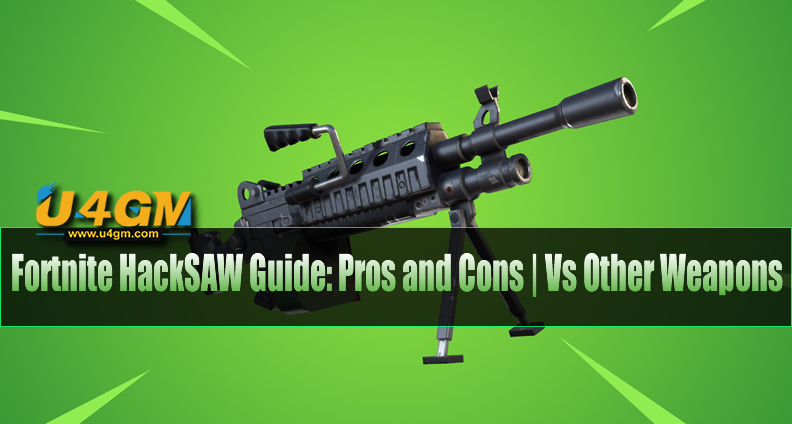 | | |
| --- | --- |
| Name | Value |
| Damage | 28 |
| Crit Chance | 5% |
| Crit Damage | +50% |
| Fire Rate | 10 |
| Magazine Size | 100 |
| Range | 4096 |
| Durability | 375 |
| Durability per Use | 0.05 |
| Reload Time | 5.1 |
| Ammo Type | Ammo: Light Bullets |
| Ammo Cost | 1 |
| Impact | 68 |
The Hacksaw could be bought from the Event Store through the Blockbuster event for 1680 Gold.
Pros:
General superb ammo efficiency.
A tight spread.
Slightly high base DPS.
Cons:
A lengthy reload time.
Hacksaw vs Terminator
Terminator is really a Legendary fully automatic LMG Rifle and makes use of Medium Bullets, which is a typically terrible weapon. Though possessing a passingly decent DPS at point blank range is an advantage, its ammo efficiency and poor accuracy hold it back-and anyway, other point-blank weapons beat it in any case.
The Hacksaw is definitely an excellent base weapon, nevertheless, it has an unfortunate set of preset perks. As an event weapon, you cannot reroll these to something better-yet. Epic has said that we'll eventually be capable of rerolling event weapons, so the Hacksaw could basically turn out to be a pretty damn excellent weapon at that point.
But when you wanted something to invest in right now, I'd suggest a Silenced Specter. It can be among the very best AR's at this time and is readily obtainable from event llamas.
Fortnite Weapons News & Guides