Fortnite Legendary Dragon Weapons Guide - Dragonfire
Fortnite
Date: Jul/21/18 14:30:56
Views: 8450
Dragonfire is a Legendary Dragon Weapon that used in Save the World, which is an automatic shotgun uses Shells 'n' Slugs and offers Fire damage. Dragonfire features a slower firing deals fire damage within a wide but short range. You are going to need 20 Planks, 30 Mineral Powder, 11 Ore and 1 Active Powercell to craft it, of course, these Fortnite Materials can be easily purchased on the U4GM since U4GM give you a cozy environment with the safest and fastest service. Without further ado, let's dive right into this guide.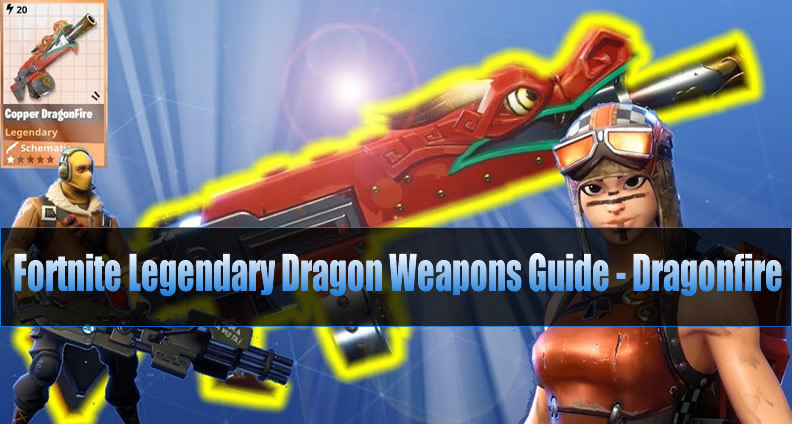 | | |
| --- | --- |
| Name | Value |
| Damage | 105 |
| Crit Chance | 5% |
| Crit Damage | +50% |
| Fire Rate | 2.0 |
| Magazine Size | 8 |
| Range | 768 |
| Durability | 375 |
| Durability per Use | 0.28 |
| Reload Time | 2.7 |
| Ammo Type | Ammo: Shells 'n' Slugs |
| Ammo Cost | 1 |
| Impact | 225 |
You can buy Dragonfire from the Event Store through the Spring It On! event for 1680 Gold.
Pros:
Deals fire damage inside a wide.
do better-focused damage
Fire damage is productive against nature enemies.
Cons:
Slower firing.
Short firing range.
Fire damage is weak against water enemies.
Dragonfire vs Stamped
Stampede is a Legendary Semi-Auto Shotgun like Dragonfire uses Shells 'n' Slugs. Fast-firing shotgun with a large magazine. Great for coping with a number of targets at the short range. Dragonfire's damage and impact stats are better than Stampede.
They serve various purposes. And with these two you could cover most scenarios. Each fire so you end up undertaking fantastic vs nature, as fantastic as energy against fire, and poorly vs water.
God rolls around the Dragonfire and because they have been static, I picked it up. Utilized it with Nomad and it operates effectively! But I only use it with him. It really is excellent for clearing waves of husks. The problem is that range is actually 1-2 tiles.
I have a Stamped also and amongst the 2, I like Stamped way far more (I prefer it more than the enforcer as well). But, use each. Each will operate well for Nomad. Dragonfire is superior for clearing groups.
Dragonfire vs Thunderbolt
Thunderbolt is a Legendary Break Action Shotgun that uses Shells 'n' Slugs. Deals heavy damage and knockback to multiple enemies inside a really wide cone. Has a very limited range, tiny ammo capacity, as well as a long reload time.
Thunderbolt family is good but those perks not so great. Reload is great, the damage is fine, crit damage with no crit chance not incredibly superior. The Thunderbolt will blast within a wide cone in front of you and while the perks aren't that great it can almost certainly nonetheless kill minis and blast stuff back in case you double tap.
Dragonfire features a much smaller sized reticle so you will not get the wide conal blast, but comes in fire and may do better-focused damage. All in all, they have unique makes use of, opt for in accordance with your desires.
Fortnite Weapons News & Guides