Fortnite Legendary Weapons Dragon's Breath Guide
Fortnite
Date: Jul/19/18 16:02:48
Views: 8575
Dragon's Breath can be a Legendary Dragon Pistol uses Shells 'n' Slugs in Fortnite, highest damage per shot on a pistol. It truly is a Part double-barrel shotgun, part DRAGON, and part pistol. Dragon's Breath scales with Deadeye, it can fire a wide blast of pellets at close range for extreme damage and knockback. You will need 15 Blast Powder, 30 Stringy Twine, 1 Copper Ore and 1 Active Powercell to craft it. See all the properties of Dragon's Breath in this article to help you to understand how to use it better.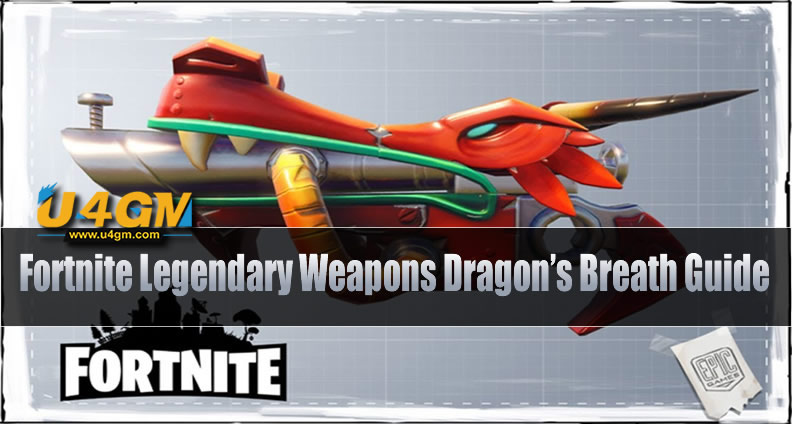 Keep in mind that the Epic version of Dragon's Breath is the Dragon.
| | |
| --- | --- |
| Name | Value |
| Damage | 264 |
| Crit Chance | 5% |
| Crit Damage | +50% |
| Fire Rate | 1 |
| DPS | 813.1 |
| Magazine Size | 2 |
| Range | 2048 |
| Durability | 375 |
| Durability per Use | 0.73 |
| Reload Time | 2.4 |
| Ammo Type | Ammo: Shells 'n' Slugs |
| Ammo Cost | 1 |
| Impact | 960 |
Dragon's Breath is offered from the Vindertech Store in all Basic and Daily Llama Piñatas that contain ranged weapons, or it may also be offered as non-featured loot in Event Piñatas
Pros:
Extreme damage and knockback
Cons:
Reload is slow
Dragon's Breath vs Founder's Revolt vs Dragon's Roar
As you know, Dragon's Breath scales with Deadeye, it has small magazines that result in long down-times however. If you are looking for a good pistol for Ranger Deadeye, which is the best? Dragon's Breath or Founder's Revolt or Dragon's Roar?
Founder's Revolt is an Epic Semi-Automatic Pistol Founder's Weapon uses Light Bullets, Dragon's Roar is a Legendary Dragon Weapon uses Medium Bullets, deals Fire damage, take a look at the comparison chart below:
Founder's Revolt
Dragon's Roar
Name
Value
Name
Value
Damage
29
Damage
30
Crit Chance
5%
Crit Chance
10%
Crit Damage
+50%
Crit Damage
+75%
Fire Rate
8
Fire Rate
5
Magazine Size
20
Magazine Size
20
Range
3584
Range
4098
Durability
280
Durability
375
Reload Time
1.6
Reload Time
2.5
Ammo Cost
1
Ammo Cost
1
Impact
70.3
Impact
80
I got the Dragon's Roar, with the ranger class it could be unstoppable. The Dragon's Breath can be a terrible shotgun having a dreadfully slow reload, tbh all shotguns within the game are kinda sub-par but if you want a very good shotgun then retain searching for the tiger jaw or room sweeper, or maybe the backbreaker, all double barrel shotguns are only great for clearing like two or three lower-level husks.
However, the Founder's Revolt has quicker fire rate, faster reload, more DPS and nature damage the revolt will last quite a bit further end game than a double barrel pistol lmao.
Fortnite Weapons News & Guides