Fortnite Legendary Weapons Guide for Obliterator
Fortnite
Date: Aug/01/18 11:56:27
Views: 7790
Fortnite Obliterator is a Legendary Military Weapon used in Save the World. This Sniper Rifle has a high base damage along with a heavy kick though it has a slow rate of fire. What the uniqueness of this weapon is it shots pierce through walls and husks alike, and can speedily obliterate structures. Don't forget that you need 15 Blast Powder, 30 Mechanical Parts, 11 Ore and 1 Active Powercell to craft it. If you are looking for comprehensive Obliterator guides, you've come to the right place, need more weapons guides you can visit U4GM Fortnite Weapons Guide center.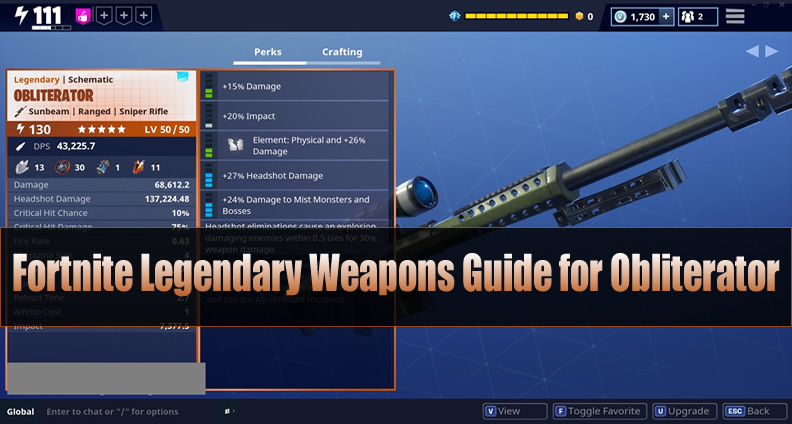 | | |
| --- | --- |
| Name | Value |
| Damage | 225 |
| Crit Chance | 10% |
| Crit Damage | +75% |
| Fire Rate | 0.7 |
| Magazine Size | 4 |
| Range | 25000 |
| Durability | 375 |
| Durability per Use | 0.77 |
| Reload Time | 3.5 |
| Ammo Type | Ammo: Heavy Bullets |
| Ammo Cost | 1 |
| Impact | 825 |
Obliterator might be bought from the Occasion Store throughout the Blockbuster event for 1680 Gold.
Pros:
High base damage.
Heavy kick.
Cons:
A slow rate of fire.
Obliterator vs Super Shredder
Which is much better depends on the range you feel comfortable fighting at and how nicely you'll be able to perform with scoped weapons.
Super Shredder is usually a Legendary Shredder Sniper that uses Shells 'n' Slugs and offers damage inside a narrow cone. It does not possess a scope.
Relatively speaking, Super Shredder is simpler to make use of (no scope) at short to medium range. Since it acts like a shotgun, at long range the spread reduces its damage. And Super Shredder has damage drop off, even though Obliterator will not.
Obliterator could be a medium to the lengthy-range gun and it could be greater than the super shredder in that regard. Obliterator is entertaining, I enjoyed it on various missions these days. But from a sensible laydown damage point of view, it is not fantastic default perk levels and setup.
Personally, I like the Obliterator simply because not only will it take out a massive chunk of HP from whatever it hits, but whatever was behind it as well.
Obliterator vs One Shot
The Obliterator is remarkable. It truly is my favorite weapon proper now. I went for any headshot construct and I can reliably One Shot kill mist monsters at my own level. The One Shot will be unable to accomplish that.
One Shot is a Legendary Scoped Bolt-Action Sniper has a crosshair scope, makes use of Heavy Bullets, and can pierce enemies.
You can go for any crit build and give the gun to your defenders and let them shred enemies if you do not wish to go for the headshot build.
Apart from the material cost for making use of the weapon, the Obliterator eclipses the One Shot in almost each and every way. The only other advantage I can see for One Shot is that it has improved uptime.
Fortnite Weapons News & Guides