The Most Complete Fortnite Weapons Guide - Vindertech Jolter
Fortnite
Date: Aug/31/18 09:48:03
Views: 7498
Fortnite Vindertech Jolter, a Legendary Vindertech Weapon in Save the World and makes use of Energy Cells. This sniper rifle can fire a potent bolt of energy that maintains damage and accuracy over extended ranges. Deals energy damage which is pretty effective against all elemental enemy kinds. You may need 7 Quartz Crystal, 24 Mechanical Parts, 1 Active Powercell, 8 Ore, and 10 Batteries to craft it, of course, these materials you can buy on U4GM at a reasonable price, and there are other fortnite items for sale for you.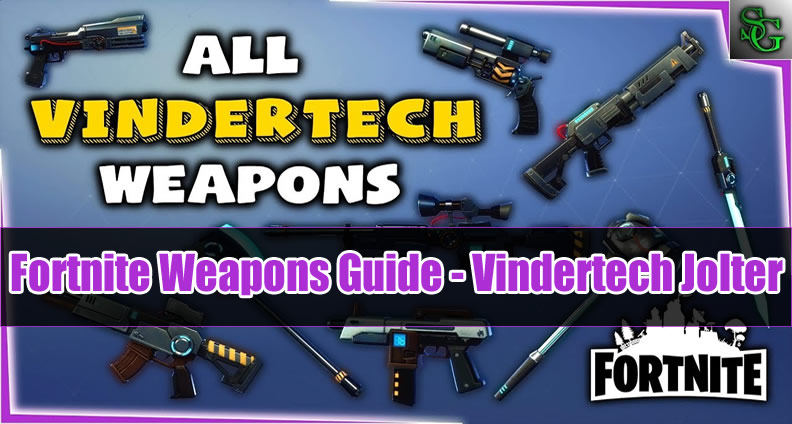 Keep in mind that Vindertech Jolter also has the other version:
Vindertech Sniper Rifle is the Epic version of this weapon.
| | |
| --- | --- |
| Name | Value |
| Damage | 113 |
| Crit Chance | 10% |
| Crit Damage | +75% |
| Fire Rate | 1 |
| Magazine Size | 15 |
| Range | 6656 |
| Headshot Multiplier | +100% |
| Durability | 375 |
| Durability per Use | 0.53 |
| Reload Time | 3 |
| Ammo Type | Ammo: Energy Cell |
| Ammo Cost | 3 |
| Impact | 255 |
Vindertech Jolter was readily available as featured loot in Storm Llamas bought from the Vindertech Store throughout the Mutant Storms event.
Pros:
High damage.
High fire rate.
High accuracy.
Effective against all elemental enemy types.
Cons:
Doesn't pierce and has less impact.
Vindertech Jolter vs One Shot
Excluding the Super Shredder (which is not a sniper), the One Shot would be the greatest sniper from the fundamental set-a bolt action, slow firing sniper with higher damage and low fire rate. It truly is decent, but pretty far from being awesome.
Vindertech Jolter is related towards the One Shot, but has slightly larger damage and fire rate, but does not pierce and has less effect.
I'd take the One Shot over the Jolter unless you program to become using your sniper to shoot elemental enemies (you should not). Otherwise, basically having physical damage around the One Shot will allow it to effortlessly outperform the Jolter.
Physical damage is most usually utilized on snipers since the types of enemies which you normally choose to use snipers against are themselves physical.
Fortnite Weapons News & Guides