Buy Poe Currency, Path of Exile Orbs With Fast Delivery on U4GM
Displaying 1-28 of 28 results.
Why Choose US
Fast Delivery
We understand the importance of fast delivery and our dedicated staff will do everything possible to get you your
PoE Currency
order as soon as possible.
Best Price
We offer the product you want at the price you deserve. We pledge to offer you the best service and best
PoE Currency
product at the best prices!
100% Safe
We Trade delivery method 100% safe and will take responsibility for that, we are experienced in the business and we can ensure that every order could be processed smoothly and efficiently.
Refund
In the process of purchase,if we do not fulfill the customer's order on time,a refund will be granted.The refund will be issued immediately.
How To Buy & Trade
Welcome To U4GM.Com, In Our Website, you can buy cheap Poe Currency With Fast Delivery. We offer 7x24 online Livechat. We have Over one hundred Poe Orbs Support you Buy. We focus on customer service, so we have excellent Reputation.
How to Buy Poe Currency From U4GM
There have four step to buying Poe orbs from our website
1. You need select sever which you want to buy, on the top of the Poe currency product list.
2. Find wish to purchase orbs; input wishes quantity; you can input quantities in the text field or click "+" or "-" to revise amounts.
3. Click " Buy" Can buy your choose currency, if you want to buy more currency, you can click "Add" to add this orbs to your shopping cart, then you can choose other currency to buy or add
4. After choosing currency completed, you can find "Check Out" in your shopping cart, click this bottom, go to payment page.
How To Trade Poe Currency
1. Our player will send you a friend request and invite you to a Party; please accept his Request in game.
2. Our Gamer will get into your hideout if you have one.
If not, please go to Lioneye's Watch of ACT-1 after you join the party. Our gamer Will go there and trade Currency Witch you bought
3. Make sure to give us some items as the offer when Trading, so that to make the trade Real to avoid the ban.
U4GM With PoE Currency
U4GM started the Poe project in 2017, from the began till now, U4GM has provided more than 3,000 POE players with Poe Currency on our website through lower prices and better services. Thank you all for your support, and we will continue to provide better services, faster delivery speeds, and lower Prices.

U4GM's Poe project team has four departments
Production Department: This department has ten employees. They are mainly engaged in the manual production of Poe Currency. That ensures that we can provide cheap sources of orbs and make transactions more safety.
Delivery Department: This department has three employees who are mainly engaged in the delivery of POE Currency orders. Their primary responsibility is to ensure that orders delivered within 10 minutes.
Customer Service Department: 3 employees in this department, their primary responsibility is Livechat connection to the website. Solve the problems encountered by some users during the purchase process.
Training Department: There are five employees in this department. Their primary responsibility is to handle manual processing of Power-Leveling orders.
Information Department: Their primary responsibility is to collect the latest news, guides and builds for POE.
Our Delivery Statistics
All analysis data comes from our order management system. The data is real and valid.
As of May 20, 2018, U4GM PoE Currency has 3,000 registered users, more than 6,000 orders.

1. Trade In Challenge League SC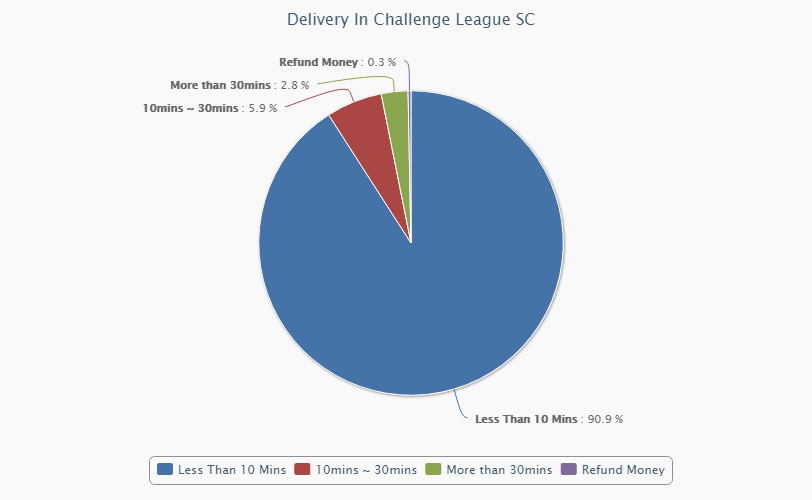 In This League 90.9% Orders completed less than ten mins, 5.9% orders completed 10~30mins, 2.8% orders more than 30mins and 0.3% order are refund money
2. Trade In Challenge League HC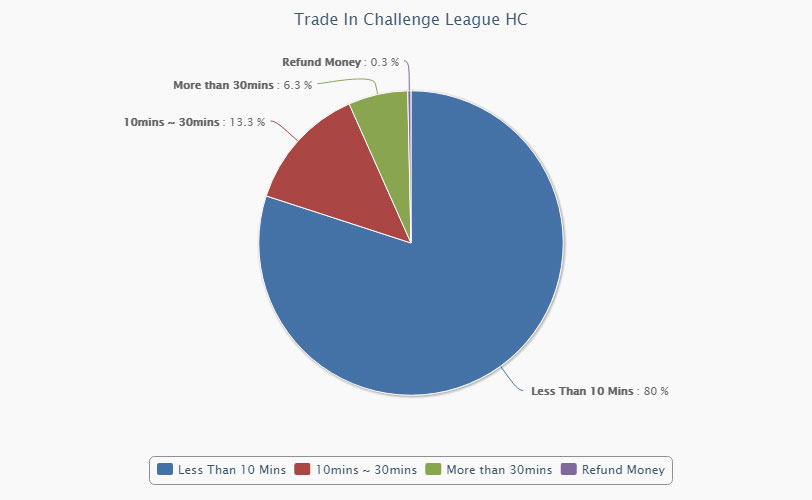 In This League 80% Orders completed less than ten mins, 13.3% orders completed 10~30mins, 6.3% orders more than 30mins and 0.3% order are refund money

3. Trade In Standard League SC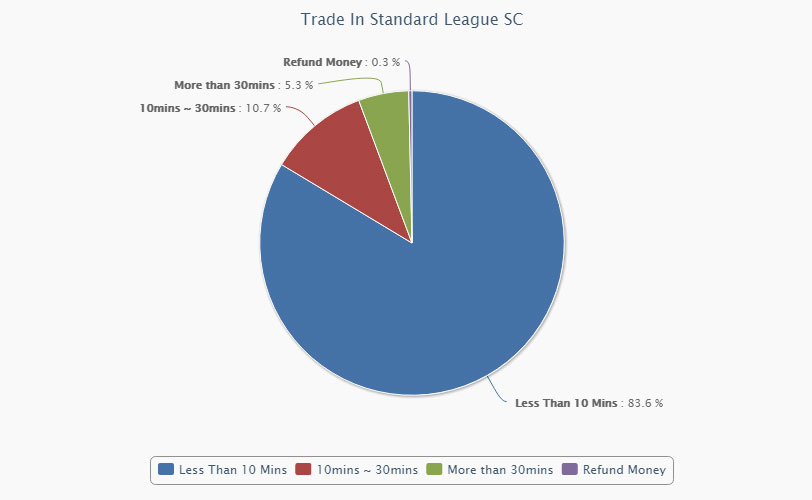 In This League 83.% Orders completed less than ten mins, 13.3% orders completed 10~30mins, 6.3% orders more than 30mins and 0.3% order are refund money
4. Trade In Hardcore League HC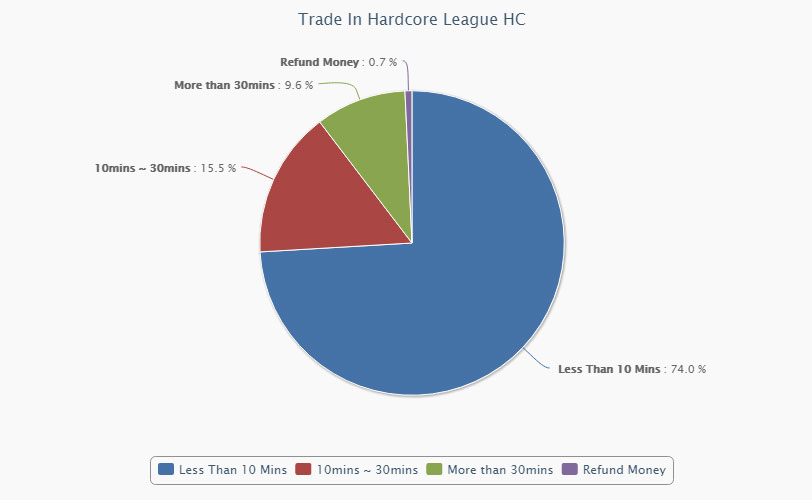 In This League 74% Orders completed less than ten mins, 15.5% orders completed 10~30mins, 9.6% orders more than 30mins and 0.7% order are refund money
Our Price Superiority
We Sell Currencies are Production by self, so we always sell with the lower price. We adjust Poe Currency prices in real time according to current market prices. That ensures you are buying at low prices on our site. You can also save money by ordering a significant amount of gold and using U4GM Coupons. U4GM is a trustworthy website to Buy Poe Orbs with low prices but quality services.
Our Reputation
As we know, what the customers say is more important than what the sellers say, so checking one site reviews is very important, which can help you learn more about it. You can check its reputation on Trustpilot, Epicnpc, Ownedcore these reviews, you can evaluate one site service is good or not.
For example: search U4GM reviews on Trustpilot, and you will find that it has five stars, and there are a large number of positive reviews from real customers, which can prove u4gm service is excellent.

About PoE Currency
Path Of Exile currency system in Path of Exile revolves around a variety of different orbs, and scrolls.you can see the hundreds of PoE Currency. Each currency item serves a specific function in the crafting and enhancement of a character's equipment or allowing restructuring of the character's passive skill tree in the case of the Orb of Regret. Chaos Orb can be used to re-roll the random modifiers on a piece of rare equipment. Exalted Orb can be used to enhance a piece of Rare equipment with a new random affix. Orb of Fusing can be used to re-roll the links between sockets on a weapon or piece of armor. The color and number of Sockets remain unchanged.
About Path Of Exile
Path of Exile is a free-to-play persistent online action MMO from Grinding Gear Games that puts players inside the role of an exile out of your homeland, stranded on the treacherous continent of Wraeclast. With gameplay related to Diablo and Drakensang, players must survive this post-apocalyptic fantasy globe either solo or by teaming up with other exiles. The realistic, visceral combat and gritty art style will assistance immerse players in this cutthroat survivalist game world. It created around a robust on the web item economy, deep character customization, competitive PvP and ladder races. The game is entirely free and will never be "pay to win."

Path of Exile Pros & Cons:
Pros: +High degree of skill and item customization. +Dark fantasy setting. +Casual, competitive, and hardcore leagues. +Cash shop doesn't offer gameplay advantages.
Cons: -Repetitive gameplay. -Steep learning curved. -Dated graphics and user interface style.
Path of Exile Rating At MMORPG.COM

Best game for me ever. If you're a fan of D2, this is your game. Got none of the D3 problems. The charred building is very complicated and free; you got a lot of options to take and can create your build as you will. You want to do a lot of ground not just to find gear and currency stuff, but also to keep testing and improving your build. Not a game for 'bread and butter' MMO guy who want the easy limited game, it's tricky to learn and hard to master.
Path of Exile Rating At MMOS.COM