Buy ESO Power leveling, Cheap TESO Powerleveling - U4GM.COM
Buy The Elder Scrolls online Package
Displaying 1-6 of 6 results.
U4GM With ESO Power Leveling
U4GM started the ESO project in 2014, from the began till now, U4GM has provided more than 5,000 ESO players with ESO power leveling on our website through lower prices and better services. Thank you all for your support, and we will continue to provide better services, faster delivery speeds, and lower Prices.
U4GM's ESO project team has four departments:
Production Department: This department has ten employees. They are mainly engaged in the manual production of ESO power leveling. That ensures that we can provide cheap sources of orbs and make transactions more safety.
Delivery Department: This department has 6 employees who are mainly engaged in the delivery of ESO power leveling orders. Their primary responsibility is to ensure that orders delivered within 10 minutes.
Customer Service Department: 6 employees in this department, their primary responsibility is Livechat connection to the website. Solve the problems encountered by some users during the purchase process.
Training Department: There are 8 employees in this department. Their primary responsibility is to handle manual processing of Power-Leveling orders.
Information Department: Their primary responsibility is to collect the latest news, guides and builds for ESO.
About The Elder Scrolls online
The Elder Scrolls Online is a fantasy MMORPG from Zenimax Online Studios and Bethesda Softworks based on the popular Elder Scrolls series. The game takes place during the Age of Heroes, 1,000 years before the events of The Elder Scrolls V: Skyrim, and will feature classic regions of the Tamriel game world, including Morrowind, Daggerfall, and Skyrim. The Elder Scrolls Online will have solo and group questing, public dungeons, guilds, and massive PvP warfare that sets the game's three player factions against one another for control over the region of Cyrodiil and the throne of Tamriel. Elder Scrolls Online Key Features:
Player Choice – world evolves based on your decisions during quests.
Justice System – kill and steal from NPCs while avoiding detection
Voice-Acting – every NPC features extensive voice-acting.
Open-Ended Skill System – highly customizable playstyle with the large skill tree.
Large Scale PvP Zone – features siege battles, quests, and scouting.
Our Delivery Statistics
We know the essential about fast delivery for customers. By supporting all team here, U4GM could complete 91% of orders in 5 minutes. And for those orders with long time delay, we have a guarantee of refund - No delivery within 72 hours, a refund will be unconditional. Delivery statistics are as follows, the data is real and reliable.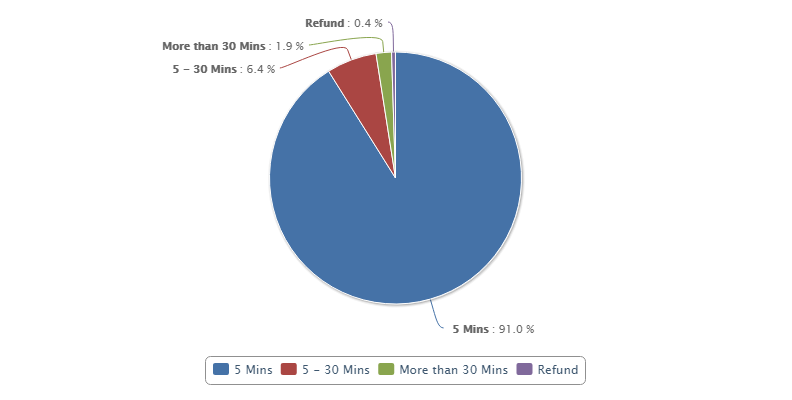 Our Price Superiority
We sell power leveling is production by self, so we always sell at the lower price. We adjust ESO power leveling prices in real time according to current market prices. That ensures you are buying at low prices on our site. You can also save money by ordering a significant amount of power leveling and using U4gm Coupons. U4gm is a trustworthy website to buy ESO power leveling with low prices but quality services.
Our Reputation
U4gm, which has earned a 9.4 user rating on Trustpilot. Click U4gm Trustpilot to check its reputation. There are a large number of positive reviews shows that U4gm service is excellent. U4gm is well ­known for the high­ reputation among ESO players.