Comprehensive Fortnite Weapons Guide - Noble Launcher
Fortnite
Date: Jul/28/18 17:28:24
Views: 6578
Fortnite Noble Launcher is a Legendary Neon Weapon, a heavy weapon that can fire a wave of piercing energy. Might be fired commonly for any narrow half tile wide pulse, or charged to get a 1 tile wide or 1.5 tile wide blast. Deals energy Damage, that is fairly powerful against all kinds of elemental enemies. Though doesn't consume ammo, has low durability. You will need 15 Blast Powder, 12 Mechanical Parts, 3 Ore to craft it. If you are not familiar with this weapon, this article may help you to some extent.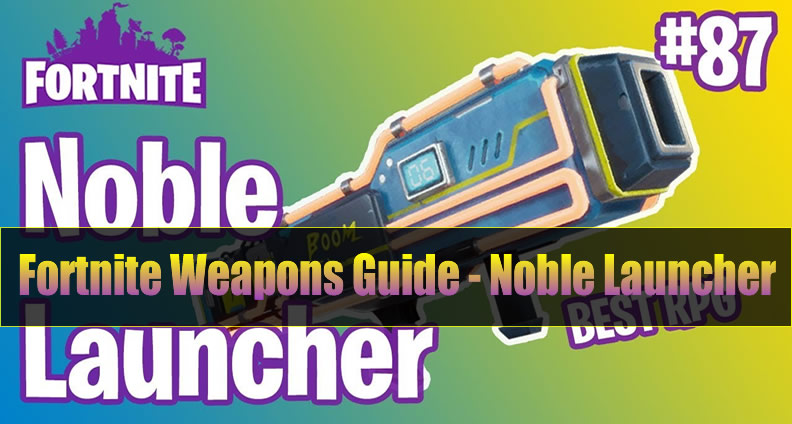 | | |
| --- | --- |
| Name | Value |
| Damage | 375 |
| Crit Chance | 5% |
| Crit Damage | +50% |
| Fire Rate | 0.5 |
| Magazine Size | 3 |
| Range | 3840 |
| Durability | 30 |
| Durability per Use | 1.0 |
| Reload Time | 3.4 |
| Ammo Type | Explosive Rounds |
| Ammo Cost | 1 |
| Impact | 1500 |
The Noble Launcher was a Rocket Launcher obtainable for the duration of the Into The Storm event in Save the World.
Pros:
Energy damage is pretty powerful against all elemental enemies.
Doesn't consume ammo.
High damage.
High impact.
Cons:
Low durability.
Noble Launcher vs Mercury LMG:
Just like the Noble Launcher, Mercury LMG is also a Neon Weapon. Though LMG has definitely robust bullets, sadly the last and most important perk is bugged. With no it, it is just an okayish LMG. After it will be fixed, this will likely be my preferred weapon.
To some extent, Noble Launcher is an exciting and effective weapon. Enjoyable as hell, low cost to craft, does not use energy ammo, and when you use it using the war cry perk from bullet storm jonesy or support specialist, it basically will last forever (25% opportunity to refund ammo cost on Damage using a ranged weapon although warcry active).
Though LMG is fantastic also, should you have to pick between em, get the launcher!
Noble Launcher vs Dam Buster:
These two weapons fulfill diverse niches:
You can shoot the Dam Buster from a bombardment tower. But the Noble Launcher cannot do that.
But the Noble Launcher is particularly effective when shooting into an oncoming group of husks at a horizontal angle.
Fortnite Weapons News & Guides