Comprehensive Fortnite Weapons Guide to Vacuum Tube Rifle
Fortnite
Date: Aug/28/18 09:50:47
Views: 6238
Vacuum Tube Rifle is one of a Vacuum Tube Weapons and makes use of the Energy Cells. It is divided into Epic and Legendary versions. This semi-automatic electrical rifle has high accuracy. Though deals nature damage that is definitely efficient against water enemies, weak against fire enemies. When you are missing materials in the process of making this weapon, Buy Fortnite Materials on U4GM is always an excellent choice, and they are cheap.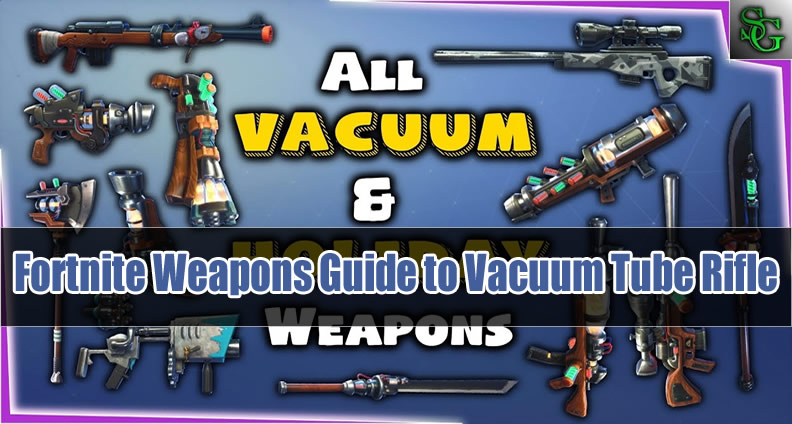 Vacuum Tube Rifle (legendary)
Vacuum Tube Rifle (epic)
Name
Value
Name
Value
Damage
41
Damage
37
Crit Chance
10%
Crit Chance
10%
Crit Damage
+75%
Crit Damage
+75%
Fire Rate
5
Fire Rate
5
DPS
631.4
DPS
569.8
Magazine Size
20
Magazine Size
20
Range
4096
Range
4096
Durability
375
Durability
280
Durability per Use
0.11
Durability per Use
0.11
Reload Time
2.5
Reload Time
2.5
Ammo Type
Ammo: Energy Cell
Ammo Type
Ammo: Energy Cell
Ammo Cost
1
Ammo Cost
1
Impact
135
Impact
124
Vacuum Tube Rifle was available as featured loot in Vacation Llamas bought in the Vindertech Store through the Fortnite Guide to Vacation Survival event.
Pros:
High accuracy.
Effective against water enemies.
Cons:
Weak against fire enemies.
Vacuum Tube Rifle vs Neon Scythe
Neon Scythe is really a swift weapon that cleaves enemies inside a wide arc. Offers energy damage which is pretty powerful against elemental enemies.
Neon Scythe is excellent for seeing through walls, has larger harm than the Vacuum Tube Rifle. Vacuum Tube Rifle has larger accuracy than Neon Scythe. See what you'll need to pick out.
Fortnite Weapons News & Guides