Fortnite Weapons Guide to Easter Egg Launcher
Fortnite
Date: Jul/21/18 15:20:09
Views: 7253
Easter Egg Launcher is usually a Holiday-themed Explosive Weapon used in Save the World, which utilizes Rockets and can pierce enemies. Lobs eggs that explode on contact with enemies and note that Maximum of 6 eggs active at a time. Easter Egg Launcher's Feature is that doesn't consume ammo but has low durability. You will need 15 Blast Powder, 12 Mechanical Parts, and 3 Ore to craft it. When you don't know much about this weapon, you will benefit from reading this guide carefully.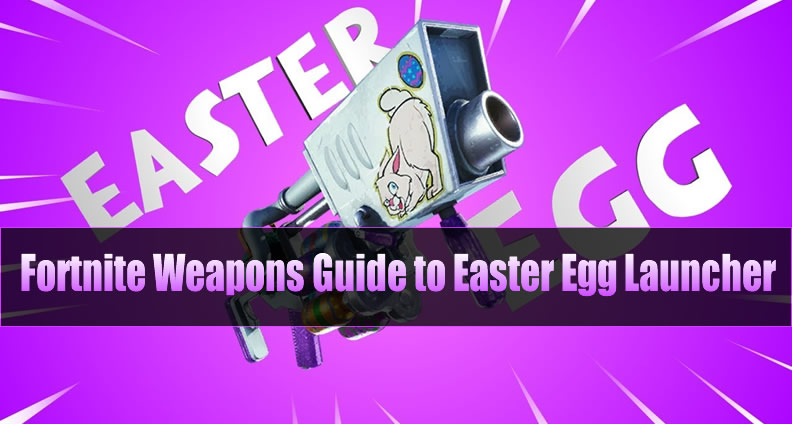 | | |
| --- | --- |
| Name | Value |
| Damage | 150 |
| Crit Chance | 5% |
| Crit Damage | +50% |
| Fire Rate | 1.75 |
| Magazine Size | 6 |
| Range | 256 |
| Durability | 30 |
| Durability per Use | 0.36 |
| Reload Time | 3 |
| Ammo Type | Explosive Rounds |
| Ammo Cost | 1 |
| Impact | 1125 |
Easter Egg Launcher can be bought within the Event Store for 1680 Seasonal Gold.
Pros:
Better impact stats
Doesn't consume ammo
Cons:
Low durability
Easter Egg launcher vs Heartbreaker
Heartbreaker is actually a Holiday-themed Sniper Rifle that utilizes Heavy Bullets, essentially a quirky but high-powered bolt action sniper. Because of Its fantastic range and lack of an element, it is actually primarily used for shooting Blasters, Lobbers, and Pitchers.
The Easter Egg Launcher can be a decent region damage weapon using the utility of being able to place the eggs as sort of landmines. You are able to primarily use it to add an additional layer of traps for your defenses and after that swap, it out for a unique weapon, or you are able to just shoot it into the hordes of husks.
They're two weapons that serve quite various functions. What do you consider fits far better into your loadout?
I prefer the Egg Launcher over the Heartbreaker since the Heartbreaker is pretty good at shooting Blasters, but so are other weapons, and the Heartbreaker does not handle quite as well as those. The Launcher has much more use instances, but you could not want it in case you already have a superior region damage weapon.
Fortnite Weapons News & Guides