Fortnite Weapons Guide to Ralphie's Revenge
Fortnite
Date: Aug/06/18 11:52:49
Views: 7483
Ralphie's Revenge, a magical Legendary holiday-themed Bolt-Action Sniper rifle in Save the World, when you use this weapon, remember to always wear your eye protection since it has a massive headshot bonus. Ralphie's Revenge makes use of Heavy Bullets and may pierce enemies, but it will not possess a scope. Though has a slow rate of fire, this weapon is accurate and has modest damage. For more weapons guides, you can visit the Fortnite Weapons Guides center.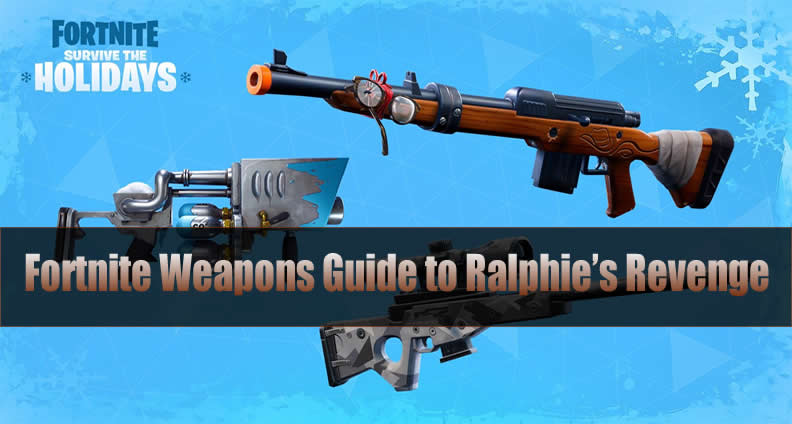 | | |
| --- | --- |
| Name | Value |
| Damage | 53 |
| Crit Chance | 10% |
| Crit Damage | +75% |
| Fire Rate | 1 |
| Magazine Size | 5 |
| Range | 6656 |
| Headshot Multiplier | +500% |
| Durability | 375 |
| Durability per Use | 0.53 |
| Reload Time | 3 |
| Ammo Type | Ammo: Heavy Bullets |
| Ammo Cost | 1 |
| Impact | 225 |
Ralphie's Revenge was obtainable throughout the 2017 Fortnite Guide to Holiday Survival for 2000 Seasonal Gold inside the Event Store.
Pros:
Precise.
A massive headshot bonus.
Cons:
A slow rate of fire.
Ralphie's Revenge vs Ol Besty
Ol' Betsy is a fantastic Sniper Rifle. It is accurate, high powered rifle having a single round per magazine that kicks like a mule. Her excellent damage and impact make her a prime decision for all those who can deal with her temper.
I know persons will say Obliterator is by far the ideal Sniper. But if you usually do not own it, so which in the two should really you waste your Schematic XP on?
The explanation of Ralphie's Revenge can afford such a higher headshot modifier is the fact that the base damage is so low. So in the event, you don't headshot with Ralphie's Revenge your damage will stink.
I feel that Ol Besty may be the improved of your two, exactly where Ralphie's Revenge is more novelty.
Fortnite Weapons News & Guides