Escape From Tarkov Product
Escape From Tarkov
Escape from Tarkov is a multiplayer first-person shooter video game in development by Battlestate Games for Windows. A closed alpha test of the game was first made available to select users on August 4, 2016, followed by a closed beta which has been running since July 2017.
System Requirements
| | Minimum Requirements | Recommended Requirements |
| --- | --- | --- |
| Operating System | Windows 7/8/10 (64 Bit) | Windows 7/8/10 (64 Bit) |
| CPU | Dual-Core processor 2.4 GHz (Intel Core 2 Duo, i3), 2.6 GHz (AMD Athlon, Phenom II) | Quad-Core processor 3.2 GHz (Intel i5, i7), от 3.6 GHz (AMD FX, Athlon) |
| Video Card | DX9 compatible graphics card with 1 GB memory | DX11 compatible graphics card with 2 GB or more of memory |
| RAM | 6 GB | 8 GB |
| Hard Disk Space | 8 GB | 8 GB |
Features
Hyperrealistic Combat – With smooth controls and transitions between stances or positions, weapons which behave exactly like real-world counterparts – including malfunctioning – and a dynamic injury and health system which requires players to be mindful of everything from hydration to blood pressure to exhaustion, Escape from Tarkov provides intensely immersive gameplay you must experience to believe!
Hardcore Gameplay – If you die, you will lose your items; prepare for the worst with backup kits, secure containers, and insurance. Your weapons and gear demand maintenance; treat them well and you might make it through alive! In addition to the obvious gear like weapons and armor, you must also make room in your limited inventory for water purification, rations, and medical supplies. Other players can be your greatest friends and allies… or they can shoot you in the back without warning. Beware!
Character Development – Train over 100 skills simply by using them, trade and barter with other players, sell and modify weapons and other gear, and more! Escape from Tarkov offers many options for gameplay and development, both in and out of combat. Remember: you must survive not only other players, but extremely aggressive computer generated civilian scavengers, or SCAVs, who want nothing better than to kill you and take your stuff.
True Buy To Play – Escape from Tarkov is NOT a "free to play" project; players pay once and play forever. No microtransactions or pay to win mechanics here!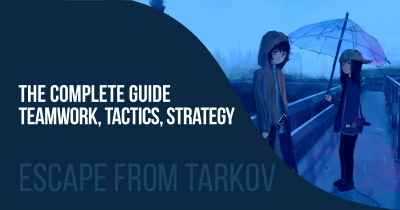 27
Apr
Welcome, Though playing within the squad in Escape from Tarkov, you could sometimes face a problem of maintaining your team. This article consists of the very best squad tactics with complete data on teamwork, tactics, and strategy from which a team can conveniently make their squad the most effective in Escape from Tarkov.
12
Mar
Are you a new Escape From Tarkov player? Here are 38 helpful tips for new players from Fugglet.