Comprehensive Fortnite Weapons Guide to Dragoon
Fortnite
Date: Sep/10/18 10:09:34
Views: 5116
Fortnite Dragoon is a Flintlock Weapon and makes use of Shells 'n' Slugs. Inside a very wide cone, it might deal heavy damage and knockback to several enemies. Has really limited range, tiny ammo capacity, high recoil, and an extended reload time. You may need 20 Planks, 30 Mineral Powder, 1 Active Powercell, 11 Ore to craft it, don't worry, you can buy these Fortnite Materials on U4GM at a discounted price. Meanwhile, view this guide may give you an idea of how to use this weapon better.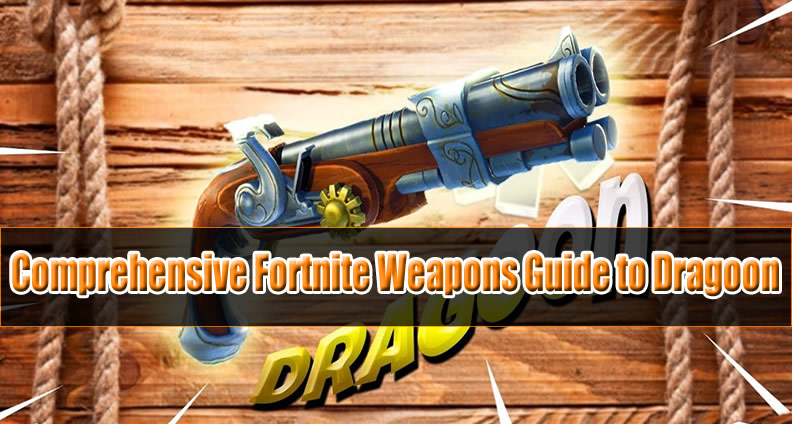 Dragoon is divided into Dragoon (legendary) and Dragoon (epic) versions.
Dragoon (legendary)
Dragoon (epic)
Name
Value
Name
Value
Damage
150
Damage
137.5
Crit Chance
15%
Crit Chance
15%
Crit Damage
+50%
Crit Damage
+50%
Fire Rate
3
Fire Rate
3
Magazine Size
2
Magazine Size
2
Range
768
Range
768
Durability
375
Durability
280
Durability per Use
1.0
Durability per Use
1.0
Reload Time
3.5
Reload Time
3.5
Ammo Type
Ammo: Shells 'n' Slugs
Ammo Type
Ammo: Shells 'n' Slugs
Ammo Cost
2
Ammo Cost
2
Impact
1125
Impact
1031.3
Dragoon is offered as featured loot in Road Trip Llamas bought from the Vindertech Store throughout the Road Trip event.
Pros:
High impact.
High damage.
Effective against to multiple enemies in a very wide cone.
Cons:
Really limited range.
Tiny ammo capacity.
High recoil.
An extended reload time.
Dragoon or Husk Buster
Husk Buster is a Legendary Scavenger Weapon and makes use of Shells 'n' Slugs. Fast-firing shotgun with a significant magazine. Superior for coping with various targets at a short range. Lowered durability, but much cheaper to craft.
Husk Buster is Single Target, Dragoon is AoE. They're not used for precisely the same points at all. Dragoon clear husk waves, Husk Buster is reskinned of Stampede. For okay damage use Room Sweeper as an alternative to Stampede/Husk Buster.
Dragoon vs Duelist
Duelist is also a Flintlock Weapon like the Dragoon, which is a slow-firing revolver with a strong kick that deals heavy headshot damage and knocks back targets. Precise out to mid-range.
The Dragoon is really a short ranged AoE shotgun whose key goal is knocking husks flat on their back. The Duelist is definitely an unwieldy, medium ranged sixshooter with a high headshot damage. Choose according to your needs.
Dragoon vs Ground Pounder
Ground Pounder is often a Military Weapon, it is a rapid-fire military shotgun with tight spread but stiff recoil. Good for dealing lots of damage incredibly swiftly, but anticipate to reload normally.
Dragoon vs Ground Pounder, they are different shotguns, one is usually a quite pretty extremely close range but having an incredibly very good DPS(dragoon) and the other is mid-range(shotty range) and superior DPS.
Fortnite Weapons News & Guides