Fortnite Legendary Dragon Weapons Guide - Dragon's Claw
Fortnite
Date: Sep/08/18 10:21:08
Views: 7405
Fortnite Dragon's Claw, a Legendary Dragon Weapon in Save the World and make use of Heavy Bullets, deal Fire damage. This rifle is one of our new hot sale Fortnite Weapons, is powerful and accurate, can fire tiny fireworks that embed in targets and explode shortly thereafter. Fire damage is successful against natural enemies but weak against water enemies. You could possibly need 15 Blast Powder, 30 Mechanical Parts, 1 Active Powercell, 11 Ore to craft it. Without further ado, let's dive right into this guide.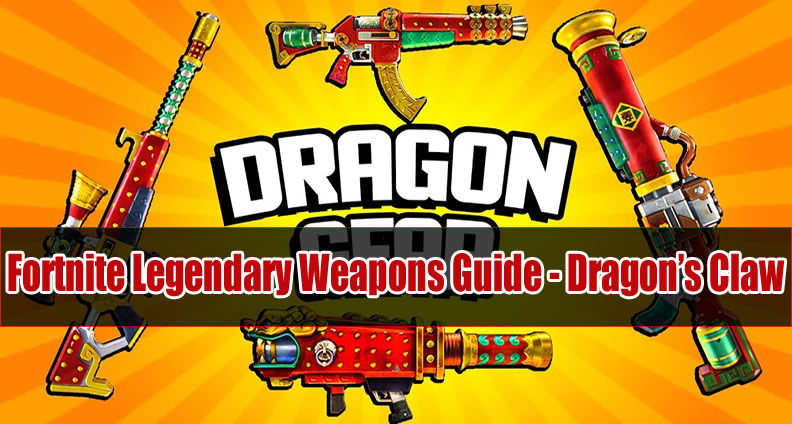 Keep in mind that the Dragon's Claw also has the other version:
Dragon Sniper Rifle is the Epic version of this weapon.
| | |
| --- | --- |
| Name | Value |
| Damage | 170 |
| Crit Chance | 10% |
| Crit Damage | +75% |
| Fire Rate | 0.7 |
| DPS | 366.5 |
| Magazine Size | 3 |
| Range | 256 |
| Durability | 375 |
| Durability per Use | 0.73 |
| Reload Time | 3.0 |
| Ammo Type | Ammo: Heavy Bullets |
| Ammo Cost | 1 |
| Impact | 675 |
Dragon's Claw was offered as featured loot in Spring Llamas purchased from the Vindertech Store through the Spring It On! event.
Pros:
High accurate.
High impact.
High damage.
Fire damage is effective against nature enemies.
Cons:
Fire damage is weak against water enemies.
Dragon's Claw vs Thrasher
Thrasher is a Legendary Heavy Auto Pistol and makes use of Light Bullets. Compare to the Thrasher, Dragon's Claw has low damage and low impact.
However, to some extent, Dragon's Claw is definitely an extremely gimmicky sniper rifle. It's nigh-universally reviled. The Riptide can be a Thrasher with superior crafting efficiency. The Thrasher is often a quite damn great gun.
Dragon's Claw vs Dragon's Might vs Dragon's Roar
Before comparing, let's take a look at the two weapons except Dragon's Claw: Dragon's Might and Dragon's Roar. They are both the Dragon Weapon and deal fire damage. Check out the difference in their stats in the table below:
Dragon's Might
Dragon's Roar
Name
Value
Name
Value
Damage
60
Damage
36
Crit Chance
5%
Crit Chance
15%
Crit Damage
+50%
Crit Damage
+75%
Fire Rate
4.17
Fire Rate
5
Magazine Size
5
Magazine Size
20
Range
256
Range
4096
Durability
375
Durability
375
Durability per Use
0.26
Durability per Use
0.11
Reload Time
2.7
Reload Time
2.5
Ammo Type
Ammo: Shells 'n' Slugs
Ammo Type
Ammo: Medium Bullets
Ammo Cost
1
Ammo Cost
1
Impact
240
Impact
80
Even together with the Dragon's Roar nerf, it's nevertheless the very best weapon out of your new event set. Fire Elemental+Affliction and also the only AR with penetrating shots. The Dragon's Could possibly is super terrible, the spread for it can be atrocious. Snipers, in general, they aren't seriously viable.
Fortnite Weapons News & Guides