Fortnite Legendary Weapons Guide for Hammercrush
Fortnite
Date: Jul/26/18 10:44:00
Views: 7533
Fortnite Hammercrush is a Legendary Single-Shot Rifle used in Save the World. This weapon has excellent accuracy, is often a semi-automatic Slug Gun, utilizes Shells 'n' Slugs, which fires slugs with high damage, superior impact. Hammercrush is one of the hot sale Fortnite Weapons on U4GM. You will need 15 Blast Powder, 30 Mechanical Parts, 11 Ore and 1 Active Powercell to craft it. If you are new to this weapon and don't want to mess up your mood, follow this guide may really help you.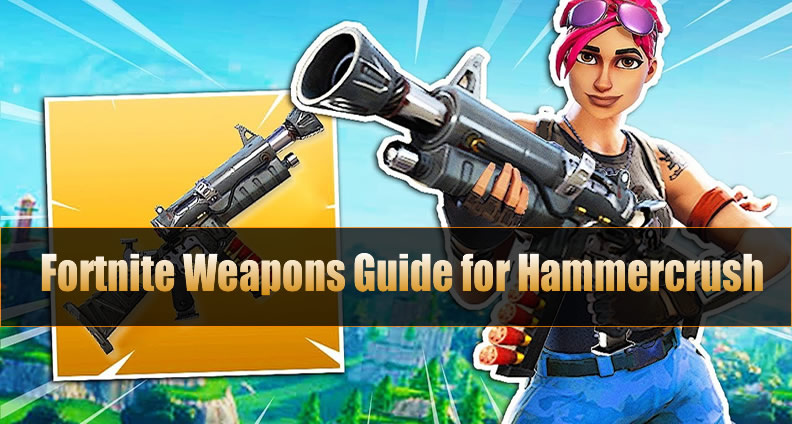 Keep in mind that Hammercrush has other versions:
Slug Gun is the Rare version of this weapon.
Hammershot is the Epic version of this weapon.
| | |
| --- | --- |
| Name | Value |
| Damage | 75 |
| Crit Chance | 10% |
| Crit Damage | +75% |
| Fire Rate | 3.5 |
| DPS | 808.5 |
| Magazine Size | 10 |
| Range | 3840 |
| Durability | 375 |
| Durability per Use | 0.19 |
| Reload Time | 2.7 |
| Ammo Type | Ammo: Shells 'n' Slugs |
| Ammo Cost | 1 |
| Impact | 188 |
Hammercrush is obtainable from the Vindertech Store in all Basic and Daily Llama Piñatas that contain ranged weapons. It might also be obtainable as non-featured loot in Event Piñatas.
Pros:
Excellent accuracy.
High crit chance.
High headshot damage.
high DPS.
Cons:
A comparatively slow rate of fire.
Higher per-bullet price.
Hammercrush vs Hydra
There is some commonality between Hammercrush and Hydra, they are assault rifles, use shotgun shells, have a mag size of 10, and possess a reload of 2.7 seconds. Even so, apart from these specific elements, almost everything else is various.
Hammercrush is semi-auto, has smaller min spread, slow spread increase, fires much more shots prior to breaking and has higher crit/headshot damage.
Hydra is fully-auto, has smaller max spread, fires 3 pellets, and has set bonuses (giving it higher DPS in most instances). Worth investing time into should you like automatic shotguns.
Fortnite Weapons News & Guides