The Most Complete Dragon's Fury Weapons Guide in Fortnite
Fortnite
Date: Jul/19/18 17:51:17
Views: 6774
Dragon's Fury belongs to Legendary Dragon Weapon that deals Fire damage, which will not consume ammo but as an alternative rapidly consumes its durability. Dragon's Fury fires long-range rockets that generate a lingering series of firey explosion. Hold in mind that Dragon's Fury is ideal for denying husk entry in a chokepoint! You will need 15 Blast Powder, 3 Ore, and 12 Mechanical Parts to craft it. Now let's dive into the Dragon's Fury Complete guide, if you need this weapon, you can buy or pick other Fortnite Weapons you like on U4GM.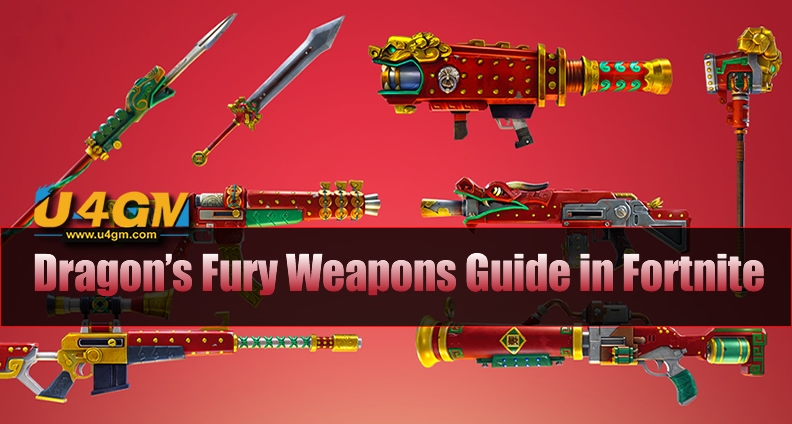 Don't forget Dragon's Fury has the other version, the Epic version of Dragon's Fury is the Dragon Rocket Launcher.
| | |
| --- | --- |
| Name | Value |
| Damage | 44 |
| Crit Chance | 5% |
| Crit Damage | +50% |
| Fire Rate | 1.0 |
| DPS | 135.5 |
| Magazine Size | 1 |
| Range | 256 |
| Durability | 15 |
| Durability per Use | 1.0 |
| Reload Time | 2.2 |
| Ammo Type | Explosive Rounds |
| Ammo Cost | 1 |
| Impact | 200 |
Dragon's Fury was readily available as featured loot in Spring Llamas bought in the Vindertech Shop during the Spring It On! event.
Pros:
Large range.
Not consume ammo.
Fire damage is efficient against the nature enemies.
Cons:
Swiftly consumes its durability.
Fire damage is low against the water enemies.
Lacks the overall Burst damage you commonly want from a Rocket Launcher.
Dragon's Fury vs Quad Launcher
Quad Launcher is a Legendary Military Weapon. Like the Dragon's Fury, it doesn't consume ammo but instead swiftly consumes its durability, and deals Fire Damage.
The biggest difference between the two weapons I think is that Dragon's Fury is a single shot, but Quad Launcher is four.
I prefer Quad launcher since its stun is insane, and the AOE flames it leaves are fantastic. Not to mention, for those who hit a super shielder with it the flames drop on them, and toast all the things within the bubble.
Fortnite Weapons News & Guides