Fortnite Hunter-killer Guide: Basic Info | Vs Other Weapons
Fortnite
Date: Jul/27/18 16:34:52
Views: 8490
Fortnite Hunter-killer is a Legendary Semi-Auto Rifle and uses Medium Bullets in Save the World. It is one of the versatile rifle, which rewards cautious aim with higher headshot damage but generally firing quickly in a pinch. You will need 15 Blast Powder, 30 Mechanical Parts, 1 Active Powercell, 11 Ore to craft it. If you want, you can buy this weapon on U4GM where you can quickly purchase the Fortnite Weapons that you want without any delays or risks involved. Now, this article will share with you the Hunter-killer guide, have any confusion about this weapon, you will find the answer here.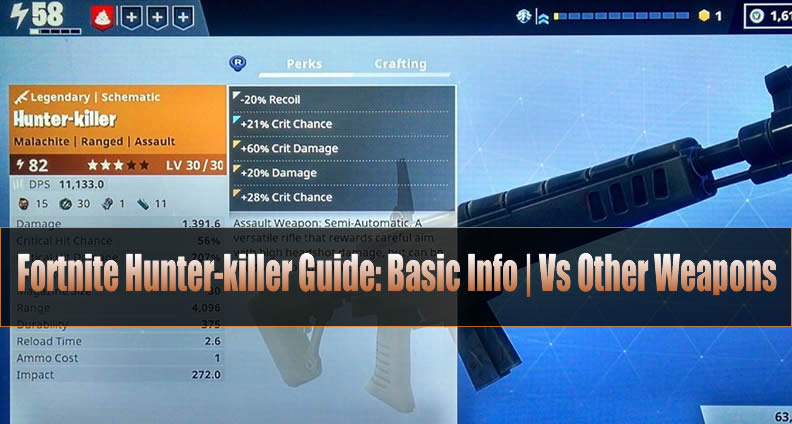 Bear in mind that Hunter-killer also has other versions:
Semi-Auto Rifle is the Common version of this weapon.
Old Faithful is the Uncommon version of this weapon.
Predator is the Rare version of this weapon.
Raptor is the Epic version of this weapon.
| | |
| --- | --- |
| Name | Value |
| Damage | 30 |
| Crit Chance | 10% |
| Crit Damage | +75% |
| Fire Rate | 8 |
| DPS | 739.2 |
| Magazine Size | 30 |
| Range | 4096 |
| Headshot Multiplier | +50% |
| Durability | 375 |
| Durability per Use | 0.07 |
| Reload Time | 2.6 |
| Ammo Type | Ammo: Medium Bullets |
| Ammo Cost | 1 |
| Impact | 66 |
Hunter-killer is obtainable from the Vindertech Store in all Basic and Daily Llama Piñatas that incorporate ranged weapons. It might also be out there as non-featured loot in Event Piñatas.
Pros:
Rewards careful aim with higher headshot damage.
Firing quick within a pinch.
Accurate at mid to long range
Decent rolls.
Cons:
Low damage per shot.
Hunter-killer vs Siegebreaker
As you know, Siegebreaker is a Legendary Automatic Rifle and make use of Light Bullets, but the Hunter-killer uses medium bullets, Hunter-killer may a little more precise for players and it helps when attempting to land those UAH headshots.
What you choose depends what are you currently playing, if you play UAH or heroes that get bonuses for headshots then Hunter-killer is far better, not SiegeBreaker.
In case you like pulling the trigger for every single bullet, then the Hunter-killer is often a fantastic weapon. For those who like a bullet hose that empties in a few seconds yet kills pretty effectively, the Siegebreaker.
When you already possess a great rifle, I'd go for the Siegebreaker, and when you already possess a good pistol and are lacking a fantastic rifle, I'd go with Hunter-killer. Each is decent weapons.
Hunter-killer vs Dragon's Roar
Dragon's Roar is actually a Legendary Dragon Weapon that utilizes Medium Bullets, offers Fire damage, and can pierce enemies.
Dragon's Roar for crowd control and ammo/durability efficiency, Dragon's Roar will be the superior gun, but it loses in on-demand single target damage. Hunter-killer can be fired quickly and does far more single damage.
Hunter-killer vs Deathstalker
Again, this is also mentioned in our previous article. Compare to the Deathstalker, I will choose Hunter-killer since Deathstalker includes a crit damage perk that may be far more wasted in comparison to Hunter-killer crit chance as you could raise crit damage through heroes perks.
Hunter-killer vs Razorblade
Razorblade is actually a Legendary Burst Rifle, which fires in 3-bullet bursts and makes use of Light Bullets.
Compare to Razorblade, I prefer the Hunter-killer, the rolls on the Razorblade suck since 3 only advantageous effects this weapon doesn't have. If you could afflict, slow, or snare using the Razorblade, that could be another story. The other two are good rolls, but the others ruin it. The Hunter-killer has far better rolls and an element to boot.
Fortnite Weapons News & Guides