Fortnite Dragon's Roar Guide: Pros and Cons | Vs Other Weapons
Fortnite
Date: Jul/20/18 11:51:17
Views: 8901
Like the Dragon's Fury, Dragon's Roar is also a Legendary Dragon Weapon used in Save the World. Dragon's Roar is a semi-automatic Assault Rifle which has a modest rate of fire and capacity, utilizes Medium Bullets and offers fire damage and can pierce enemies. You will need 15 Blast Powder, 30 Mechanical Parts, 11 Copper Ore and 1 Active Powercell to craft it. As a professional website selling Fortnite Weapons, you can buy this weapon on our website at a reasonable price.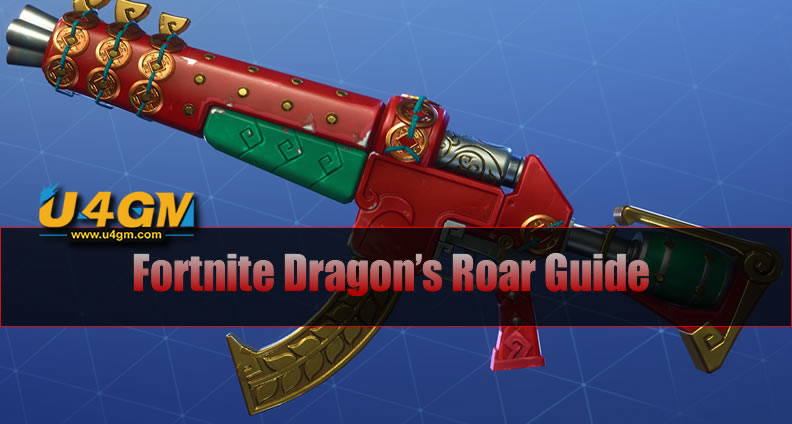 It's fundamental that the Epic version of Dragon's Roar is the Dragon Rifle.
| | |
| --- | --- |
| Name | Value |
| Damage | 30 |
| Crit Chance | 10% |
| Crit Damage | +75% |
| Fire Rate | 5 |
| DPS | 554.4 |
| Magazine Size | 20 |
| Range | 4098 |
| Durability | 375 |
| Durability per Use | 0.11 |
| Reload Time | 2.5 |
| Ammo Type | Ammo: Medium Bullets |
| Ammo Cost | 1 |
| Impact | 80 |
Dragon's Roar was readily available as featured loot in Spring Llamas bought from the Vindertech Store during the Spring It On! event.
Pros:
High accuracy.
High damage and pierces.
Can penetrate quite a few enemies.
Fire damage is helpful against nature enemies.
Cons:
Fire damage is weak against water enemies.
Dragon's Roar vs Dragon's Might vs Dragon's Claw
First, let me introduce two weapons besides Dragon's Roar: Dragon's Might and Dragon's Claw. Dragon's Might and Dragon's Claw are both Legendary Dragon Weapon, Dragon's Might uses Shells 'n' Slugs and deals Fire damage, Dragon's Claw uses Heavy Bullets and deals Fire damage, you can see the difference between them in the table below:
Dragon's Might
Dragon's Claw
Name
Value
Name
Value
Damage
60
Damage
170
Crit Chance
5%
Crit Chance
10%
Crit Damage
+50%
Crit Damage
+75%
Fire Rate
4.17
Fire Rate
0.7
Magazine Size
5
Magazine Size
3
Range
256
Range
256
Durability
375
Durability
375
Reload Time
1.6
Reload Time
3.0
Ammo Cost
1
Ammo Cost
1
Impact
240
Impact
675
Considering the fact that they fixed/nerfed Dragon's Roar, which of your three in the Big Wick quest is definitely the greatest weapon selection now?
Even with the Dragon's Roar nerf, Dragon's Roar is still the best weapon out in the new event set. Fire Elemental+Affliction along with the only AR with penetrating shots. The Dragon's Might possibly is super negative, the spread for it can be atrocious. In no way utilized the sniper but late game, snipers, generally, they aren't actually viable.
Dragon's Roar vs Grave Digger
Grave Digger is a fully automatic Assault Rifle, which fires medium ammo, deals damage and impact at the cost of accuracy and fire rate.
Compared with Grave Digger, I prefer Dragon's Roar can apply more damage ticks than any other assault rifle in the game, it really is a better gun should you are ok with semi-automatic, it can be crazy ammo and durability effective, extremely high damage and pierces while being very accurate.
Fortnite Weapons News & Guides