Fortnite Vacuum Tube Shotgun Guide: Basic Info | Vs Other Weapons
Fortnite
Date: Aug/29/18 10:30:04
Views: 7932
Fortnite Vacuum Tube Shotgun, one of the Vacuum Tube Weapons and divided into Epic and Legendary versions. This shotgun can fire an really fast three shot burst of nature damage, though helpful against water enemies, weak against fire enemies. Can stun enemies, but will not knock them back. For more weapons guides, you can visit our Fortnite Weapons Guides center.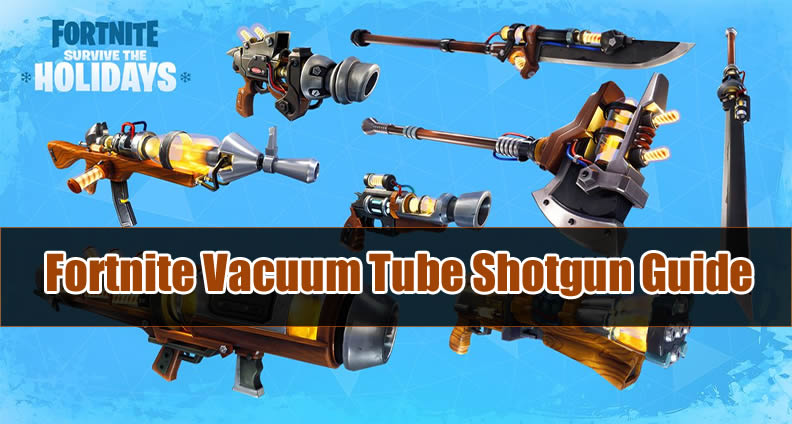 Vacuum Tube Shotgun (legendary)
Vacuum Tube Shotgun (epic)
Name
Value
Name
Value
Damage
60
Damage
55
Crit Chance
5%
Crit Chance
5%
Crit Damage
+50%
Crit Damage
+50%
Fire Rate
4.74
Fire Rate
4.74
DPS
875.4
DPS
665.3
Magazine Size
15
Magazine Size
15
Range
2048
Range
2048
Durability
375
Durability
280
Durability per Use
0.16
Durability per Use
0.16
Reload Time
2.5
Reload Time
2.5
Ammo Type
Ammo: Energy Cell
Ammo Type
Ammo: Energy Cell
Ammo Cost
4
Ammo Cost
4
Impact
180
Impact
165
Vacuum Tube Shotgun was offered as featured loot in Holiday Llamas purchased in the Vindertech Store throughout the Fortnite Guide to Vacation Survival event.
Pros:
Fast firing.
Effective against water enemies.
Cons:
Weak against fire enemies.
Vacuum Tube Shotgun vs Vindertech Sniper Rifle
Vindertech Sniper Rifle is definitely an Epic Vindertech Weapon and makes use of Energy Cells. Sniper rifle that fires a potent bolt of power that maintains damage and accuracy more than long ranges. Deals energy damage which is fairly successful against all elemental enemy kinds.
Although Vindertech Sniper Rifle has larger damage and impact than the Vacuum Tube Shotgun, I'll pick out the shotgun just because its a shotgun that doesn't use shells. Which is often good for Raiders.
Fortnite Weapons News & Guides