The Most Complete Fortnite Weapons Guide - Ol' Betsy
Fortnite
Date: Sep/19/18 10:23:19
Views: 6940
Fortnite Ol' Betsy is a Flintlock Weapon and makes use of Heavy Bullets. This weapon is divided into two versions: Ol' Betsy (legendary) and Ol' Betsy (epic). Correct, high powered rifle with a single round per magazine that kicks like a mule. This weapon also has a great damage and impact. You may need 15 Blast Powder, 30 Mechanical Parts, 1 Active Powercell, and 11 Ore to craft it. After reading this guide, if you are interested in this kind of weapon, as one of the hot Fortnite Weapons sold on the U4GM, you can now buy it at a favorable price.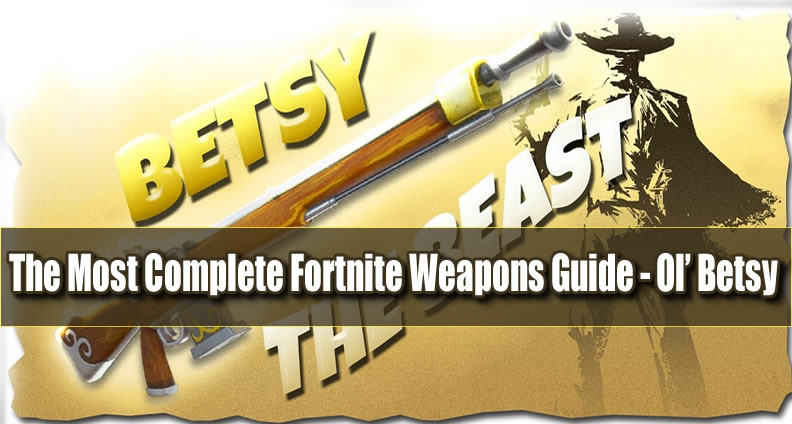 Ol' Betsy (legendary)
Ol' Betsy (epic)
Name
Value
Name
Value
Damage
248
Damage
227
Crit Chance
15%
Crit Chance
15%
Crit Damage
+75%
Crit Damage
+75%
Fire Rate
1
Fire Rate
1
Magazine Size
1
Magazine Size
1
Range
10240
Range
10240
Durability
375
Durability
280
Durability per Use
1.0
Durability per Use
1.0
Reload Time
2.5
Reload Time
2.5
Ammo Type
Ammo: Heavy Bullets
Ammo Type
Ammo: Heavy Bullets
Ammo Cost
1
Ammo Cost
1
Impact
1500
Impact
1375
Ol' Betsy is offered as featured loot in Road Trip Llamas purchased from the Vindertech Store throughout the Road Trip event.
Pros:
High accuracy.
High powered.
Excellent damage.
High impact.
Cons:
Slow firing.
Ol' Betsy vs Duelist
Duelist is actually a Flintlock Weapon, slow-firing revolver having a highly effective kick that bargains heavy headshot damage and knocks back targets. Precise out to mid-range. Duelist is workable if you are a pistol user; I like it as an alternative on Raven (if I didn't have better-leveled pistols currently).
I find Ol' Betsy as well slow to really use. Between Ol' Betsy along with the previous Obliterator from the shop, I choose Obliterator basically since it has a magazine of four rounds and may shoot by way of objects.
That getting mentioned, Ol' Betsy appears to function nicely on a Sniper Defender using an increase to reload speed, or on Bulletstorm Jonesy (or the Chrome reskins) just as a consequence of the quick reload-on-empty capability. Moreso if Ol' Betsy also includes a reload perk on her.
Ol' Betsy vs Ralphie's Revenge vs Spyglass
I compared Ralphie's Revenge towards the Ol' Betsy/Spyglass and though Ralphie's has a monstrously higher headshot multiplier, this can be brought down by the fact that Ralphie's base harm is actually low, so the headshot harm is not even that impressive and as an alternative forces you to go for headshots much more purely mainly because that's the only way it's going to complete damage.
Ol' Betsy/Spyglass' raw damage having a lot more in-line headshot multiplier is already competitive if not outdoing RR. Spyglass can also run Crit rating + Crit Harm + Crit damage allowing it to complete big crits. Plus it features a scope so you may essentially snipe with it.
Fortnite Weapons News & Guides