Maplestory 2 Thief Skill Build and Choose Equipment Guide
MapleStory 2
Date: Sep/08/18 15:17:08
Views: 20586
Maplestory 2 Thief does not belong to the version of the strong occupation, relying on a large number of operations to repair the damage but it is similar to other professions without brain damage, but Thief's high mobility and operational sense is extreme, like Thief's friends do not miss the job, The premise of playing Thief is the belief in the profession and persistence. Other partners interested in other businesses may wish to try other professions. Maybe Thief is not the best for you, but there is always a career that is best for you. For Thief this profession, melee damage, and defensive penetration are more suitable for the pile on the jewelry, the primary attribute is lucky on the armor, and the boss damage can be appropriately selected. Here U4GM Maplestory 2 Team Will share Maplestory 2 Thief Skill Build and Choose Equipment Guide for you. U4GM is the Best Place for you buy Cheap Maplestory 2 Mesos and get Maplestory 2 Guide And tips Website.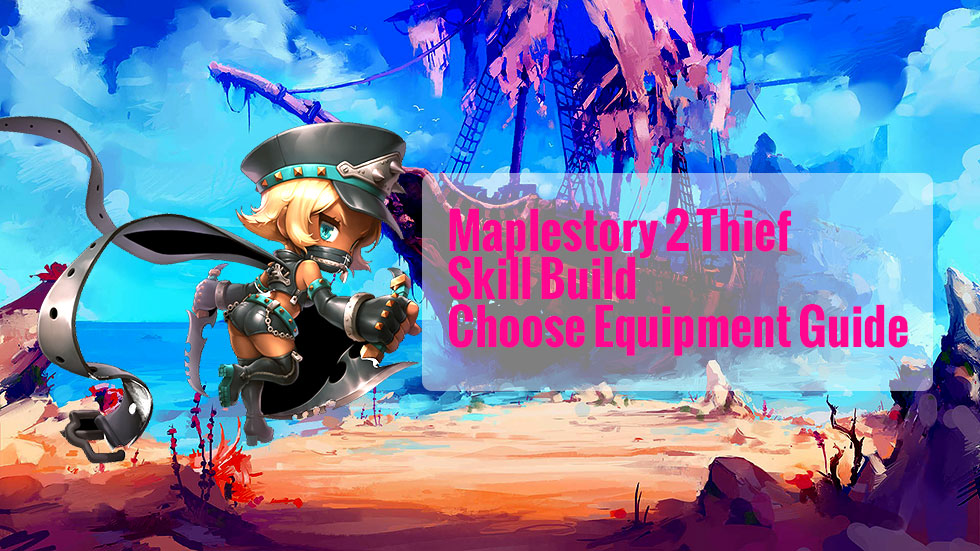 Class: Rogue
Weapon: Dagger
Attributes: Physical, Poison
Primary Stats: LUK, Movement Speed, Evasion
Play Difficulty: ★★★★★
Instructor: Amritsar
Pros
+ Stackable poison effect drains enemy HP fast.
+ Fast attacks and inflicts many hits.
Cons
- Short attacking range. Hassle to grind/farm enemies and evade boss attacks.
- Weak base damage. Relies heavily on poison to inflict massive damage on enemies.
Luck gem
4
Hit Gem
1
Combat Effectiveness Gem
4
Level: 1 ~ 10
Double Slash
Poison Edge
Spirit Thief
Mind Stealer
Level: 10 ~ 20
Poison Vial
Cunning Tactics
Somersault Kick
Mind Breaker
Level: 20 ~ 30
Blade Dance
Quick Step
Vicious Cuts
Level: 30 ~ 50
Surprise Attack
Retaliation
Haste
Ruthless Guile
Mesoguard Plus
Deft Combatant
Blade Dance
Double Slash
1
Poison Edge
1
Cunning Tactics
10
Blade Dance
10
Somersault Kick
10
Quick Step
10
Mind Breaker
8
Mesoguard Plus
1

Cunning Tactics 14 CD, Retaliation12, basically achieve seamlessly, 1 x Mesoguard Plus means that BOSS will have a non-offensive period, this time Cunning Tactics will still get a 12S output BUFF using Mesoguard Plus, you pay attention to the core It is the Easy Blade Dance that uses the Quick Step's SP response effect to achieve the whole process. The armor output recommends melee damage and BOSS damage and hits Black Yanlong 94.

Somersault Kick - Pick up Quick Step - Connect to Cunning Tactics, then CD Dance during CD. The core of this set is Cunning TacticsBlade Dance eating skill Retaliation to keep RetaliationBUFF output.
Poison Vial
Double Slash
10
Poison Edge
6
Surprise Attack
1
Poison Vial
6
Cunning Tactics
2
Blade Dance
1
Ruthless Guile
10
Somersault Kick
10
Quick Step
1
Mind Breaker
3
Vicious Cuts
10

It is tough to point out the Double Poison stream in the current version. After filling Deft Combatant, Ruthless Guile, and Somersault Kick later, relying on the flail to trigger the five-layer Poison Edge effect, Poison Vial and Poison Edge need to stay on BOSS all the time. Two Poison damage effects can cause a lot of damage, plus Vicious Cuts trigger the Ruthless Guile effect, Mind Stealer is used to cancel the Somersault Kick and the Poison bursts as much as possible in the last second, because the 5-layer Poison Edge plus Poison Vial effect The Poison injury is very high, the Level 1 Poison burst can't hit very high damage, or when the Poison Edge effect is coming to an end, A will have a Poison Edge to continue the 12-second Poison Edge effect.

After starting the BOSS battle, first throw Poison Vial, use Mind Stealer to cancel Poison Vial and then shake, then level A. If you are lucky, trigger Passive Skill to hang directly on Layer 5 Poison Edge. If bad luck does not trigger Passive Skill effect, then use Vicious Cuts to poke to one-third of the SP value when Somersault Kick+Poison bursts out combo damage, continues to fill Poison Vial and then loops. Double Poison Build needs a lot of attention, and it is fortunate. The Passive luck Skill can strengthen Vicious Cuts and do a lot of damage, and continue to fill up the Double Poison effect, but because of the lack of level, there are fewer skill points. Take the real most significant damage from the Double Poison stream.
Need to ensure that the hit reaches the copy is not MISS standard, black inflammation dragon beast (92)
Thief's skills are physical damage, and Poison skills are Poison damage, then these attributes are preferred if the part has physical attacks and lucky characteristics.
Head + clothing + pants + shoes: lucky (physical attack power)
Gloves: physical resistance penetration (required)
Earrings: attack speed + melee injury (anti-wear, hit, boss injury)
Ring: attack speed + melee damage (anti-wear, hit, boss injury)
Necklace: anti-wear + physical resistance penetration (hit, boss injury)
Belt: attack speed + melee injury (anti-wear, boss injury)
Cloak: Attack speed (Melee injury, anti-wear, speed), Caterpillar wings.
Weapon: physical resistance penetration (required) + attack speed (defense penetration, boss injury)
Maplestory 2 Thief,Maplestory 2 classes,MapleStory 2 builds News & Guides