Maplestory 2 Archer Skill Build and Choose Equipment Guide
MapleStory 2
Date: Sep/10/18 10:11:48
Views: 18970
Archer is a long-range career with a long-handled bow as a weapon. It is accompanied by the Golden Eagle in the Guard. It has superior continuous output capability, ultra-fast attack speed, far-distance attack distance, strong survivability, and low operational requirements. , recommended for novice users.
At the same time, the visual experience that Archer brings to the player is definitely not comparable to other professions. His almost crazy attack speed will definitely make you climax! For the little friends who can't hold the high attack speed, Archer is the best choice for you. With the deceleration of ice Arrow and the flexible displacement, Archer's desire to find his ideal output point is simply too easy. What's more, Archer has two displacement skills and is very mobile.
In PVE, as the output, Archer's attack frequency can't be described as fast and has good persistence. The main skills have the dual attributes of ice and fire. The output cycle is simple and easy to use and flexible. You can find the output position at any time, highlighting the characteristics of super continuous output. On the auxiliary side, Archer brings the overall crit rate to the team, more like a senior commander dominates the battle, and the team demand rate is very high.
Weapon(s) Used Bow
Properties Physical, Fire, Ice
Major Stats DEX, Attack Speed, Critical Hit
Difficulty ★★★☆☆

Pros
- Skills produce very high hit combos.
- High mobility which makes it easier to kite.
- High damage output due to high critical hit chance and if you can land multi-hit combos.

Cons
- Difficult solo play.
- Low Defence.
- Low Strength, requiring you to land combos to be effective.
Agile gem
4
Hit Gem
1
Combat Effectiveness Gem
4
Level: 1 ~ 10
Arrow Stream
Arrow Barrage
Snipe
Eagle Glide
Level: 10 ~ 20
Rapid Shot
Evasive Salvo
Bronze Eagle
Conditioning
Level: 20 ~ 30
Arrow Storm
Ice Arrow
Eagle Claw
Level: 30 ~ 50
Agile Archer
Eagle's Majesty
Sharp Eyes
Screwdriver Shot
Bow Swing
Precision Shooter
Sharp Eyes
Arrow Stream
3
Arrow Barrage
3
Rapid Shot
10
Screwdriver Shot
1
Bronze Eagle
7
Conditioning
10
Bow Swing
3
Eagle's Majesty
8
Sharp Eyes
10
This set of points abandoned Arrow Barrage and Arrow Storm two AOE skills, mainly relying on Bronze Eagle + Conditioning + Sharp Eyes 3 skills to greatly increase our character attributes, improve the attack damage of Rapid Shot.
Eagle's Majesty uses a 30-second high-blue effect every 60 seconds to keep our Rapid Shot in use and boost our continuous output. This set of points makes full use of Archer's skills to improve its individual output. It can be said to be perfect except for the ability to eliminate monsters.
PS: Bronze Eagle can be level 7, even if it is full, it only adds 1% of the main attribute. After that, the skill is first filled with Eagle's Majesty, then with the Screwdriver Shot. When the skill points are sufficient, consider the Agile Archer to increase the defense penetration.
The Screwdriver Shot card CD is used. When it is in Eagle's Majesty state, it is not released directly. When Eagle's Majesty skill CD, you can see how much energy you have. Eagle Claw must be released in the last second of the Bronze Eagle duration, pay attention to its own Sharp EyesBUFF time, no brain Rapid Shot for the rest of the time, and fill with Arrow Stream skills when the energy is insufficient.
Arrow Storm
Arrow Stream
3
Arrow Barrage
5
Rapid Shot
10
Arrow Storm
10
Bronze Eagle
7
Conditioning
10
Sharp Eyes
8
Screwdriver Shot
1
Eagle Claw
1

It is tough to point out the Double Poison stream in the current version. After filling Precision Shooter, Screwdriver Shot, and Bronze Eagle later, relying on the flail to trigger the five-layer Arrow Barrage effect, Rapid Shot and Arrow Barrage need to stay on BOSS all the time. Two Poison damage effects can cause a lot of damage, plus Eagle Claw trigger the Screwdriver Shot effect, Eagle Glide is used to cancel the Bronze Eagle and the Poison bursts as much as possible in the last second, because the 5-layer Arrow Barrage plus Rapid Shot effect The Poison injury is very high, the Level 1 Poison burst can't hit very high damage, or when the Arrow Barrage effect is coming to an end, A will have an Arrow Barrage to continue the 12-second Arrow Barrage effect.

After starting the BOSS battle, first throw Rapid Shot, use Eagle Glide to cancel Rapid Shot and then shake, then level A. If you are lucky, trigger Passive Skill to hang directly on Layer 5 Arrow Barrage. If bad luck does not trigger Passive Skill effect, then use Eagle Claw to poke to one-third of the SP value when Bronze Eagle+Poison bursts out combo damage, continues to fill Rapid Shot and then loops. Double Poison Build needs a lot of attention, and it is fortunate. The Passive luck Skill can strengthen Eagle Claw and do a lot of damage, and continue to fill up the Double Poison effect, but because of the lack of level, there are fewer skill points. Take the real most significant damage from the Double Poison stream.
In the case of hits and attack speeds, Archer this version of the equipment features the first defensive penetration and crit damage, because we have Sharp Eyes to increase our crit hit, if we have a large amount of crit damage on the equipment The attribute points can all be added to the crit hit. If there is less equipment for the crit damage attribute, the attribute points are all added to the main attribute agile.
Head + clothing + pants + shoes: agile + leader injury (hit)
Gloves: physical resistance penetration (required)
Earrings: Crit hit + crit damage (anti-wear, hit, long range damage, boss damage, attack speed)
Ring: Crit hit + crit damage (anti-wear, hit, long range damage, boss damage, attack speed)
Necklace: Crit hit + crit damage (anti-wear, hit, defense penetration, physical resistance penetration, boss injury)
Belt: Crit hit + crit damage (anti-wear, range damage, defense penetration, boss damage)
Cloak: Anti-wear (combat hit, crit damage)
Weapons: Agility + Attack Speed (Physical Resistance Penetration, Defense Penetration)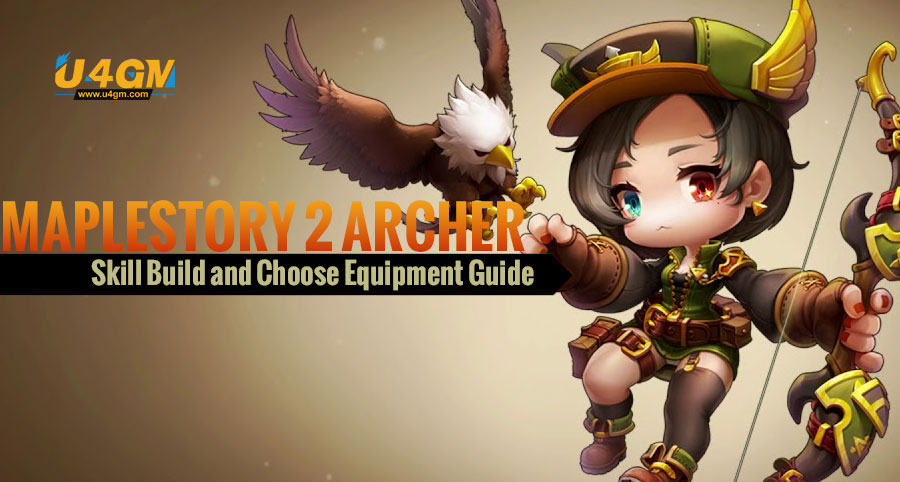 Ordinarily, they're not worth the trouble for causes which are enough inside the long run. Though they may be valuable for players who might know nothing about the game. For by far the most element, they may be finding out tools for novices to ease them into the game.
For far more Maplestory 2 Skill Guides
, you are able to pay a visit to U4GM.com. Just a reminder: you can get 5% coupon code for free from the reps in case you
Buy Maplestory 2 Mesos
order from this short article.
Maplestory 2 Classes, Maplestory 2 Skill,Maplestory 2 Archer News & Guides