Easy Operate Berserker Add Points for Maplestory 2 Beginners
MapleStory 2
Date: Oct/10/18 14:09:48
Views: 3636
To say that the career of Maplestory 2 is best for the Maplestory 2 Players that you just entered, it is Berserker. After all, the title of "simple, violent output" is not fake, and this simple operation is just for Play Maplestory 2 The little friend is undoubtedly the best choice for the game, then Now U4GM shares with you Easy Operate Berserker Add Points for Maplestory 2 Beginners. U4GM as a professional Maplestory2 website delivers protected, quick and Cheap Maplestory 2 Mesos for you personally. With more than 10 years of excellence, we've served thousands of buyers. When you are hesitating where to purchase MS2 Mesos, U4GM might be a superb choice.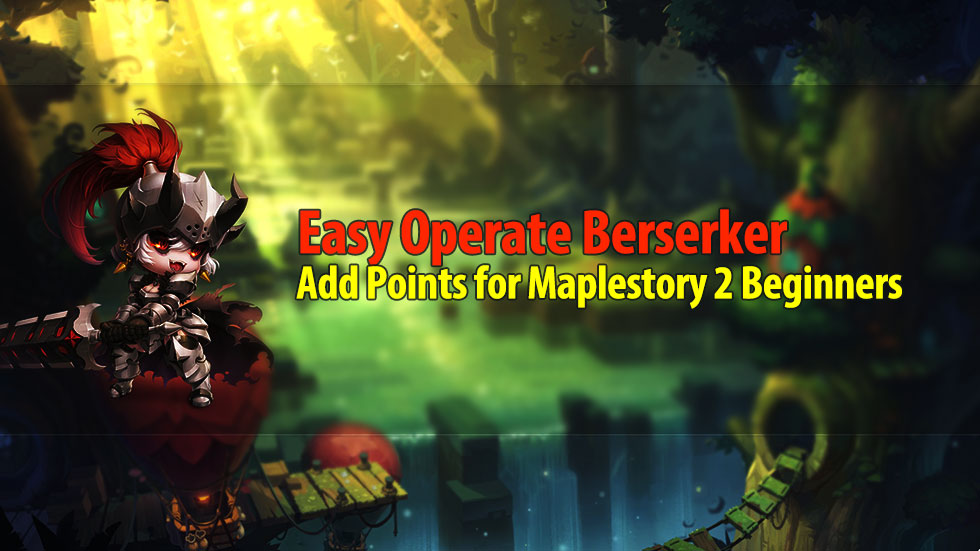 Signboard skill
Berserker's Death Spin is the main reason for its simple operation. It can be said that it can be used in daily PVE and even low-end PVP confrontation. This trick can damage up to 8 enemies within 3 meters. And you can also attack while moving (convenience is obvious), especially after the skill point is full, it can cause 103% dark damage to each unit. Naturally, this skill is not complete! With Death Spin this stable damage technique, Berserker The bursting ability is not bad: Ground Breaker can instantly inflict 316% damage to up to 8 targets within 3 meters radius, and each time damage is added to Dark Aura, it will increase the Damage by 16%. Will the outbreak of skill damage be weak? So this skill is also irresponsible.
Berserker's displacement skills are also quite good, not only can be released three times in full energy state but also can attack targets along the way in the process of displacement, whether as chasing skills or escape skills have a good performance.

[Add Points suggestions]


Death Spin
Raging Slash
5
Dark Aura
Max
Death Spin
Max
Ground Breaker
Max
X Slash
Max
Greatsword Mastery
Max
Intimidation
4
Deep Wounds
5

The addition scheme can be said to explain what is called brainless output correctly. When the energy is not full, use the Death Spin to attack the enemy. When the energy is Full, the Ground Breaker will instantly pour the damage. When the output efficiency needs to be improved, the Dark Might will be turned on. Just use Death Spin and Ground Breaker for everyday hits. As for Greatsword Mastery and Deep Wounds to increase injuries, Intimidation is only a means of self-protection.
Skill analysis
Raging Slash
's attack convenience is far less than that of Death Spin, but the only benefit is that it can be used without energy so that it can be used in the case of poor energy. As for the 6th point to meet the opening conditions of Dark Might.
Dark Might
is an excellent short-term injury-increasing skill, but it doesn't need to be used in regular games because it requires Dark Aura to be in the maximum stack and consumes Dark Aura. (Generally, the pursuit is only started when the final BOSS is played in the copy. Lifting effect).
Even the full-mouth
Greatsword Mastery
can't bring significant damage bonus, but it should be noted that in the sample output, the principle of less pressing the button is less. This skill still needs to be full. After all, the bonus is added. Death Spin damage can also improve.
Although
Intimidation
can damage enemies within a radius of 3 meters, the reason for 4 points is mainly to trigger the
Deep Wounds
skill. In the eyes of the individual, the effect of Intimidation comes from its debuff effect: reduce the target by 18%. Force and 18% of the mobile jumping power, so this skill can help Berserker to better attack and minimize the damage.
As for the damage of
Deep Wounds
, it depends on the Damage of the character. Therefore, the skill is weak when the strength is not good, but why is it 5 points here, mainly for injury (the bloodshed is also disguised to increase the output of the character)
Maplestory 2 Berserker News & Guides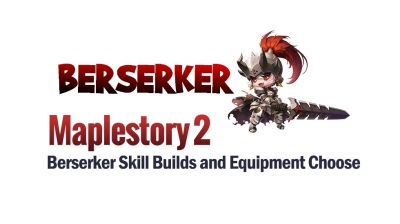 21
Sep
Berserker is a melee class with two-handed swords as a weapon. It uses the law of darkness to gain strength from the blood. It has excellent continuous output and intermittent bursting ability. U4GM Maplestory 2 Mesos Production Team Gave much more support for this Guide. Thanks, JEE Wang.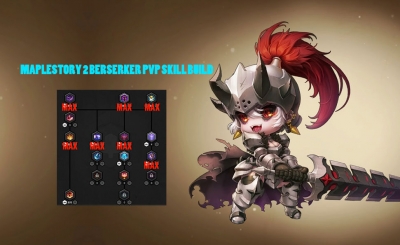 11
Sep
PVE Berserker can make We fully enjoy the thrill of the output, but Berserker can't just operate it in PVP (otherwise it will die very badly), and what should be done to become the opponent's fear? This point of recommendation is to prepare for this.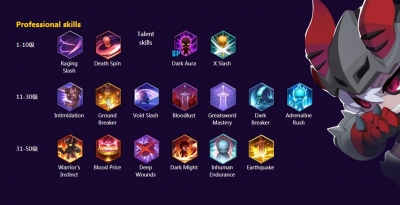 29
Aug
A Maplestory 2 Berserker who exudes dark energy! A hero who has unknown energy at birth. Next, I will be from 1, attribute characteristics; 2, skill characteristics; 3, skills and equipment; A total of three aspects to give you a complete set of gameplay and career analysis